Organisers, teams and riders 'are on the same page' with extreme weather protocol
Race organisers are often the first party to propose suspending racing or alternating a route if the weather becomes dangerous, the AIGCP says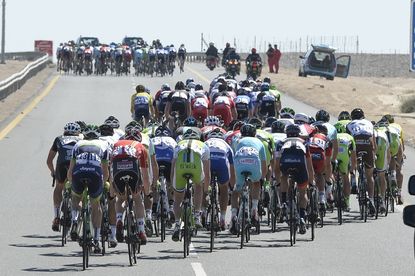 (Image credit: Graham Watson)
Race organisers are making the first move in suspending racing when weather becomes too dangerous, the managing director of the body that represents teams, the Association Internationale des Groupes Cyclistes Professionnels (AIGCP), has said.
Last week saw the UCI's extreme weather protocol (EWP) used on two occasions: first, at the Dubai Tour stage four was shortened and then cancelled due to high winds and a sandstorm; then, on the final day at the Volta a la Comunitat Valenciana, winds meant that stage distance was cut to just 35km.
While riders, teams and organisers were all in unanimous approval of the implementation of the EWP, a debate has since ensued whether riders are becoming softer and if the days of thrilling racing thanks to weather conditions are now a thing of the past.
Race organisers, though, are often the first to suggest suspending racing or making amendments to the course, the AIGCP's Javier Barrio told Cycling Weekly, saying that races don't want their reputation to be tarnished by unsafe conditions.
"In Dubai I was in contact with the race organiser and I didn't have to twist his arm to do anything. The race was shortened and then cancelled at the behest of the organiser," Barrio, who has previously worked for the UCI, said.
"In the last week I have really seen organisers taking the initiative - and that's really been the case in practically every incident that it's [EWP] been activated.
Sandstorms and high winds caused stage four of the Dubai Tour to be cancelled
"Organisers want to do what's right for cycling. We're all on the same page and we we all want the correct decision to be made."
When it is being discussed whether the EWP should be applied, representatives from the teams, riders and organisers convene to debate what should be done.
At the Dubai Tour, Dimension Data's Bernie Eisel spoke on behalf of the riders, despite no longer being a member of the Professional Cyclists Association (CPA), because the CPA had failed to selected a representative.
Barrio explained that the EWP would never be put in place if it didn't have the support of any of the bodies. "It's a decision making process and they all have to try to agree on what is the right decision," he added.
"I believe in a consensus. If there's a consensus, I will say that the protocol was followed correctly. I would never second guess what was agreed."
Thank you for reading 20 articles this month* Join now for unlimited access
Enjoy your first month for just £1 / $1 / €1
*Read 5 free articles per month without a subscription
Join now for unlimited access
Try first month for just £1 / $1 / €1