Pedal Heaven will not be granted a late Tour de Yorkshire wildcard place
Pedal Heaven's DS Tim Elverson says that they had hoped their strong start to the season would gain them a late entry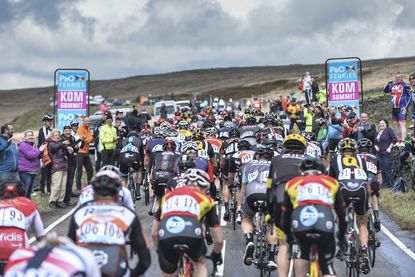 (Image credit: ASO / G. DEMOUVEAUX)
The Tour de Yorkshire have confirmed that they are unable to offer British Continental team Pedal Heaven a place at next week's race.
Following their successful start to the season and Joe Fry's win at the weekend Tour of the Reservoir, the Hampshire-based outfit reserved hope that Welcome to Yorkshire and ASO, the two organisers of the race, would reverse their decision to reject their application to compete.
Their fellow British Continental teams, Wiggins, JLT-Condor, Raleigh, Madison-Genesis and NFTO, are all on the startlist for the three-stage race that starts on April 29 in Beverley, ending two days later in Scarborough.
>>> Pedal Heaven are a 'team to be reckoned with'
"The answer is it's too late. We're not going to be adding anymore teams at this stage," Lara Thornton, media manager for the race, told Cycling Weekly.
She explained that "because we're on the UCI calendar, we have a certain quota restriction of WorldTour, Pro-Continental and Continental levels and that's been set.
"ASO do the invites and they started at the top and work down. We have to be careful that the mix is relevant to the nature of the race and we need teams who can make it competitive."
>>> Sir Bradley Wiggins headlines stellar Tour de Yorkshire 2016 line-up
Tim Elverson, the team's DS, admitted that he had tried to force a late wildcard place for the race in the recent weeks, but it came to no fruition.
He said: "After we had a good start at the Chorley GP (two riders in the top 10) and then were the best ranked team ahead of Madison and Raleigh at Totnes-Vire, I wrote another email linking to those results and our social media exposure to see if there was a last hope but I never got anything back.
"I was quite optimistic they were going to give us genuine look and I'm sure they did.
"The only thing that made me think we had a genuine chance was that two of last year's best British riders were Ian Wilkinson (15th on stage two) and Harry Tanfield (ninth on the same stage) who are both in our team this year.
"I'm sure if the Tour de Yorkshire was in two months time and they were still making decisions, we'd have had an exceedingly good chance but they didn't know those results we've since had so we can't be bitter about it. We've got to prove ourselves and that's what we're intending to do."
Thornton said that the Tour de Yorkshire organisers were aware of the team's early season success and that they will have as good a chance as the other domestic teams in competing in the 2017 edition.
She added: "Pedal Heaven boys are doing brilliantly, and let's see if we can try and get them involved next year."
Thank you for reading 20 articles this month* Join now for unlimited access
Enjoy your first month for just £1 / $1 / €1
*Read 5 free articles per month without a subscription
Join now for unlimited access
Try first month for just £1 / $1 / €1