When did Peter Sagan last wear a standard team jersey?
Reigning world champion claimed the Slovakian national road race title back from his elder brother this year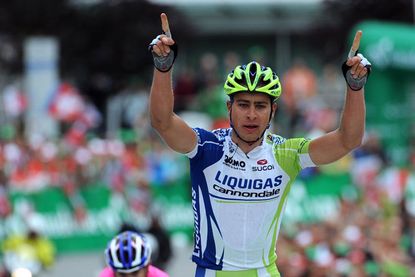 Peter Sagan (Bora-Hansgrohe) secured himself the Slovakian national road race champion's jersey on Sunday, continuing the run of decorations which mean his last (non-time trial) race in a standard team jersey was the Tour de Suisse in 2011.
Riding that year for Liquigas-Cannondale, Sagan won stages three and eight, also claiming the points jersey - so he didn't even stay in his standard issue kit past day three.
Sagan won his first national title a couple of weeks after that edition of the Tour de Suisse; the first of five consecutive victories in the race.
Sagan's 2018 National Championships win - which he achieved following a 90km solo break - takes his total to six and the reigning world champion steals the title from his brother, Juraj (Bora-Hansgrohe).
Two-time national champion Juraj finished two minutes behind Peter, followed by fellow team-mate Michael Kolár, who crossed the line a further four minutes later at the combined Czech Republic and Slovakian road races in Pilsen (Czech Republic).
Both years that Juraj has held the National jersey - 2016 and 2017 - brother Peter has taken second and instead worn the rainbow stripes of UCI world champion - an honour that the 28-year-old clinched for the first time in 2015, again in 2016 and he currently wears the rainbow stripes from his 2017 win.
The younger brother's eagerness to regain the national title perhaps sheds light in Peter's expectations at the mountainous Innsbruck-Tirol World Championships course in Austria this September.
Doubling up the world with European champion titles is something Sagan did in 2016, though notably he's still lacking an Olympic gold, or even a podium.
The 2016 Rio Olympic course was anticipated to be a race for climbers, though in fact it was Classics specialist Greg Van Avermaet who took the prize, Sagan taking home 35th in the cross-country mountain bike race.
Though Peter said he had "no regrets" about choosing not to challenge at the road race, he commented: "the Olympic gold medal is for all of life," and it seems likely it's one that's still on his agenda.
Thank you for reading 20 articles this month* Join now for unlimited access
Enjoy your first month for just £1 / $1 / €1
*Read 5 free articles per month without a subscription
Join now for unlimited access
Try first month for just £1 / $1 / €1