BBC report reveals how close the 2017 Tour de France came to starting in London
Withdrawal of bid to host 2017 Tour de France Grand Depart made just before details of route were due to be released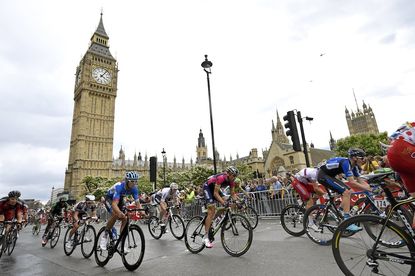 (Image credit: Watson)
An investigation by the BBC's Matt Slater has revealed how advanced Transport for London's preparations were in its bid to host the Grand Depart of the 2017 Tour de France before it was controversially withdrawn.
Documents released to the BBC under the freedom of information act show the route of the opening three stages of the race, starting in the British capital.
According to the BBC, the statement that London had withdrawn its bid to host the Tour start came just before the route announcement was scheduled to be made.
>>> BBC website: How close did London get to hosting Tour de France 2017?
Stage one would have started in Greenwich and finished on The Mall via a loop of Surrey. Stage two, a time trial, was proposed to have been run through the centre of London. Stage three would have headed south from London to Brighton before turning east to finish in Hastings.
Mayor of London Boris Johnson revealed at the end of September that he pulled the plug on the Tour bid, citing that the £35 million required to host the race would be better spent on other projects.
>>> Boris Johnson reveals he pulled the plug on London's Tour de France bid
"The difficulty was we had to make a choice. £35 million is an awful lot to spend on a one off event when you could put that money in to long term projects," Johnson said.
London previously hosted the Grand Depart of the Tour in 2007, and also hosted a stage of the 2014 Tour.
>>> London rejects 2017 Tour de France start
The withdrawal of London's bid to host the 2017 Tour Grand Depart has drawn criticism from several quarters, with some saying that it may have irreversibly damaged the long-term relationship between ASO and the capital.
Labour's Mayor of London candidate Sadiq Khan MP said after the announcement of the bid's withdrawal: "By not hosting the iconic Tour de France, the Mayor and the Government are wasting a huge opportunity to show London to the world."
Thank you for reading 20 articles this month* Join now for unlimited access
Enjoy your first month for just £1 / $1 / €1
*Read 5 free articles per month without a subscription
Join now for unlimited access
Try first month for just £1 / $1 / €1