Boris Johnson reveals he pulled the plug on London's Tour de France bid
Mayor of London Boris Johnson says the £35m needed to host the Tour de France in 2017 would be better spent on other projects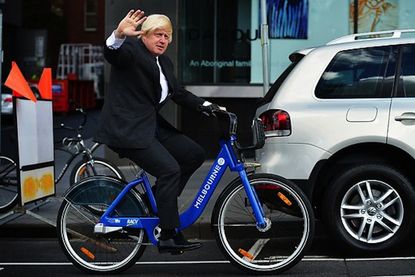 Boris Johnson has said he withdrew London's bid to host the Grand Depart of the 2017 Tour de France, claiming it didn't represent value for money.
The Mayor of London says hosting the race would have cost £35m - money that could be better used elsewhere in the city, according to Mr Johnson.
London reportedly beat out bids from Manchester and Edinburgh to host the start of the race, but pulled the plug before signing the contract with race organisers ASO.
"I had to take a very tough decision, obviously painful. In an ideal world, you know me, my policy is to have your cake and eat it," said Mr Johnson, quoted by the Press Association.
"The difficulty was we had to make a choice. £35 million is an awful lot to spend on a one off event when you could put that money in to long term projects."
The Mayor is an advocate of cycling in the city and insists the money would be put to better use in improving the cycling infrastructure for residents rather than to host a one-off event.
Transport for London's Leon Daniels defended the decision to withdraw the city's bid: "We have always said that the return of the Tour was subject to funding.
"To ensure value for money we must make difficult choices, and on this occasion we have decided that we will not be hosting the Grand Depart in 2017."
London last hosted the Tour de France in 2014 and also hosted the Grand Depart in 2007.
Thank you for reading 20 articles this month* Join now for unlimited access
Enjoy your first month for just £1 / $1 / €1
*Read 5 free articles per month without a subscription
Join now for unlimited access
Try first month for just £1 / $1 / €1