Chris Froome will not wear the Tour de France yellow jersey
There is no leader of the Tour de France after Tony Martin's withdrawal, according to commissaires, meaning Chris Froome will not be wearing the yellow jersey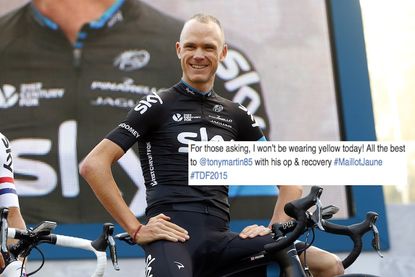 (Image credit: Watson)
The yellow jersey will be absent on stage seven of the Tour de France after Chris Froome confirmed that he would not wear it, despite technically holding the race lead.
Tony Martin crashed in the maillot jaune in the late stages of stage six, but continued to the finish line and was awarded the same time as his original group, thus kept the jersey overnight.
The German, however, sustained a broken collarbone in the crash and announced he will not take to the start of Friday's stage seven, meaning Froome takes over the race lead.
It became unclear if Froome would be obliged to wear the jersey under race rules, but chief commissaire Guy Dobbelaere clarified that there is currently no leader of the race.
"Tony Martin was the leader of the Tour on Thursday night after the sixth stage. Now he is on longer in the race, then there is no leader. I have communicated the decision to race director Thierry Gouvenou, who also agrees," Dobbelaere told Het Laatste Nieuws
Froome took to Twitter on Friday morning to confirm that he would not wear yellow, wishing Martin good luck with the operation on his collarbone due to take place in Hamburg.
It is the first time since 2007 that the yellow jersey holder will not be present at the start of the stage. That time Dane Michael Rasmussen was sent home from the race after lying about his whereabouts when he missed drugs tests earlier in the year.
That day Alberto Contador was offered the chance to wear the jersey, but refused.
Watch highlights from stage six of the Tour de France
Thank you for reading 20 articles this month* Join now for unlimited access
Enjoy your first month for just £1 / $1 / €1
*Read 5 free articles per month without a subscription
Join now for unlimited access
Try first month for just £1 / $1 / €1