Michael Rasmussen admits to 12 years of doping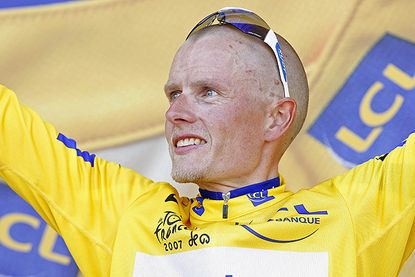 The confessions continue. Dane Michael Rasmussen is the latest rider to come clean about their past doping. Rasmussen admitted on Thursday to 12 years of doping between 1998 and 2010, which includes the 2007 Tour de France from which he was ejected for lying about his whereabouts.
The former Rabobank rider admitted using a range of banned substances and techniques to improve his performance, including EPO, cortisone, hormones and blood transfusions. He has announced that he is retiring from professional cycling.
According to Anti Doping Denmark, Rasmussen took part in a series of interviews conducted in Copenhagen and Amsterdam, and involving the Netherlands' anti-doping agency, US Anti-Doping Agency (USADA) and the World Anti-Doping Agency (WADA).
Director of Anti Doping Denmark Lone Hansen said in a statement: "... It is my opinion that Michael Rasmussen, during interrogations, has responded honestly to our questions and contributed actively to shed light on the doping practices in the sport." The statement went on to call Rasmussen's co-operation a 'groundbreaking collaboration'.
Rasmussen has said that he will make himself available for further interviews if required, and he now faces a suspension from competition for a minimum of two years, expected to be reduced from eight due to his co-operation with authorities.
Rasmussen's cycling career started in mountain biking where he won the 1999 cross-country World Championship title - the year after he says that he started doping.
He then moved to road cycling in 2002 with CSC, managed by former Danish professional Bjarne Riis. He won a stage of the Vuelta a Espana in 2003 with Rabobank, and then finished 14th in the following year's Tour de France. In 2006, Rasmusen clinched the Tour's King of the Mountains title.
In 2007 it started to go wrong for the Dane. He was forced to withdraw from the Tour de France whilst in the yellow jersey after it was discovered that he lied about his whereabouts to anti-doping authorities. He had said that he was in Mexico training, but was spotted by Italian television commentator Davide Cassani in Italy during the period in question.
Rasmussen was dismissed by Rabobank but continued to protest his innocence despite receiving a two-year suspension. On his return from suspension in 2009, Rasmussen has ridden for a succession of minor teams and is currently signed to the Christina Watches squad.
Rabobank withdrew it sponsorship of the Netherlands-based WorldTour team in October, citing the scandal surrounding the USADA doping report on Lance Armstrong and US Postal as the reason.
Related links
July 2008: Rasmussen - Two year ban remains in force
July 2008: Rasmussen suspended for two years for missed dope tests
May 2008: Rasmussen takes Rabobank to court
July 2007: Rasmussen out of Tour
July 2007: Rasmussen under pressure after missed dope tests
Thank you for reading 20 articles this month* Join now for unlimited access
Enjoy your first month for just £1 / $1 / €1
*Read 5 free articles per month without a subscription
Join now for unlimited access
Try first month for just £1 / $1 / €1