David Brailsford: Chris Froome doesn't pick Sky's Tour de France team, I do
Chris Froome says he is concentrating on the Criterium du Dauphine, where he won stage one, rather than speculating on Sky's Tour de France team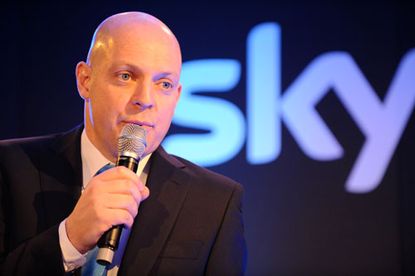 Team Sky principal David Brailsford has said that the squad's Tour de France roster has not yet been settled, in reply to Bradley Wiggins' comments made on Friday that he had not been picked for this year's Tour.
Talking to the Sunday Times, Brailsford said: "Despite the impression that might have been created, the team for the Tour is not yet finalised. I will be the one making the decision on who is in the team."
Wiggins told the BBC on Friday that he would not ride the 2014 Tour with Sky when it starts in Yorkshire on July 5 unless there was a change in circumstance at the squad.
"The team is focused around Chris Froome," said 2012 Tour winner Wiggins. "I am gutted. I've worked extremely hard for this throughout the winter and up to the summer. I feel I am in the form I was two years ago."
Brailsford underlined that he will not be making a final selection for Sky's Tour roster until after the Criterium du Dauphine - featuring Froome - and the Tour de Suisse - featuring Wiggins - were over.
The much-publicised spat between Wiggins and Froome during and after the 2012 Tour has been widely publicised, and has led many to believe that defending Tour champion Froome has had a say in whether Wiggins is present or not. Brailsford was quick to dispel that rumour.
"We knew from last year that my job was to build a team around Chris Froome because he's the rider most likely to win this year's Tour de France," Brailsford told the Sunday Times. "In building the team I have to take the group dynamic into consideration. People should be careful before thinking Chris is making decisions here. Chris is a great bike rider, he deserves to lead our team but ultimately he doesn't pick the team. I do."
Froome won the opening time trial in the Criterium du Dauphine on Sunday. Wiggins starts the Tour de Suisse on June 14.
in April, Brailsford left his post as performance director for the Great Britain national team to concentrate on managing Team Sky.
Bradley Wiggins says in BBC interview that he will not be selected for Team Sky's Tour de France team this
Thank you for reading 20 articles this month* Join now for unlimited access
Enjoy your first month for just £1 / $1 / €1
*Read 5 free articles per month without a subscription
Join now for unlimited access
Try first month for just £1 / $1 / €1