Geraint Thomas set for Tour de France co-leadership with Froome after strong Critérium du Daupiné performance
Welshman's Dauphiné form suggests he's on the right path to start Tour as Sky's co-leader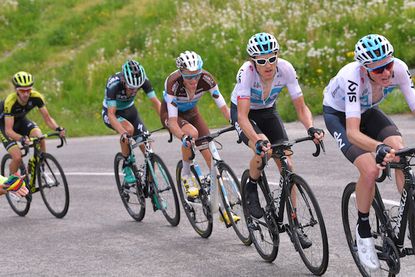 (Image credit: Tim de Waele/Getty Images)
The Critérium du Dauphiné has almost always been a happy hunting ground for Team Sky. Winners of the title five times in the last seven editions, they are now well placed to add a sixth yellow and blue jersey to their haul with Geraint Thomas well clear of his main rivals on both time and, apparently, form going into the final weekend in the Alps.
The Dauphiné has long been a key preparation race for the Tour de France, and Thomas is certainly treating it as such. As a result of Chris Froome's anti-doping travails that resulted in the possibility that the four-time Tour champion might not be able to defend his title in July, the Welshman has been working towards the Tour with a view to starting it as Sky's leader. Even though Froome now looks increasingly likely to line up at the start in the Vendée on July 7, Thomas's focus and status remain unchanged.
"I took the approach that July is the target and to try to get there in the best shape possible," he said after taking the Dauphiné leader's jersey after finishing second behind Dan Martin at the summit finish of Valmorel. "It's been a good year so far, I've been enjoying it and this race has been really good so far bar the silly little crash in the prologue."
>>> UCI launches investigation into special aerodynamic gel used by Lotto Soudal at Critérium du Dauphiné
Valmorel could prove a breakthrough moment for Thomas. Although Martin managed to fend off the Welshman's late surge and hold on to win, none of the other favourites for the title were able to stay with Thomas when he pushed hard in the final kilometre. Denied the chance to demonstrate his GC pedigree at last year's Giro d'Italia and Tour by crashes that were the fault of others, Thomas appears to be near the level he's been striving to achieve in recent seasons.
But will Froome's likely inclusion at the Tour result in him being relegated to a first lieutenant's role again? Thomas believes not, at least not initially. "Hopefully at the Tour I won't have to do too much work early on for Froomey. The main thing, though, is to get there in the best shape possible and we'll go from there," he said.
Watch: Critérium du Dauphiné stage five highlights
Pressed on the fact that Sky have never previously started the Tour with co-leaders, he replied: "While this will probably be the first time we've gone into the Tour with two leaders, we've obviously done that at the Giro before, and not only last year when [Mikel] Landa and me were joint leaders.
"A lot can happen during the Tour, and especially during the first week this year, so having two guys who are hopefully in good enough shape to fight for the overall is a bonus. We'll take it day by day and see where we are at the end of the first week. The key thing for me is that I'm not in good enough shape then I'm not going to have that chance."
>>> Romain Bardet on Chris Froome: 'If I were him I would not consider starting the Tour de France'
Inevitably the question of Froome's ongoing salbutamol case arose, with Thomas asked for his take on the opposition some riders have voiced to Froome racing at all. "For a start, I believe in Froomey. He's allowed to race, so he should be able to," said the Welshman.
"It's frustrating for everyone, not just Froomey and our team, but for the whole peloton. It's just not a nice situation for anyone. I know it's easy for me to say that I'm in my own little bubble and that I only worry about myself, but that really is how it is. I've got my own life, my own programme and I can't affect anything that goes on there. For everyone's sake, I just hope it gets sorted out sooner rather than later."
Thank you for reading 10 articles this month* Join now for unlimited access
Enjoy your first month for just £1 / $1 / €1
*Read 5 free articles per month without a subscription
Join now for unlimited access
Try first month for just £1 / $1 / €1
Peter Cossins has been writing about professional cycling since 1993, with his reporting appearing in numerous publications and websites including Cycling Weekly, Cycle Sport and Procycling - which he edited from 2006 to 2009. Peter is the author of several books on cycling - The Monuments, his history of cycling's five greatest one-day Classic races, was published in 2014, followed in 2015 by Alpe d'Huez, an appraisal of cycling's greatest climb. Yellow Jersey - his celebration of the iconic Tour de France winner's jersey won the 2020 Telegraph Sports Book Awards Cycling Book of the Year Award.