Sam Bennett: Every day at the Tour de France is like a World Championships
Irishman Sam Bennett sits 169th and last in the Tour de France at the second rest day but is determined to get to Paris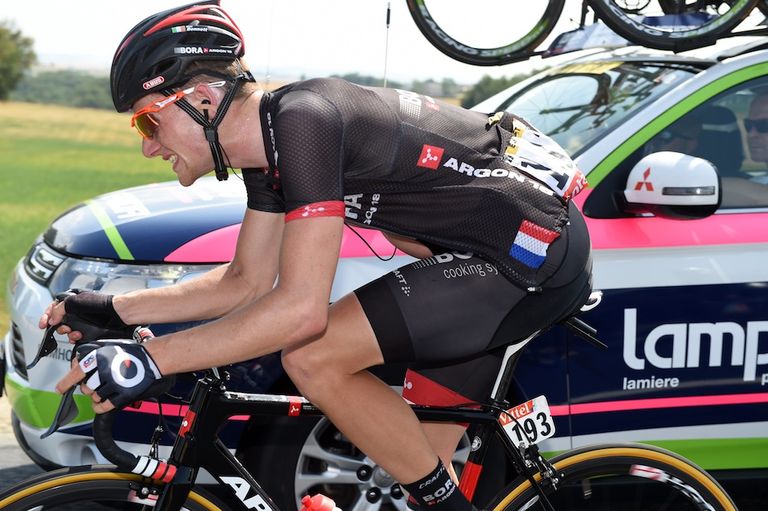 (Image credit: Watson)
Tour de France lanterne rouge Sam Bennett admits he feared his Tour de France might have been over before Tuesday's second rest day.
The Monaco-based Irish Bora-Argon 18 rider sits nearly three-and-a-half hours behind Chris Froome in 169th place after 16 stages of his maiden Grand Tour.
The 24-year-old came to prominence when he won stage six at the Tour of Qatar and entered the Tour de France on the back of two stage wins in Bayern-Rundfahrt.
He was last man on the road on Friday's stage to Mende, and told Cycling Weekly that he believed he thought his Tour was ending during last weekend's stages in the Massif Central.
'It's been as tough as I expected," he said. "There's been a couple of stages where I thought I was finished and going home.
"I thought Friday was going to be a much nicer stage after the Pyrenees. It was so hard. I went too far into the red on one of the climbs to hang on to the group, and it wasn't downhill afterwards, so I really paid for that.
"A lot of the time you think there might be an easier day, but there's not been a stage like that yet. It's been like the World Championships every day.
"But I've made all the time cuts so far; I've pushed myself, and obviously that means it's harder to recover each night."
>>> Like the olden days: What happens when team buses don't make it to the finish line
To cope with French hotels without air conditioning in high temperatures, Bennett has occasionally been sleeping with ice packs on his legs to help him sleep.
And it's a hope that he will become a stronger rider by completing the Tour that's driving him on to Paris on Sunday.
"I'm just thinking that I'll get stronger in future by riding this race," the 24-year-old added.
"Hopefully I'll become a better rider for it; if it gives me different strengths by finishing it I'll be happy."
What are your Tour de France memories?