Tour de France Bastille Day stage under threat after storm damage
The use of the Col d'Agnès is in doubt after several sections were washed away in flash floods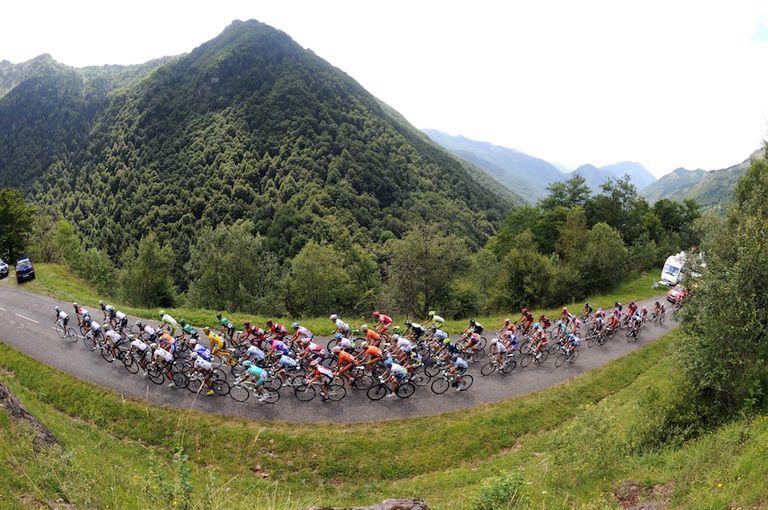 (Image credit: Watson)
The organisers of the Tour de France will have to draw up a plan B for one of the race's key stages in the Pyrenees after violent storms provoked landslides that swept away several sections of the road from Aulus-les-Bains towards the Col d'Agnès.
>>> Seven Strava segments of the key Tour de France climbs where the race will be won and lost
Torrential rain last Friday left the road impassable in five different locations on the pass, which is the second of three climbs on the very short 13th stage between Saint-Girons and Foix, which takes place on Bastille Day.
"There are five dams blocking the road," Serge Castillon, transport director from the Ariège departmental council told La Dépêche.
As well as clearing trees, mud and boulders that were piled on the road, engineers will also have to carry out significant repairs to some sections that were either lifted or completely removed by the flood waters.
The full extent of the damage will only be revealed later this week when road crews should manage to clear away the debris.
Initial indications suggest that the climb should be fit for use by the Tour in mid-July, but that it is very unlikely to feature on the route of the Ariégeoise sportive, that will draw more than 5,000 riders on 24 June.
"It's clearly a problem," Ariégeoise organiser Patrice Vidal told La Dépêche.
"An analysis of the damage is going to be done very quickly. We should have a better idea of the situation by 10 June. But we've got to be prepared and have already started considering a Plan B."
If required, this plan is likely to require the Ariegeoise routes being diverted to Massat in order to tackle the full extent of the Port de Lers.
However, this option would not be open to Tour director Christian Prudhomme and his team if they want to keep the Bastille Day stage a short and almost certainly very fast 100 kilometres or so in length.
They would have to consider a more radical overhaul, possibly with the inclusion of the Col de la Core before the Col de Latrape, followed by a long valley ride to Massat and the start of the Col de Péguère, where the final three kilometres average more than 12 per cent.
It is far from the first time the Tour organisers have had to make potential late changes to the route because of natural road blockages.
In 2015, the road from the Col du Galibier to Alpe d'Huez was blocked by rockfalls, forcing the route of stage 20 to take in the Col de la Croix de Fer instead.