Tour de France stage 13 time trial set to go ahead after Nice attack
There will be no extra security in place despite the attack with it already at its maximum for the race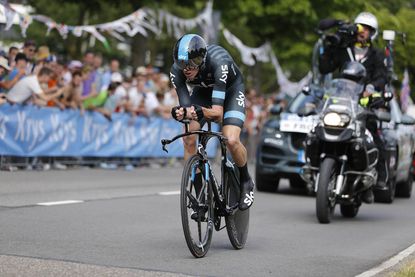 (Image credit: Yuzuru SUNADA)
The Tour de France stage 13 time trial is going ahead today despite the deadly attack which took place in Nice on Thursday night (opens in new tab), resulting in the death of at least 84 people.
Crowds gathered early for the start of the TT in Bourg-Saint-Andéol, which is set to kick off at 10-05 with the first rider down the start ramp.
Officials from race organiser ASO held talks with government officials, and concluded the stage will go ahead in Ardèche as planned.
"We had a crisis meeting with the prefect of the Ardeche department and the gendarmerie. The stage is on," said race director Christian Prudhomme.
"We want this day to be a day of dignity as a tribute to the victims. We asked ourselves (whether the stage should be cancelled) but we think, after agreeing with authorities, that the race must continue."
"The stage goes ahead, the Tour will continue in dignity, we will not give in to people who want to change our way of life."
The publicity caravan will remain silent as it passes crowds ahead of the race, in respect of the victims of Thursday's attack.
Security for the the Tour was already strengthened to it's limits for the 2016 edition after a the terrorist attacks in Paris in November 2015, meaning there is unlikely to be any more special measures put in place for the race.
23,000 police officers guard the race along through from start to finish this year, with a number of special forces personnel also brought in by the organisers ahead of the race.
Around 12 of those special forces are reportedly guarding a nuclear power station near the start town of the stage 13 time trial.
542 police officers are lining the 37km route to La Caverne du Pont-d'Arc, as ASO try to keep the race going without disruption.
Thank you for reading 5 articles this month* Join now for unlimited access
Enjoy your first month for just £1 / $1 / €1
*Read 5 free articles per month without a subscription
Join now for unlimited access
Try first month for just £1 / $1 / €1