Here's why riders didn't want to race the opening stage of the Vuelta
Who thought this team time trial was a good idea?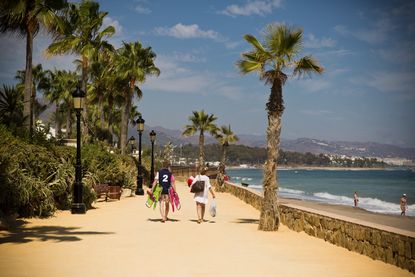 It hasn't been the best way to start a Grand Tour.
This year's Vuelta a España has been highly anticipated, to say the least. There's a fascinating route, packed with summit finishes from the very first week, and an intriguing long time trial that means the race is more than just a climbing competition. Then there's the stellar line-up, featuring the top four riders from this year's Tour de France – and many fans cherish memories of last year's race, when the mountain battles between Chris Froome (Team Sky) and Alberto Contador (Tinkoff-Saxo) gave us some of 2014's best head-to-head racing.
Since then, unfortunately, it has started to go wrong, thanks to an almighty mess of a opening stage. The 7.4km team time trial that opens the race has been widely criticised, to the extent that it has now been removed from the general classification altogether. The results will still stand for the overall team competition, but not for individual riders.
Cycling Weekly is here at Puerto Banús ready for the race start, and we thought we'd take a good look at the course that'll lead riders along the coast line to Marbella.
Without wanting to spoil the conclusion… we can't see how anyone ever thought this would be a good idea.
Riders start almost out in the ocean on a seawall that protects a local habour from incoming waves. It is fairly narrow and technical, but it isn't long before the route approaches the first plastic tiled section, after around 1.5km. This has been laid specifically for the race, as the course runs along a sandy beach.
This is then followed by a sand track which, to be fair, has been swept well (although the sand is built up on either side at the edges of the path), straight onto a pedestrian wooden promenade. It's a lot to take in first two kilometres.
The majority of the course is certainly rideable, but full tilt (30mph plus) with nine riders on time trial bikes, we can't help but think this mixture of technical terrain and narrow widths can only end up causing havoc.
Spending time with Spanish UCI Continental team Caja Rural-Seguros RGA Al earlier in the week, riders and staff weren't even sure if the first stage was confirmed to be a team or individual time trial. This just hasn't been the best way to kick off one of the year's showcase bike races.
Everyone wants to see top riders challenged, and bike handling is an important part of being a pro. But the team time trial is a particular discipline — and if you're into watching professionals wrestle with sandtraps, you're probably better off tuning into the golf.
Thank you for reading 20 articles this month* Join now for unlimited access
Enjoy your first month for just £1 / $1 / €1
*Read 5 free articles per month without a subscription
Join now for unlimited access
Try first month for just £1 / $1 / €1