Vuelta a España boss hits back over Mark Cavendish criticism
Vuelta a España race director Javier Guillén responds to Mark Cavendish's comments that the race has become "stupid" with all its mountain-top finishes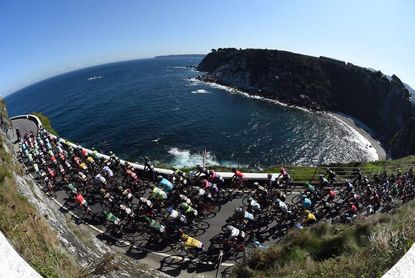 (Image credit: Watson)
The Vuelta a España came to the defence of its race after criticism from Mark Cavendish, who is racing the Tour of Britain, earlier this week.
Cavendish was speaking in a television interview when he labelled the Spanish Grand Tour "stupid" with "11 mountain-top finishes this year."
>>> Steve Cummings 'shocked' by Mark Cavendish criticism of Vuelta a España
"If we are stupid for that, I have to say to him that we don't have 11, but nine. Other years we had 11," Javier Guillén, the director of the Vuelta told Cycling Weekly.
"Honestly, I think he wanted to promote the Tour of Britain, but maybe he did it in the wrong way. I don't know, I don't care.
"He may call us stupid, but the audiences don't believe that because year by year, we have more and more international viewers."
Watch: Why pro riders love the Tour of Britain
Guillén sat down to speak after hearing about Cavendish's remarks. He said that he was only responding to it because he was asked, otherwise, he would not bother commenting.
He added: "Whoever the rider, especially Cavendish, if he wants to promote a race, he doesn't need to attack another race to promote it."
>>> MTN-Qhubeka emerge as favourites to sign Mark Cavendish
Cavendish said in the interview: "No-one wants to go to the Vuelta any more unless they crashed out of the Tour de France." Guillen shook his head in confusion about the comment.
"The riders only come here if they fall down in the Tour de France? It's curious he says that when the first place rider was here from the Tour de France and he didn't fall down, the second, the third, the fourth.... Froome, Quintana, Valverde, Nibali, Purito, Majka... All of them finished the Tour de France."
It was not the first time the Vuelta came under fire. When calendar restructuring comes up, some point fingers at the Vuelta and the Giro and say that they could be shortened to two weeks. It would leave only one Grand Tour, the Tour de France, instead of three.
"It should never go to two weeks. We shouldn't cut the monuments. I don't want a short Giro or a short Vuelta," Guillén continued.
"If we want to open the debate, let's do it, but we need to see the benefit not to talk about reducing quality. Other sports are trying to grow, not to reduce quality. We have to take care of the races we have."
Even with Chris Froome and Tejay van Garderen at home after crashing and Vincenzo Nibali disqualified, Guillen is still happy with his race.
He said that fans should have an exciting final four days with Tom Dumoulin (Giant-Alpecin) leading only by three seconds over Fabio Aru (Astana), and five riders fighting for three podium spots when the race ends on Sunday in Madrid.
Thank you for reading 20 articles this month* Join now for unlimited access
Enjoy your first month for just £1 / $1 / €1
*Read 5 free articles per month without a subscription
Join now for unlimited access
Try first month for just £1 / $1 / €1