Rico Rogers: In his own words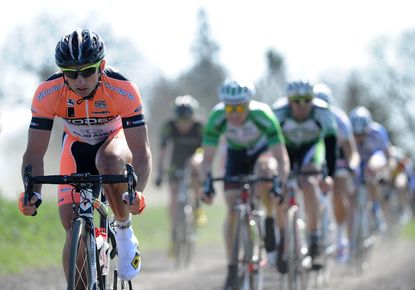 Node4-Giordana's fast-finishing Kiwi Rico Rogers tells Cycling Weekly about city life, rooming with Dave Clarke and what he gets up to off the bike
"Racing in Britain has been a pleasant change of scenery, particularly compared to my time in Asia and Oceania. I've lived in Belgium and France before, so the racing or the culture hasn't come as a surprise.
"The first two Premier Calendar rounds - the Maldon Dengie Tour and the Tour DoonHame - have been very interesting to say the least. I'm told they're slightly different from what else
is on the calendar, but I've enjoyed my time racing in the UK for Node4-Giordana so far.
"I've come from the Australian summer to the British spring, so the change in temperature has been extremely noticeable! The weather at DoonHame reminded me of a stage in the Tour of Qinghai Lake last year, in which it rained so hard and was freezing throughout.
"The conditions back in Australia gave me a really good opportunity to train for this season. Melbourne was endlessly sunny, so it's no wonder cycling is massive there right now. It's almost ridiculous how much it has grown. I think the Cadel Evans factor - and now the GreenEdge team - have helped that. It's now like the Belgium of the Southern Hemisphere.
"I like to be close to big towns and cities. I lived in St Kilda (which is a couple of miles from central Melbourne) before coming to the UK, which gave my girlfriend and I plenty of opportunities to go out. We like playwrights, so often went to the theatre.
"I've waited to see what the UK has to offer until now. My girlfriend has just come over to stay for a few months, which will give us a chance to explore. We're already planning trips to Italy and France.
"My team-mates have been helpful in pointing out the other sprinters I'll be coming up against throughout the year. I've raced against some of them before, so I'm confident that in a bunch kick I can beat them.
"I lived with (fellow Node4-Giordana rider) Dave Clarke when we were racing together in Belgium a few years back. I've heard a few more stories about him - he just cannot stay away from the bike! It's good that we have Malcolm Elliott to manage us too; he always has a story or two to tell which are worth listening to.
"I don't really need much time to chill out and relax. If I've got a minute I'll see if there's anything to look at on the internet. But that won't take long - I spend as much time on the bike as I can."
Thank you for reading 20 articles this month* Join now for unlimited access
Enjoy your first month for just £1 / $1 / €1
*Read 5 free articles per month without a subscription
Join now for unlimited access
Try first month for just £1 / $1 / €1