Rob Hayles: in his own words, part two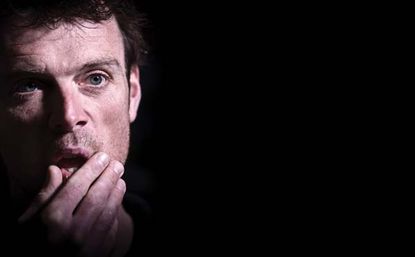 In part two of online exclusive, Rob Hayles recalls some of hardest days in his career - from a car crash in 2001 to unsympathetic management at Cofidis - but also remembers some of the happier moments.
Life in the fast lane
BIARRITZ
"We moved down there at the end of 2001 from Stockport. What a place. When I mention to people I lived there they go "ooh, bloody hell!" We only had a little apartment place but the lifestyle was quite something. Especially being around Dave [Millar] in those days. The first year we were there think we ate in about three times. It was such a small place you just walked into town. There was no point driving - if you did, the guy who owned the local MBK shop was part of the council so if you got parking tickets, you just gave them to him."
Hayles has an impressive wine collection, which stems from his time living in Biarritz
CAR CRASH
Hayles and his wife were involved in a serious car crash on the A34 near Oxford in September 2001. Hayles had a triple fracture of his pelvis and fractured the T12 vertebrae in his back.
"We were on our way to Manchester as I was going to have a medical. The track worlds were coming up and I was creeping at the time. I wanted to see if there was a reason why I was going so badly. Obviously I wasn't so good after the crash! Although it was bad, it wasn't career threatening."
Tough at the top
"I had issues with one of the Cofidis directors at my first race back in 2002. Baring in mind I'd smashed myself up [in the car crash] I'd lost shit loads of weight. For Sydney 2000, I was 86kg. At the end of 2001, I was 76kg. The doctors said I would be able to climb better, which I couldn't. But I couldn't ride on the flat, either. I got dropped, and the riders were saying he had been moaning about my lack of progression. I asked him if he knew what happened to me six months before.
"There had been other issues with the way the team was set up. I was on a flat contract, as were others but most of them depended on their UCI points. So it didn't bode well for teamwork. If my wages were based on bonuses, why would I work for anyone? There was big upheaval in the team for two years.
"I extended for a third year in 2003 and I was really ill the night before Flanders. The doctor came in and said I couldn't race. Because the UCI had been to the hotel that morning, team manager Alain Bondue said if I got pulled, people would ask questions. The doctor said that I should ride 5km and he wanted a car waiting for me. In the race, Bondue said the mechanic was waiting for me at 50km. I laughed - but he was serious. I lost any respect for them there."
Domestic bliss
Hayles slotted straight back in the team pursuit squad which took Olympic silver in 2004, before returning to the British road scene in 2005 with Recycling.co.uk
"Having ridden at the top level, the British scene was easier to ride but it was still hard to win. Apart from 2008, my road career was never about performance but a means to an end for the track. I was riding with Russ [Downing', so results wise it was all about him. I was happy doing that as I was getting the workload I needed. To win sometimes you don't empty yourself. I felt I needed to do that regardless of the result. Finishing a race after smashing people is good - but smashing myself I was more content with."
Hayles in the rainbow jersey
2008 highs and lows
After a 14 day suspension following a failed haematocrit test (he was 0.3% over the 50% limit) during the Track Worlds in Manchester, Hayles went on to win the British Road Race Championships three months later after a dominant display.
"My coach Matt Parker had said to me I needed results that year. Despite the markers and tests I'd done previously, results were the BC selectors were looking at. So I changed my outlook on the season.
Hayles becomes national champion in 2008
A painting of a photograph by CW's Andy Jones proudly hangs in his house
"I knew 80km I was going to win - I was going through my victory celebration in my head. It means a lot to be national champion and because of the year I'd had, it was extra special. On the podium I was looking down at Dave [Brailsford] and Shane [Sutton] and I was hoping it would help me for Beijing. The race came right in the middle of the selection period, and I thought I was in with a good chance."
Hayles wasn't selected for the 2008 Olympics, but rode the World Cup round in Manchester shortly after. It was a fitting finale for his track career.
Hayles driving on the front at Manchester
"The team pursuit at Manchester was really special. That was the first time I went sub four minutes. Pretty mega. Then that, we were concentrating on the Madison with Pete Kennaugh. We'd learnt a lot about it by picking the bones out of it like we'd done with every other event. At the pre Worlds training camp, Dave came and told me that I was it. I was pretty distraught; that was it. That's what I'd based most of my career on. Perhaps in previous years they might have let me do the worlds, but that's not what it's about now, it's about performance. They could have done that after the Olympics - they could have said don't come back but at least I had that chance."
Related links
Rob Hayles: in his own words - bonus part one
Rob Hayles: in his own words - bonus part three
History of Hayles - magazine feature
Rob Hayles rider profile
Thank you for reading 20 articles this month* Join now for unlimited access
Enjoy your first month for just £1 / $1 / €1
*Read 5 free articles per month without a subscription
Join now for unlimited access
Try first month for just £1 / $1 / €1