Ryder Hesjedal Interview: Team Ryder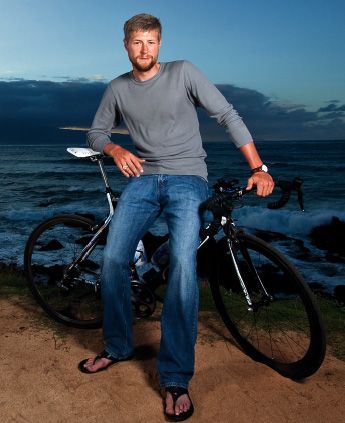 "I just do my job in a cool, collected way. I don't get crazy"
Being a team player is what it's all about when riding for a pro squad, and Ryder Hesjedal is the perfect example of this. Crucial to Bradley Wiggins's great result in the 2009 Tour, Hesjedal explains his key role in Garmin's success, not forgetting his own big victories.
Words Bruce Hildenbrand
Photos Mike Adrian Photographers & Graham Watson
Bradley Wiggins came fourth in the 2009 Tour de France, but he was standing on the shoulders of giants. Superb and very visible support was given to him by two of the most experienced and talented domestiques in the peloton — Christian Vande Velde, who was Wiggins's last man in the mountains, and David Millar, who led Wiggins out into two of the Tour's most crucial climbs at Verbier and Mont Ventoux.
But the most valuable contribution of all might have been from Ryder Hesjedal, who did one of the best rides of the entire Tour by any competitor at the team time trial. Garmin started fast, unsurprisingly, given the team roster — Millar, Vande Velde, David Zabriskie and Bradley Wiggins are four of the best time triallists in the world. And they quickly shed their weaker riders.
Tyler Farrar, Danny Pate, Julian Dean and Martijn Maaskant were cast to the winds before halfway. The time of the team would be that of the fifth rider over the line — Hesjedal was about to enter purgatory. If he'd faltered, Wiggins's superb Tour could have been stillborn.
"To be the guy who was simply in the middle, who didn't come off, but wasn't good enough to contribute to that effort was a pretty hard position to be in, obviously," says Hesjedal.
This is a typical understatement from the Canadian. He suffered on the wheels of his four team-mates, occasionally contributing, but more often sitting on the back, stubbornly hanging in. A measure of how much he must have suffered, as well as the quality of his team-mates, is that Garmin were only beaten by Grand Tour GC bullies Astana, who finished with all nine riders, only 18 seconds ahead.
After the opening time trial in Monaco, Garmin-Slipstream had two bona fide contenders in Bradley Wiggins and Christian Vande Velde. Wiggins was the team's secret weapon, while Vande Velde was off peak form, having been seriously injured earlier in the season. But a good team time trial was crucial to their strategy. Not only did the team want, very badly, to win the TTT, but the time gaps to their rivals would be all-important.
Vande Velde describes the team's strategy. "Our game plan was just to go. We were really tentative in the Giro and that was still in the back of our minds.
We were still pretty upset about how we rode the team time trial in the Giro. We wanted to leave nothing behind, so we went for it right from the gun. That's what happens when you do something like that. You might lose some riders. That's the chance we had to take."
But when they lost the riders, nobody panicked. "It was pretty relentless," continues Vande Velde. "There were no big flat roads, and even if it was straight it wasn't flat. If there was a downhill, there was a corner at the bottom. So there was never time to regroup in that first third of the race. When we hit that climb, the guys who hadn't recovered were out of it right away. It was really hard to get your rhythm.
"I had confidence in Ryder. I knew he was definitely on the limit, if not over it, going up that hill. I knew as a whole we would be OK. Ryder has been through a ton of team time trials with us. I knew that after that hill it wasn't so hard to sit on. So, I knew if we got to that we were pretty much apples."
And Hesjedal panicked the least. In his eyes, there was a simple job to do: stay with the team. In doing so, he laid the foundations for Wiggins to finish just a few seconds off the podium in Paris.
"Knowing that you can't come off. That is a pretty simple motivator at that level," he says. "When you have gone through more than 10 years of being a professional bike racer you have been through moments where you can muster what you need to do to do it. That's simply what it was for me."
And rather than be satisfied that he'd done possibly the best individual ride of the day, Hesjedal was initially disappointed that Garmin had missed out on the victory. "At the time, you are really bummed not to win. But it didn't take me long to think, 'That was one of the most amazing things I have ever been a part of... going that fast with only four guys pulling.' Then you start to see other teams like Lotto, with Cadel, and even Cervélo, and other teams who got their doors blown off. When you start to think about that you are like, 'OK. We need to put things in perspective,'" comments Vande Velde.
"It was easy at first to be short-sighted, but when you looked at the results that night at the dinner table you realised that, wow, we were really fortunate to do what we had done."
Always there
The 2009 Tour team time trial wasn't the first time Ryder Hesjedal had played such a crucial role in saving a Garmin rider's Tour. It was Hesjedal who paced Vande Velde on the Col de la Bonette, in 2008, when Vande Velde lost contact with the yellow jersey group.
He just seems to be there when it counts. When the critical moments of a Grand Tour hang in the balance, such as on the Bonette or in Montpelier, he is there to do his job and save the day, making him the consummate team player.
It's a bit odd that Ryder should play such a role on the Garmin team. He got his start in cycling by racing mountain bikes, where a solo effort is required to succeed. He won a silver medal in the under-23 cross-country event in 2001, and a silver medal in the men's cross-country race
in 2003. "I really believed I could contend for a gold medal in Athens and be in the hunt for a medal coming off a silver in Lugano in my first year as a senior," remembers Hesjedal.
In 2004, Hesjedal prepared for Athens by riding some road events for Lance Armstrong's US Postal Service team.
"All I thought about in 2004 was trying to get that Olympic medal under my belt. That was my focus. It just didn't pan out at all at the Olympics and later on at the World Championships," he reflects.
But with an apparently bright future in mountain biking, in 2005 Hesjedal signed on full-time to ride the road for Discovery Channel.
"I could continue on the mountain bike or take the opportunity in 2005 to commit fully to the road. That is what I did and haven't looked back from that. I am very pleased with that decision."
Road cycling is very much a team sport, unlike mountain bike races, which are basically two-hour individual time trials.
"At first it might have been a hindrance for him being a professional and coming from mountain bikes, where you are your own team, but here you have to learn how to be amongst everyone. But I think he has really embraced it," notes Vande Velde.
Hesjedal recalls his first full season on the road: "It was the first year of the ProTour, and racing at the highest level on a team like Discovery Channel, everything was new at that point. It was a hard year. It was as full a road year as you can do. I simply had to go through the bumps and that was a big part of that season. There were a lot of hard races, like the northern Classics. You learn how to race your bike pretty quickly in that environment."
That season also included Hesjedal's first Grand Tour, the Giro d'Italia.
"It was brutal. I crashed. I remember it vividly. I had gone off the road in a bad situation and had hit hard. It was an epic day and it was only day five of my first Grand Tour. Eventually winning it with Savoldelli, I went through it all. I left the day he went into pink. I mean, how hard is that?"
Crashing
"That was my first Grand Tour experience, and all I knew was that I wanted to go back and tackle it again. Crashing is just part of racing, but that was a hard first taste, to crash early on and then try and go as far as you can until you just can't go any further."
In 2006, Hesjedal switched to Phonak and came fourth overall in the Tour of Catalonia before starting his second Grand Tour, the Vuelta a Espana. Unfortunately, he was forced to drop out on stage 17. When Phonak folded at the end of the year, he went back to North America to race for Team Health Net.
"I had pretty much been going full gas, as hard as I could for two years, with Discovery and moving over to Phonak. I did the full ProTour season again there. Going through that whole year, and just the state of everything, I didn't see myself starting over again on a new team in Europe. It just didn't seem like something that was going to make sense."
Racing well in the big US events brought interest from the Slipstream team who were looking to make the big jump to European racing.
"It didn't take long to know that this was going to be a good fit for me. Once I showed myself racing in California and Georgia, and even Tour of Gila, they knew I could contribute and I was a guy who had that European experience coming to the programme and living out of Girona [Spain]," said Hesjedal.
When the 2008 season opened in Europe, it didn't take long for Hesjedal to prove his worth, contesting the finale of GP d'Ouverture La Marseillaise and eventually taking third. But it was in May, at the Giro, that he really began feeling more comfortable about his racing.
"Pumping through Sicily and getting the jersey right away, we were pretty comfy. It was, 'The Giro? No problem. I know the Giro.' It was easy to get through that one. Everyone who was there looks back and knows just how hard that Giro was on so many levels. I am always going to be proud of that." But even more importantly, the curse of the Grand Tours was finally broken.
"That Giro was crucial for me, especially simply to finish it. In 2005, I made it 14 days. In 2006, in the Vuelta,
I didn't finish the 17th stage, so I was 0-2 in finishing Grand Tours. I knew that was important in the steps for me to get to the Tour de France. To simply be there after two weeks and get through the last two days over the Gavia, the Mortirolo, Aprica, and be second in the second bunch, that was a huge day."
Slipstream received a wild card invite to the Tour de France in 2008, and Hesjedal was selected for the team.
"I think the way I got to do the Tour de France for the first time with a new team, that the environment was as good as it could be. The pressure was pretty nil. I think the goal for the organisation was just simply to be there."
Even with that little pressure, however, it is still the Tour de France. "I was a bit paranoid that I couldn't finish and where I would be in the final week. That was always in the back of my mind, and I knew that if I could get to the last week in good shape, I had shown [in the Giro] that I could get through the big mountains in those long days and be in the mix, whatever it may be, or a break or late selections or what have you."
And that is exactly what happened on stage 16 over the Col de la Bonette to Jausiers. Hesjedal got in an early break and when his team leader, Vande Velde, was dropped from the yellow jersey group on the Bonette, Hesjedal was there to pace him over the climb and save the day.
"That was an epic day. To be chasing or trying to hold the yellow jersey group, on a climb like that, at the Tour, for my leader, that's what it is all about. I would hope that one day there would be someone who could do that for me if I am in that situation," recounts Hesjedal.
A year on, and the Garmin-Slipstream rider once again proved his worth up in the Alps, in week three of a Grand Tour, with a stellar ride on the 2009 Tour's most critical day, the stage from Bourg Saint Maurice to Le Grand Bornand.
"The goal there was to help Christian and Bradley as late as possible. And it just turned out that we were doing well in the team competition, and the third guy is always counting for the team, so it is easy to stay in an effort and get to the finale. That was a hard day. I think I came off on the second to last climb, but that day was so filthy that there were not too many guys left by then," he explains.
Vande Velde gives Hesjedal's ride an interesting perspective: "I think it comes down to a lot of confidence. He was one of the strongest guys in the whole entire race that day. Once Ryder realises that he can be up there on the big climbs, he will be up there more and more. That's his place and he will be there every time."
For a racer who had spent most of his career trying to be the perfect team-mate, it is both ironic and fitting that Hesjedal would finish his 2009 season by winning one of the most mountainous stages of the Vuelta.
"We went to the Vuelta super-relaxed," says Hesjedal. "Obviously, what with Tyler [Farrar] doing what he did at the Eneco Tour and the Tour de France, leading into the Vuelta we were super-motivated. I was ready to contribute to the team effort as long as the team felt Tyler had a chance. My role was to be there to ride on the front, or do whatever, to help Tyler," he adds.
Game plan
On stage 10, Hesjedal was a close second to Simon Gerrans, and then Farrar won stage 11 for Garmin-Slipstream's first ever Grand Tour stage win. But when Farrar retired from the race on the rest day, it left the team's game plan wide open when the race resumed with stage 12, a very mountainous route from Almeria to the summit of Alto de Velefique.
"It was a hard start. The guys on the team were having a hard time because the break wasn't going. It was mainly Svein [Tuft] and [Christian] Meier, two Canadians, so I felt I had to contribute. I got myself to the front. I just rolled off the front real easy, right at the right time, and got into the break. The break formed pretty quickly," remembers Hesjedal. "As soon it happened I just knew that it was going to be a big day. The break was going to go a long time and there was going to be a chance, no matter what. I just believed the whole time and rode the break with that motivation. I think I was motivating to other guys in the break. It was mostly Spanish guys. That is always good. It was such a huge day. It unfolded in so many ways it needed to.
"When I got to the final climb, I knew the way I felt, I just knew I was going to be able to go up that climb and be in the hunt. You are always assessing. 'Am I the eighth best guy here? Am I the fifth best guy here? Am I the best guy here? Oh, there are only six guys. OK.' It played itself out and eventually it was just me chasing one guy who had gone early. As soon as I bridged up to him I knew I was in the mix. I wasn't going to give it up."
Clearly, 2009 was a breakthrough year for Hesjedal. "If I can go through next year in the same way that I did this season I will be pleased," he says. "You get to that point where you just have to try to keep doing what you are doing, but I always think I can improve on everything I have done at this point still."
My Liège
To that end, Hesjedal would like to show well at the Ardennes Classics.
"Next time I ride Liège, I definitely want to be in the top 10. That's what I was around in 2009, and I feel like I can battle there again. It just seems that as I have evolved, the Ardennes seem to suit me a lot better. I am more comfortable in that region. I can easily gear up for those events. That week is so hard and it fits into the schedule well."
Hesjedal has proven to be a key player for the Garmin team. He always seems to be in the right place at the right time, though his laid-back demeanour belies his talents on the bike.
"It is just my style. I just do my job in a cool, collected way. I don't get all crazy. I have been doing it since I was 15. I know what it feels like to have lactate burning and knowing that you have to get over that climb or stay on that wheel."
Thank you for reading 20 articles this month* Join now for unlimited access
Enjoy your first month for just £1 / $1 / €1
*Read 5 free articles per month without a subscription
Join now for unlimited access
Try first month for just £1 / $1 / €1