Spending cuts an "obvious opportunity" for cycling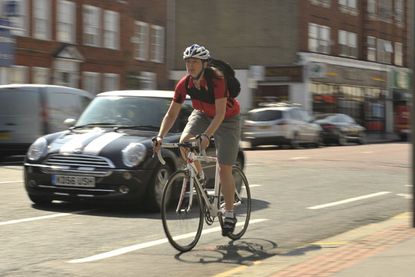 Planned 9% cuts to the UK's transport budget are a "blindingly obvious opportunity to prioritise cycling" says British Cycling.
The announced cuts in George Osborne's spending review presents the ideal opportunity to prioritise money away from roads and towards healthy, sustainable transport, says cycling's national governing body.
However, today's report on infrastructure investment sadly makes no reference to cycling.
British Cycling's Martin Gibbs said: "[The spending review] presents the Department for Transport with a blindingly obvious opportunity to prioritise cycling and reassess where the roads budget is going.
"In an age where petrol prices are high, the roads are clogged with cars and the obesity epidemic continues, there is distinct need for more sustainable transport options as a way to create more pleasant, healthy towns and cities."
While most transport funding was cut, long-term transport infrastructure investment will increase by 5.5% by 2015-16, which Gibbs asserts: "must be spent with cycling designed in at the outset," something we're still not doing.
Gibbs' comments come amid a flurry of new cycling statistics. Department for Transport figures this week show cyclist deaths rose by 10% in 2012, at a time when all road deaths are at their lowest level since records began.
Also this week a Transport for London (TfL) census measured bikes as 24% of London's rush-hour traffic, while the Times e-petition is currently pushing 70,000 signatories with an imminent debate due in Parliament (opens in new tab).
Cycling's proponents can now confidently point out the bicycle is no longer a marginal transport mode in our cities, and more must be done to invest in improving conditions for cyclists and to encourage more people onto their bikes.
Andrew Gilligan, London's Cycling Commissioner said: " There are just incredible numbers of cyclists in London and they are just not being catered for by the transport system. It is the mass transport system that has mass potential for growth."
Earlier this year Commissioner of TfL, Sir Peter Hendy, who now wants to prioritise cycling in London, said: "Across the Western world, forward-thinking cities are investing hundreds of millions of pounds in the bicycle, knowing that well-designed schemes can deliver benefits far greater than their relatively modest cost."
Thank you for reading 10 articles this month* Join now for unlimited access
Enjoy your first month for just £1 / $1 / €1
*Read 5 free articles per month without a subscription
Join now for unlimited access
Try first month for just £1 / $1 / €1