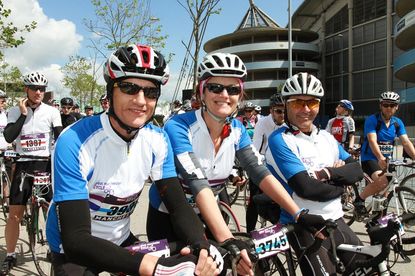 Entries for this year's Great Manchester Cycle opened yesterday, but you'd better be quick getting your name down because they're going like hot Eccles cakes.
Last year's inaugural event was a massive success with a staggering 7,000 cyclists taking part, and the 2013 version promises to be just as great.
The ride will take place on the closed roads of Manchester on Sunday June 30 June, starting and finishing at the Etihad Campus, home of Manchester City FC. This year's event will again feature three different distances - 13, 26 or 52 miles - designed to cater for all abilities, from club cyclists to families.
The closed road route will be slightly different, though, and in 2013 cyclists will now take over major trunk roads in Manchester and Trafford. The 13-mile loop will give participants the chance to see the city from a whole new perspective as they ride along roads normally off-limits to cyclists, including a stretch of Manchester's busiest motorway - the iconic Mancunian way.
Entry for each route will cost £20 for adults and £5 for youngsters. Children aged three to seven can take part for free.
External link
Thank you for reading 10 articles this month* Join now for unlimited access
Enjoy your first month for just £1 / $1 / €1
*Read 5 free articles per month without a subscription
Join now for unlimited access
Try first month for just £1 / $1 / €1