How to take better cycling photos
Looking to pap a rider during a race, or want to take better pictures in the mountains? We've got tips from a pro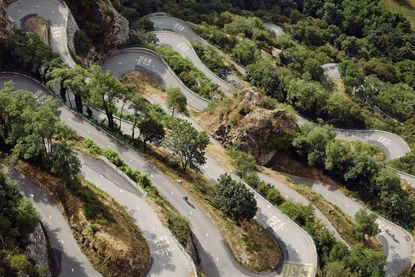 (Image credit: Picasa)
It's hairpins that always get me. There's an exquisite right hand swoop about a mile from my house, it features on a regular training ride and has tormented me from day one.
The scene looks like a tantalisingly good picture to the naked eye yet the quality simply won't allow itself to be recreated with a camera. At least not by me.
"I'm the same… I always look at hairpins… occasionally it works but usually they look really bland and boring," says cycling photographer Michael Blann.
Despite sharing the same frustrations with those elusive hairpins, Blann's photography know-how has seen him secure a job as Getty Images' 'London Creative Photographer', shoot commercial projects for some of the biggest brands in cycling and publish a stunning collection in his book 'Mountains: Epic Cycling Climbs'.
Blann spent a year racing for an elite team in Australia, but quickly realised his place in cycling wasn't as a professional rider. It's only recently he's been able to focus his career so squarely on his lifelong love of cycling: "It's been a slow process but has picked up pace in the last five to 10 years as cycling's really got popular," he says.
His most recent collection focuses heavily on the climbs which have given bike races so much of their colour over the years, the mountains where riders have engaged in battles we rarely see on the flat - probably because the whole display is moving so fast you need to be in the melee to catch the detail.
"In my heart I'm a landscape photographer. I'm not one to focus on the action - my approach was to take a step back and put the whole of the race into a context with the landscape," says Blann.
Ever improving smartphones and the continual upward growth of platforms like Instagram means that – whilst the pros will always have a quality we can't even hope to emulate – a lot of us are having a go.
If you're looking to get a coveted picture of your favourite riders in action, or you're seeking Insta-stardom that isn't all about 'hashtagmylunchtoday', then Blann has some tips.
Don't disregard popular culture, but know your overall goal
"Having any sort of social media platform to get your work out there is good – I've found lots of interesting photographers via Instagram, I think it's a great thing.
"There's an awful lot of people on there photographing their café rides and lunch... which is fine... but it really depends where you want to place your work. Are you trying to make stunning photography, or trying to document your day for your friends to see?
"If you're more business focused I think you have to theme your page, you can't just throw everything up there, jumping from dinner with friends to landscape photography."
Know the goal of each picture
"You've got to work out what their motive is – what you're trying to achieve. Do you want to capture action, or scenery, or something incidental?
"Work that out first – then it doesn't matter if you're on a smartphone or an expensive camera. The principles of photography are all the same."
Light and composition are key
"So much of photography is about light and composition, it almost doesn't matter what you're shooting off after that point.
"A lot of [judging that] that comes from experience, practice and instinct - you look at things and can see how it's going to frame up. There are some basic rules we can all learn and apply, like the 'rule of thirds'*.
"If the light plays into your hands you can come up trumps. I generally shoot into the light or with a crosslight rather than with the light on my back. That is harder on a smartphone, though."
[*The 'Rule of Thirds' is a 'formula' used by photographers. Imagine your scene split into nine equal parts, in a grid with two equal horizontal lines and two equal vertical lines. The important elements of composition should be placed along the lines, or their intersections.]
You don't have to make action the focus on race day
"Most photographers, back in the day, were on the back of a motorbike and only really had a few minutes to jump off during a race. They were always drawn into the action.
"The thing I always felt was missing from cycling photography was the fact that largely the landscape was getting ignored.
"If you're shooting in the mountains you need to think about the time of day – invariably when a race goes up, it's not the best time - [the best time] tends to be later or earlier in the morning.
"I would recce a mountain on my bike… then go back to shoot it when the light is in the right spot, and suddenly the whole landscape comes alive and becomes a bit more magical."
The race is a moving beast
"If you're photographing the action at a race, remember it's a moving beast. You can go and stand by the side of the road, and the race may not arrive for a couple of hours. The light might change and the spot you were going to photograph might be in the shade.
"If your goal is to get a picture of a particular rider... on a climb you might have a chance, but if it's on a flat road approaching the finish they might be tucked behind a wheel hurtling to the finish; it may not be your best chance.
"In that situation, maybe you should switch to video. You see some great videos on YouTube – it could just be that you're in the right place at the right time."
Quality over quantity
"One of the biggest errors people fall into on social media is quantity over quality. If you're posting up 1000s of pictures and they're all average, people turn off pretty quickly. You need to be more selective over the ones you're putting up and focus on quality.
"I always like to see an image with a border. It allows you to concentrate on it, aesthetically it looks more appealing, in my opinion."
Hook up (if you can)
"If I have time I take a laptop with me so I can shoot straight into the raw processing software, so I can see exactly see what I'm doing – then you have a better idea of your composition and where you can take your lighting levels."
Take a tripod
"The other thing I always do is shoot on a tripod. You can stand there with a camera and look at composition, but when you put it on a tripod you can really examine it and make fine adjustments to make that composition really tight and really balanced. It doesn't work for action but certainly works for landscape.
"And walk – get away from the road, don't be afraid to go where others don't."
Michael Blann is a highly experienced professional photographer with an unparalleled love for cycling. This culminated in the publication of his 2016 book 'Mountains' which charts the most famous European climbs within the history of cycling.
For more information about Michael Blann, to purchase the book or a limited edition print from the Mountains project, visit www.michaelblann.com
Thank you for reading 20 articles this month* Join now for unlimited access
Enjoy your first month for just £1 / $1 / €1
*Read 5 free articles per month without a subscription
Join now for unlimited access
Try first month for just £1 / $1 / €1