Tao Geoghegan Hart wins opening stage of Giro della Lunigiana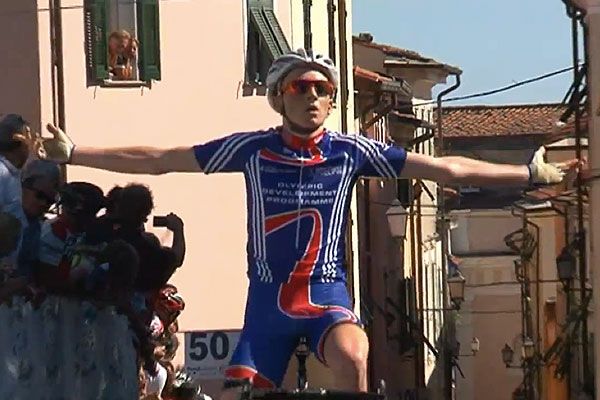 Tao Geoghegan Hart won the opening stage of the Giro della Lunigiana in Italy on Thursday, tackling the final climb in Castelnuovo Magra at such a pace he crossed the line solo.
The 18-year-old Great Britain Olympic Academy rider has just come out of a block of training on the track, and is obviously in good shape to win his first race on Italian soil.
Team-mate Chris Lawless helped Geoghegan Hart to the base of the final 5km ascent before Germain Burton paced him up the on the climb itself before peeling off in the final 2km.
Fellow British rider Scott Davies finished in fifth place.
Geoghegan Hart's win means he goes into the second stage on Friday in the leader's jersey. It's by no means the first time the Londoner has appeared on the podium of a top-level junior race this season, having placed third at the prestigious Junior Paris-Roubaix in April.
The four-stage Giro della Lunigiana is open to junior men, and is ranked UCI 2.1. Previous winners include eventual Giro d'Italia champions Damiano Cunego and Gilberto Simoni.
Result

Giro della Lunigiana 2013, stage one: Castelnuovo Magra to Castelnuovo Magra, 96.4 km
1. Tao Geoghegan Hart (Great Britain)
2. Matteo Fabbro (Friuli Venezia Giulia)
3. Simone Velasco (Veneto)
4. Nicholas Cianetti (Toscana)
5. Scott Davies (Great Britain)
6. Nikolay Cherkasov (Russia)
7. Laurens De Plus (Belgium)
8. Manuel Graziano Di Leo (Rapp. Tre Mari B)
9. Francesco Lorenzini (Toscana)
10. Giovanni Carboni (Marche)