Team bosses underwhelmed by 'symbolic' UCI rider development fee plan
The new rule will see development teams earn €2,000 a season once a rider signs to the WorldTour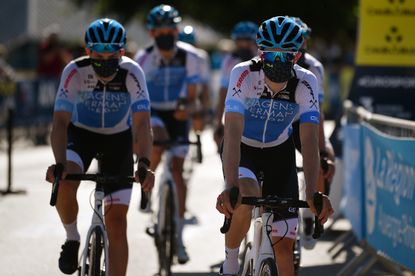 (Image credit: Getty)
Prominent Continental team managers have been left underwhelmed by the UCI's new training compensation fee rule, saying that sum offered is "more symbolic than anything".
The rule, which will come into effect this June, will see riders' development teams receive €2,000 for each year they were part of the roster, once they sign their first WorldTour contract. The sum will be paid by the WorldTour team and will cover every season from the year of the rider's fifteenth birthday, for a maximum of eight years.
Speaking to Cycling Weekly, Tomaž Poljanec, general manager of Tadej Pogačar's former team Ljubljana Gusto Santic, said the amount is unlikely to bear an impact on his squad's finances.
"I'm happy that something is changing and something is moving ahead at this point," he said. "But honestly, €2,000 for a season, that's not actually much. This doesn't actually help."
Putting the sum into perspective, Poljanec explained that one of his international riders currently costs the team around €30,000 per season in contract, equipment and travel expenses. For a local Slovenian rider, this investment ranges between €15,000 and €18,000 each year.
"€2,000 is more symbolic than anything," he continued. "It will not help us survive."
Axel Merckx, general manager of US-based Continental team Hagens Berman Axeon, echoed Poljanec's comments.
"I do appreciate that the UCI is acknowledging it and I do appreciate that the UCI is making an effort towards it for certain teams," he told Cycling Weekly. "In the grand scheme of things, is it going to make a huge difference? No. €2,000 is not that much, because €2,000 is not going to pay the cost of developing a rider over a year. But I do understand that it's impossible to ask for €50,000."
On average, Merckx says his team sends three riders to the pro ranks each season, bringing their tally of graduates to over 40 riders. Previous squad members include João Almeida, Neilson Powless, Tao Geoghegan Hart and, most recently, Leo Hayter, who joined Ineos Grenadiers at the start of 2023.
Rather than a flat fee of €2,000, Merckx believes a better way to compensate development teams would be to pay them a percentage equivalent of the rider's starting WorldTour salary. "If a team is willing to pay [a rider] $100,000, $200,000 or more, there is value there," he said. "So let's just say, 5% or 10% on the first contract [paid by the WorldTour team]."
Presently, there is no such mechanism in place. Nor are there transfer fees, which are common in other elite sports, but "prohibited" under current UCI regulations.
According to Ljubljana boss Poljanec, his team received no fee when Pogačar joined UAE Team Emirates in 2019. The squad has since relied on the two-time Tour de France champion's personal funding, as well as that of their sponsors.
"He [Pogačar] is sponsoring, he's supporting the junior team in our club," Poljanec explained. "He said, 'When I was in the team, they gave me everything, so I have to give them something back.' That means a lot, and it's much, much more than €2,000."
The UCI's training compensation fees rule will come into effect on 1 June 2023 and, at least for the moment, appears only to apply to male riders.
Thank you for reading 20 articles this month* Join now for unlimited access
Enjoy your first month for just £1 / $1 / €1
*Read 5 free articles per month without a subscription
Join now for unlimited access
Try first month for just £1 / $1 / €1