Team Sky: Turning things on their head for 2011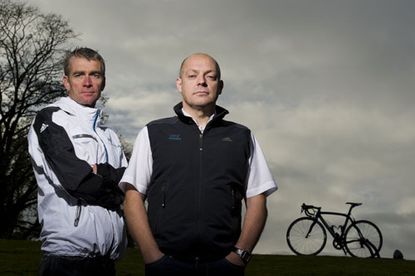 After a first season of mixed fortunes, Team Sky manager Dave Brailsford says that it's time to try something different for next year. No longer will it be about "one rider, one race"; it's time to enjoy racing for racing's sake, bank a few more wins and try to have a little more fun along the way.
Brailsford and Sky directeur sportif Sean Yates were speaking at a small press gathering at the Savill Court Hotel in Bishopsgate, near Windsor, on Thursday, where the 2011 squad had gathered for the week to welcome the new signings, get the riders measured for new kit and equipment and even get a few miles in, despite the rain.
Brailsford also confirmed that Sky had attempted to lure Fabian Cancellara to their set-up for 2011 - but said that the Swiss has had his heart set on joining the Schleck brothers' Luxembourg Pro Cycling Project all along.
"Sure, we asked about Cancellara - we enquired about him - but ultimately we knew pretty early on that it wasn't going to happen," Brailsford said. "He's going to Luxembourg - it's as simple as that."
That is yet to be confirmed, but Brailsford indicated that he was more than happy with his 29-rider roster for next year. There will be no additional signings.
"We've strengthened the team, and I think we have a greater depth now. With the guys we've brought in, we've identified the key races where we want to go for the win. It's no longer about one rider, one race, which I think it was last year," said Brailsford, referring to this year's Tour de France, where Bradley Wiggins could only finish 24th overall, failing to live up to expectation. "We're going to turn it all on its head, and look at key races right the way through the season."
The team has learned from the mistakes made this year, Yates confirmed. "We're a team of bike racers - and these guys want to race their bikes to win. These days the Tour has become this monster - to the expense of the rest of the calendar.
Team Sky's Sean Yates (left) and David Brailsford (right)
"To cut to the chase, we'll be going to races with the aim to win," continued Yates, who Brailsford says he will give even more responsibility to next season. "We've got the riders who are capable of doing that, and that will be the plan - rather than just turning up and giving it a go if we feel like it. It's about getting out there, enjoying the bike race and performing.
"Last year we had this big plan for Bradley - it had been our plan for the whole year - and clearly it didn't work," admitted Yates. "It was unrealistic. In a way we stabbed ourselves in the foot."
On a day when new partner IG Markets was announced - the financial services company will have their logo on next season's team jerseys and shorts - Brailsford predicted a more relaxed, less intense, atmosphere at the Sky squad for 2011.
The fact that Wiggins, British road-race champion Geraint Thomas and their Sky team-mate Ben Swift will promote the new sponsor by taking on the public in a one-mile race on static bikes in central London at the IG Markets Square Mile Challenge on November 26 points to that new, more lighthearted Sky for 2011 - a team that no longer takes itself quite so seriously.
"Next year we want to be having a bit more fun and just enjoy it a bit more," said Brailsford, likening the Tour to Wimbledon, whereby all eyes are on that one event, hoping for British success, only to be disappointed. "That's not what we want to do. We want to race the whole season."
A mistake like this year's attempt to shut out the outside world with impenetrable screens around the team bus at the Tour de France prologue, albeit it short-lived, is not to be repeated, says Brailsford.
Instead, inspiration will be the watchword of 2011, and if Brailsford and his team can help get across sponsor Sky's aim of inspiring more people to ride their bikes, and inspire them to have fun, it will be job done.
From a sporting point of view, however, don't think for one second that Sky are about to roll over and die just because one race didn't go all their own way - even if the race in question was the Tour de France.
"We will always aim high," Brailsford said. "We're fiercely ambitious and that's how we'll remain."
Related links
Race against Wiggins, Thomas and Swift
Thank you for reading 20 articles this month* Join now for unlimited access
Enjoy your first month for just £1 / $1 / €1
*Read 5 free articles per month without a subscription
Join now for unlimited access
Try first month for just £1 / $1 / €1