Tom Pidcock is taking his new Pinarello Dogma off-road
The Italian cycling giant has gone all out to develop new mountain bikes bearing the famous road bike name for its star off-road riders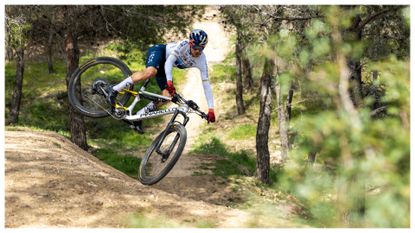 (Image credit: Pinarello/Roberto Bragotto)
In the last two weeks, Ineos Grenadiers riders Tom Pidcock and Pauline Ferrand-Prévot have both piloted a mysterious Pinarello mountain bike to wins in the first big races of the season, ahead of this weekend's opening round of the UCI World Cup in Nove Mesto, Czechia.
Pinarello's new 'development' bike was first spotted in black and white digital camouflage in Gueret, a fortnight ago and it turns out that it's a prototype of a new Dogma XC bike which will be available to buy next year.
Pidcock's multidisciplinary endeavours have seen him claim the top spot of the podium across three disciplines - road, cyclo-cross and mountain-biking - since his first year with the Ineos Grenadiers in 2021. One of his most admirable achievements to date though, has to be taking that sparkling mountain bike gold medal at the Tokyo Olympics in 2022, riding an unbranded BMC Fourstroke.
Ferrand-Prévot signed for Ineos Grenadiers in 2022 and, like Pidcock, is an incredible multi-discipline rider having won 10 world championship titles across road racing, mountain biking, cyclo-cross and gravel cycling.
We don't normally cover flat-barred, knobbly-tyred full-suspension bike here at Cycling Weekly, but given the calibre of the riders in question, we thought we'd take a closer look at Pinarello's design for their new cross country bike and see if any design ethos carries over from Ineos' road going Dogma F.
The Dogma XC's conception began with the recruitment of a dedicated mountain bike R&D team. Pinarello worked closely alongside Pidcock and Ferrand-Prévot to come up with a set of world beating requirements for the new machine.
Among these, says Pinarello, were stiffness in the rear triangle, simple and adjustable suspension to adapt to all courses, quick handling for technical descents, and ultimately a lightweight bike.
At a glance then, plenty of cross over - light weight, stiffness and handling are all paramount components to a great road race bike, but how have these been implemented?
Let's start with stiffness. Pinarello has a unique, patent pending split rear triangle design. This means the triangles either side of the rear wheel are no longer joined, allowing for an asymmetrical design aimed at improving tyre clearance. Pinarello claims shorter seat stays enhance the bikes responsiveness - a feature often boasted in the road bike sphere.
Adjustable suspension has also been implemented. The Dogma XC can morph between 90-100mm of rear travel, and 100-120mm up front, thanks to a adjustable rear suspension linkage.
Equally eye catching, is that cut out bottom bracket area. The design houses the oversized bearings in the lower suspension pivots, aiming to reduce friction in the suspension linkage whilst also improving stiffness.
In-house finishing kit brand Most has provided a fully integrated cockpit too, a familiar sight to us roadies. Pinarello claims a weight saving here, as well as providing a neat hiding place for unsightly cables.
Another big player such as Pinarello delving into the squishy side of the bicycle market could benefit us roadies more than you might imagine. After all, we borrow a lot of tech from our hairy legged friends, from compact geometry back in the early 00s, to disc brakes in more recent years.
The obvious technology transfer here though is to the ever growing gravel world. We have seen many brands dabble with suspension of all kinds in the mixed terrain sphere, and more R&D may well end up benefiting drop bar users in the future.
The other speculation lies in Pinarello's commitment to this sector: is this a fast effort to get Ineos's MTB stars riding a branded bike, or a true race machine? At present the brand only has an electric mountain bike in its range - the Nytro Dust - but a Dogma XC was first introduced in 2012 before exiting the range in 2019.
Development began for the Dogma XC in the latter part of 2022 and Pinarello say both Ferrand-Prévot and Pidcock will continue to play a large part in the testing of the rig throughout 2023 before it's made available to the public in March 2024.
Fausto Pinarello, the firm's CEO, seems motivated: "Seeing Tom and Pauline competing on the Dogma XC is going to be a landmark moment for everyone at Pinarello. We've worked tirelessly over the last months to build a bike that meets the demands of two of the very best cyclists on the planet, and we can't wait to see how they ride it at Nové Město."
While Pidcock praised the bike for being "ultimately fast" and said " I've never really been involved in the development process of a bike before, feeding my thoughts and suggestions back in, but it's something I'm definitely enjoying and Pinarello's engineers are committed to producing bikes that help us win races."
Thank you for reading 10 articles this month* Join now for unlimited access
Enjoy your first month for just £1 / $1 / €1
*Read 5 free articles per month without a subscription
Join now for unlimited access
Try first month for just £1 / $1 / €1
Joe is Cycling Weekly's tech writer. He's always had a love for bikes, since first riding a two wheeled steed before the age of four. Years down the line, Joe began racing at t 16, and enjoyed great experiences internationally, racing in Italy, Spain and Belgium to name a few locations. Always interested in tech, Joe even piloted his Frankenstein hill climb bike to a Junior National Title in 2018. After taking a step back from elite level racing in April 2022, Joe joined our team as a freelancer, before becoming Tech Writer in May 2023.