Tweets of the week: Thomas De Gendt wants music tips, and Geraint Thomas gets the right coloured glasses
SD Worx are really nailing their social media content at the moment, and Nicolas Roche has a bike to sell you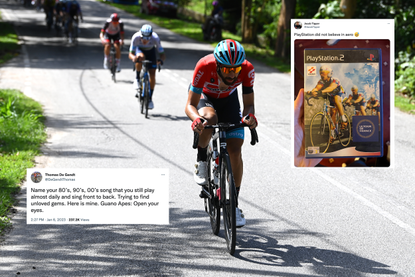 (Image credit: Getty Images)
Every Friday morning, I go for a run with my run club around the harbourside in Bristol. It isn't long, it isn't particularly arduous at just about 5km, but it gets me out of the house, gets me going on the final day of the week, and ensures I feel fresh and ready for the day.
Then, I sit down at my desk and sift through the big pile of tweets and Instagram posts from the world of cycling and my day gets exponentially better. What more could I possibly want to be doing than dissecting what Luke Rowe has to say on Twitter or thinking long and hard about what the hell AG2R made Benoît Cosnefroy do for our entertainment?
I don't mean to be snide, or snarky, or come along with my bucket of scorn, but that's what Tweets of the Week is like in the Adam Becket era, I will look at social media askance. What's the point otherwise? Take the content at face value, seriously? No, I'm not sure it can be done.
I've decided to start using TOTW as a vehicle to recommend things; I just finished Wolf Hall by Hilary Mantel and you should read it, if you didn't already in the 14 years it has been out. Also, take a look at the art of Otto Dix, it will give you pause.
Anyway, onto the tweets!
1. "Welcome to EF, Alison Jackson. While we obviously signed you for your talent as a rider, your expertise as a maker of Instagram Reels and TikToks is actually why you're on the books, so you might as well get started now!"
2. The photos actually do more to sell the passion behind the project than the video does. Zoe Bäckstedt might have a singing career ahead of her if the cycling doesn't go well
3. Thomas De Gendt, king of the breakaway, wants your music recommendations, but not current stuff, apparently. I've listened to Open Your Eyes by Guano Apes and it is exactly what I think what a 36-year-old from Belgium would like. It's bad. Help him out.
4. SD Worx, the best women's team in the world, also happen to be incredibly likeable at the moment. They might have some of the best talents in the world, but they also seem to have fun and are cool people. Here's Blanka Vas showing she can wheelie, and Christine Majerus showing her approval in the background. Lovely.
5. They're also nailing their social media game at the moment, and it's Christine Majerus again, this time showing her miming skills
6. Speaking of SD Worx being like a family, Chantal van den Broek-Blaak's will be expanding soon - why not have a gender reveal with all your colleagues present?
7. Away from likeable female riders, Luke Rowe has an unbeatable deal for Luke Plapp's Ineos kits after the Aussie rider spent a few hours racing in his trade team kit before winning his national champs again. Green and gold please!
8. I'm 27, maybe I'm too old for this stuff, but I have absolutely no idea what's going on here. Why? Who? What? I wonder what Benoît Cosnefroy thought of it
9. Playstation 2 graphics might have been the best in the world two decades ago, but in hindsight, the graphics of the Tour de France official game leave a lot to be desired
10. Your occasional reminder that pro cyclists are just as much excitable tourists as well; here are a very fortunate Bora-Hansgrohe pair ahead of the Tour Down Under
11. Nicolas Roche wants to sell you a bike! Not that kind of bike, though, and I don't know why he's not going through eBay or Facebook Marketplace or whatever for that. Surely there's an easier way?
12. People seem to be really interested in Geraint Thomas' sunglasses, I don't really understand why people are so into it, he is just a quite good cyclist. Anyway, he now has white SunGods, good for him I prefer the black ones
13. UCI commissaires being very officious, well I never
14. Pierre Rolland might have a hard time convincing Thibaut Pinot to keep cycling, given the fact he has already retired, and Pinot is already convinced
15. And finally, fancy trying your hand at skipping WHILE cycling?
Thank you for reading 20 articles this month* Join now for unlimited access
Enjoy your first month for just £1 / $1 / €1
*Read 5 free articles per month without a subscription
Join now for unlimited access
Try first month for just £1 / $1 / €1