UK Youth continue to dominate Tour Series with Colchester win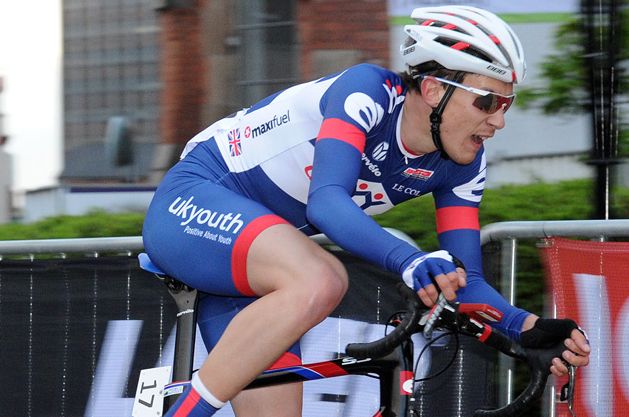 UK Youth's domination of the 2013 Pearl Izumi Tour Series shows little sign of ending as they raced to a fourth-consecutive victory in Colchester.
Jon Mould led the way for the team, taking the individual win from a three-man group who broke away approaching the second sprint of the day.
Mould outsprinted Richard Lang (Raleigh), while Roman Van Uden (Node4-Giordana) finished third after being distanced in the closing stages.
Mould's team-mate Tobyn Horton led the bunch home for fourth, and Niklas Gustavsson came eighth to wrap up the squad's fourth victory on the bounce. Only Rapha-Condor-Sharp in the 2011 series have won more rounds (five) consecutively.
Raleigh finished second on the night, despite having Lang in second, Tom Scully in fifth and Tom Moses in seventh - a result that would have won them the round at three of the previous five races in the 2013 series to date.
They now trail UK Youth by seven points, with Madison Genesis a further point behind in third.
In round two of the Johnson Health Tech GP Series, Hannah Barnes lead a MG-Maxifuel one-two. Barnes soloed to the victory, having broken clear at the first sprint of the day, and was untouchable.
A select chase group formed behind, which led to recent Cheshire Classic winner Karla Boddy outsprinting Louise Mahe (MuleBar Girl-Sigma Sport) for second. Barnes now leads the series, as well as the sprints competition, going into round three in Redditch on Tuesday.
Results

Pearl Izumi Tour Series 2013 round six: Colchester

1. UK Youth 10pts
2. Raleigh 9pts
3. Node4-Giordana 8pts
4. Madison Genesis 7pts
5. Rapha-Condor-JLT 6pts
6. MG Maxifuel 5pts
7. Metaltek-Knights of Old 4pts
8. Hope Factory Racing 3pts
9. IG-Sigma Sport 2pts
10. Spin Rotor-Primal C-Originals 1pt
Individual result

1. Jon Mould (UK Youth)
2. Richard Lang (Raleigh)
3. Roman Van Uden (Node4-Giordana)
4. Tobyn Horton (UK Youth)
5. Tom Scully (Raleigh)
6. Yanto Barker (UK Youth)
7. Tom Moses (Raleigh)
8. Niklas Gustavsson (UK Youth)
9. Dean Downing (Madison Genesis)
10. Richard Hepworth (Node4-Giordana)
Costa Express Fastest Lap Competition

1. Tom Scully (Raleigh)
Pearl Izumi Tour Series 2013 standings after round six

1. UK Youth 56pts
2. Raleigh 49pts
3. Madison Genesis 48pts
4. Rapha-Condor-JLT 44pts
5. Node4-Giordana 36pts
6. Metaltek-Knights of Old 29pts
7. MG-Maxifuel 27pts
8. IG-Sigma Sport 17pts
9. Hope Factory Racing 15pts
10. Spin Rotor-Primal-C-Originals 8pts
IG Sprint Competition

1. Kristian House (Rapha-Condor-JLT) 37pts
Johnson Health Tech GP Series 2013 round two: Colchester

Individual result

1. Hannah Barnes (MG-Maxifuel)
2. Karla Boddy (MG-Maxifuel)
3. Louise Mahe (MuleBar Girl-Sigma Sport)
4. Natalie Creswick (MuleBar Girl-Sigma Sport)
5. Gabby Day (Matrix Fitness Race Academy)
6. Clemence Copie (MuleBar Girl-Sigma Sport)
7. Jessie Walker (Matrix Fitness Race Academy)
8. Annie Simpson (Hope Factory Racing)
9. Sarah Byrne (Champion System-Maxgear-Base)
10. Ella Hopkins (Breast Cancer Care Cycling Team)
Round two team winner: MuleBar Girl-Sigma Sport
Round two combativity winner: Hannah Barnes (MG-Maxifuel)
Johnson Health Tech GP Series 2013 standings after round two

1. Hannah Barnes (MG-Maxifuel) 39pts

2. Natalie Creswick (MuleBar Girl-Sigma Sport) 37pts
3. Louise Mahe (MuleBar Girl-Sigma Sport) 36pts
4. Gabby Day (Matrix Fitness Race Academy) 31pts
5. Sarah Byrne (Champion Systems-Maxgear-Base) 28pts
Team standings after round two

1. MuleBar Girl-Sigma Sport 88pts
2. Matrix Fitness Race Academy 85pts
3. MG-Maxifuel 84pts
4. Hope Factory Racing 28pts
5. Breast Cancer Care Cycling Team 28pts
Sprints competition

1. Hannah Barnes (MG-Maxifuel) 19pts


Related links
UK Youth extend advantage in Aberystwyth
UK Youth top Tour Series standings after Stoke-on-Trent win
Gallery: Tour Series, Stoke-on-Trent, by Andy Jones
Gallery: Johnson Health Tech GP, by Andy Jones
Raleigh continue perfect Tour Series start in Durham
Raleigh take the honours in Tour Series opener
Gallery: Tour Series, Kirkcaldy, by Andy Jones
Pearl Izumi Tour Series 2013: Cycling Weekly's coverage index