Ultra-cyclist Jack Thompson breaks new long-distance record on 520km route in Japan
Australian broke long standing record on 520 kilometre long route on Japan's route one, the first road to be built in Japan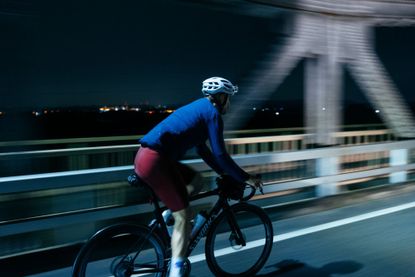 (Image credit: @__wearekin__)
Jack Thompson, an Australian "ultra-cyclist" based in Spain, is no stranger to breaking cycling world records. The Aussie cyclist has quickly developed a reputation for pushing himself to the limit, taking on a variety of different cycling challenges that due to their extreme nature, most of us could never even comprehend attempting to pull off.

After a year in which he climbed 1,000,000 metres of elevation to raise awareness, and generate discussion around mental health - which included completing an Everest in North London - Thompson kick started 2023 by attempting the 520 kilometre Osaka to Tokyo Cannonball route in Japan.

Going into it, Thompson's aim was to complete the gargantuan route featuring approximately 4,000 metres of elevation in less than 19 hours. After arriving in Japan's capital city, it soon became clear that he'd broken the long-standing record for the Cannonball by 32 minutes.

Speaking to Cycling Weekly, Thompson explained that after spending numerous holidays in Japan growing up, he had long considered attempting the Cannonball record, which he described as a "rite of passage" for Japanese cyclists.

"I'd done some riding in Japan before but for enjoyment," Thompson said. "I rode from the north to the south with my Dad a couple of years ago as well. Off the back of last year, I thought this year I'd just pick projects that I really wanted to do and go and have some fun with it. So I thought about the Japan Cannonball? Fastest known time? Let's go and give it a stab, so we went and did it."

As well as the gigantic distance he planned on covering, Thompson also had to contend with passing through three of Japan's major cities at peak times, something which he explained presented a challenge in itself.

"I looked at the statistics going into this, 520 kilometres with roughly 4,000 metres of climbing," Thompson explained. "On paper, it's a long day but there was nothing too challenging. There weren't any crazy climbs, so it looked pretty straightforward. What I didn't take into account is that you're basically passing through Japan's three largest cities, and two of them you're passing through at peak hours.

"So it was just the sheer numbers of people, cars, chaos and traffic lights. I would guess that there were 300 plus sets of traffic lights, and on top of that it was very wet."

"It was like navigating London in the wet and very stop-start," he added. "The Japanese are very good. There's no road rage or anything like that, that doesn't really exist there and they're very peaceful, quiet and respectful people. It just means that you couldn't really get a rhythm, and that made it quite difficult.

"It felt like you'd leave one set of traffic lights, do 350 watts or whatever to get up to speed again, but then you're slowing down, so that was almost like intervals. Every traffic light became an interval.

"That was something that caught me off guard with this challenge. My average speed wasn't that high, but when you realise just how busy it is, it's hard to get it much higher."
MIND GAMES IN TOKYO
When navigating the hectic city streets en-route to Tokyo, Thompson had to call on a diverse range of skills that didn't just include those he's mastered on a bike. One of the biggest difficulties the Australian faced was the language barrier.

"If you're looking at a road sign there, it's all in the Japanese scripture so you don't understand anything," Thompson said. "Your route planning has to be really really good, because if you find yourself going the wrong way on a one-way street, it's hard to find your way again.

"There were times in Tokyo, Osaka and Nagoya where I had to really zoom in on the head unit, but I still didn't know exactly which way to go. You'd see like six different roads veering off, and it was like a navigation task as much as a riding task."

Thompson documented his latest achievement in a short film, and explained to CW that despite coming through the "craziness" of three-major cities, it was the wet weather on one particular climb that nearly put an end to his attempt at the record.
"There was one section to the end on the one main climb which climbs up to just under 1,000 metres near Tokyo," Thompson said. "I remember as I was climbing up that hill, the amount of rain coming down was coming down at about the same speed I was going up, and I felt like I wasn't really moving. I was just watching the average speed drop, and hoping I could make it up on the other side.

"It's tough when you're chasing an average speed, and you know exactly what you have to hold to break the record. So as soon as it starts to drop, it becomes a bit of a mind game and I was thinking I hope the traffic in Tokyo isn't busy because otherwise I can't hold this speed. So the challenge was definitely like a bit of a puzzle at times."

Thompson recently spoke to the Beneath The Surface podcast about the relationship that some men have with alcohol. You can listen to the episode on Apple Podcasts.
Thank you for reading 10 articles this month* Join now for unlimited access
Enjoy your first month for just £1 / $1 / €1
*Read 5 free articles per month without a subscription
Join now for unlimited access
Try first month for just £1 / $1 / €1
Tom is a News and Features Writer at Cycling Weekly, and previously worked in communications at Oxford Brookes University. Alongside his day job, prior to starting with the team, he wrote a variety of different pieces as a contributor to a cycling website, Casquettes and Bidons, which included interviews with up and coming British riders.