'We've got to do something' - spate of violent muggings hits London cycling club
Police say it is "not possible" to carry out investigations in every case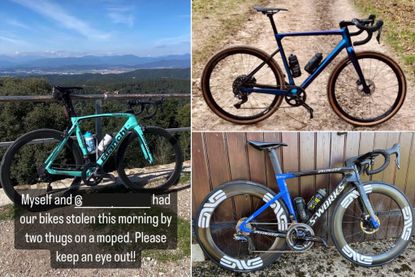 (Image credit: Regent's Park Rouleurs)
A spate of aggressive bike thefts has shaken a cycling club in North London.
In the past three months, members of the Regent's Park Rouleurs have been targeted on three separate occasions, with three bikes now reported stolen to the police.
The incidents, club co-founder Damien Lui told Cycling Weekly, have left members concerned about their safety.
"The first time it happened, it wasn't broadcasted," Lui said. "This was quite a violent attack. Our rider was riding about 7am, I think in West London, Bayswater, and something was thrown in front of them.
"They think it was barbed wire or something like that. He obviously crashed, blacked out and woke up in hospital."
Passersby immediately drew attention to the scene, and the assailants left in a hurry, without the bike, Lui said. He added he initially thought the incident was a "one-off", until it happened again last month.
This time, men pushed a Regent's Park Rouleurs member off his S-Works Venge early in the morning on Archway Road in North London. They stole the bike and fled on mopeds.
A third incident then occurred last weekend. "On Saturday, a couple of our younger youth riders were quite aggressively approached by two people on the A1000. And that's made me go, 'OK, we've got to do something about it.'
A WhatsApp message from one of the victims, shared on the club's Instagram, read: "It happened at a red light in High Barnet, they pulled up next to us and screamed in our face 'right get off your f****** bikes now you c****' over and over and getting increasingly aggressive.
"We gave them over as knew they could be armed and could do some damage."
Last year, just one per cent of bike thefts in London resulted in a charge or caution.
Cycling Weekly contacted the Metropolitan police about the Regent's Park Rouleurs incidents, and was told the suspect descriptions in each are "very different".
Asked if they are aware of a potential robbery series, a Met spokesperson said: "It might be that the numbers [of bike robbery] are relatively low, just widely shared by the cycling community."
Lui said the police response to his club members' cases has been "disjointed". He explained the latest incident, which saw two bikes stolen including a Bianchi Oltre XR4, was closed within two days, after the police said they were unable to pursue it.
In a general statement shared with Cycling Weekly, the Met said: "We understand that theft of personal property, such as having a bike stolen, is upsetting and very frustrating for victims.
"The number of calls for assistance from the police and reports of crime received each day is such that it is not possible to physically send officers, or to carry out a lengthy investigation, in every case."
Thank you for reading 20 articles this month* Join now for unlimited access
Enjoy your first month for just £1 / $1 / €1
*Read 5 free articles per month without a subscription
Join now for unlimited access
Try first month for just £1 / $1 / €1