Meet the founder behind Instagram page trying to tackle bike theft by filling gaps left by police
Stolen Ride is helping find people's missing steeds in London, though its founder says more needs to be done when it comes to punishing thieves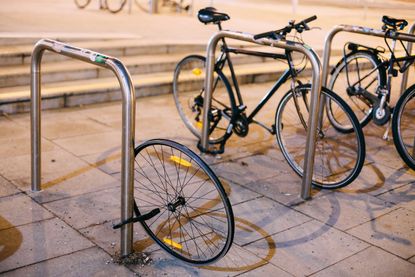 (Image credit: Getty Images)
Many cyclists will have experienced bike theft: that sinking feeling when you find your pride and joy, possibly your only mode of transport, almost certainly one of the most expensive things you own, has disappeared.
This disaster is compounded by the fact that more often than not, that bike will never be recovered.
Just 1% of bike thefts in London last year resulted in a charge or caution, Metropolitan Police data showed.
Of the more than 18,800 thefts which were reported between November 2021 and October 2022, only 206 resulted in sanctions against someone, the BBC reported.
One initiative that is attempting to fill this gap is Stolen Ride, a social media page and site which attempts to help people recover their missing steeds by amplifying cases of theft. The concept is that if the bike is spotted, or attempted to be moved on, then it can be recognised and hopefully recovered.
>>> Why bike theft needs to be re-criminalised, urgently
Speaking to Cycling Weekly earlier this year, the account's founder, Richard Cantle, said that he was inspired to create the platform after suffering the pain of bike theft and "the response to the 'clean-up' social campaigns during the London riots in 2011".
"We amplify stolen bike reports by sharing and retweeting them on our accounts, allowing the London cycling community to remain vigilant," Cantle said. "If a bike is sighted, the owner will receive a private message from the person who spotted it, either online or in the wild. The owner can then update the police, who can recover the bike. It's as simple as that."
Stolen Ride reaches over 20,000 people across Facebook, Twitter and Instagram, and has seen success, although Cantle was quick not to take credit.
"While we can't take credit for finding a stolen bike as we only broadcast appeals," he said, "I am constantly delighted by the regular positive news I hear about bikes being spotted by the community (a high number online) and subsequently recovered by the police.
"We also have an account called @recoveredride that collects appeals for police recovered bikes. This has helped the police locate owners on multiple occasions."
While Stolen Ride just covers London at the moment, that is still a lot of bikes, and a lot of bike theft. It aims to provide crime prevention tips and news about the sector as well as just being a community of those who have suffered bike theft.
As Cantle pointed out, the true numbers of bike theft might be much higher than reported, as people lose faith in the police's ability to do anything about the crime; in its place, communities like Stolen Ride have become more important.
"Much more needs to be done, and we all need to come together, as this issue extends beyond the cycling industry," he said. "Bicycle theft is a major barrier to the growth of cycling. Theft is not just about the financial loss (which can be huge on its own, directly and indirectly), it goes much further."
There are many things that Cantle said needed to be done in order to properly combat the issue of bike theft in London and beyond in the UK; he said "it requires the involvement of all connected industries and authorities".
"Firstly, punishment for thieves needs to be much harsher," Cantle explained. "Bike registration needs to be technologically improved, ensuring up-to-date data throughout the entire bike ownership lifecycle; this includes accurate and unwavering provenance for buying and selling securely.
"Councils, planners, as well as building owners, should research and invest in high-quality and well-planned cycle parking facilities, noting that not all providers and products are created equal. Awareness and education regarding security should be available to all cyclists when purchasing bike locks."
While all this is necessary should more people get into cycling in the UK, a community helping people find their stolen bikes is a good start, hence @StolenRide.
Thank you for reading 20 articles this month* Join now for unlimited access
Enjoy your first month for just £1 / $1 / €1
*Read 5 free articles per month without a subscription
Join now for unlimited access
Try first month for just £1 / $1 / €1