Why London's cyclists are protesting on Friday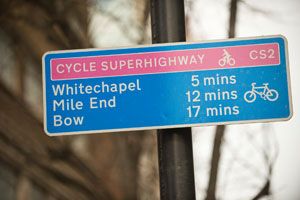 Friday sees a mass protest calling on dedicated space for cyclists in London a week after the death of a 20-year old student riding a Boris Bike along a cycle superhighway.
The #Space4Cycling protest, organised by the London Cycling Campaign, will pass the place where Philippine de Gerin-Ricard was killed. She was the third person to die on or near CS2 (Cycle Superhighway 2), and the second cyclist death in London in recent weeks.
Protestors unfamiliar with CS2 may be surprised at what they find. At its east end CS2 is not even a continuous blue line, and moments from the nightmarish whirlpool of the Aldgate gyratory.
I'm sure when a Cycle Superhighway was slapped on top of it there were hopes compromise could be reached with minimum impact to motorised traffic.
Unfortunately the administering of some blue paint without the realignment of traffic lanes means buses, lorries and cars must drive over the blue paint if they want to use the inside lane, creating confusion over whose space it actually is. It's hard for even experienced cyclists to argue with a fast-moving vehicle and when the traffic is stopped, as it often is, a cyclist's only hope of forward movement is to walk on the pavement. When it's not terrifying it is only depressing.
The last time I used this part of CS2, about a month ago, at the point the recent fatality took place, I had to yell at a bus driver creeping into the cycle box on a red light not to run me down. Here heavy traffic coming straight out of the gyratory turns left at speed over what was supposed to be a safe, continuous route for cyclists.
A report released this week by the Mayor's Roads Task Force sets out a vision for London's streets, to which Transport for London responded with promises of £30 billion to fund "21st Century improvements". Among these are some great ideas around altered delivery times for heavy vehicles outside peak times, to reduce rush hour danger to cyclists, and removing gyratories like Aldgate, while increasing green space and improving conditions for those on foot and bikes.
In the report streets are divided into a grid of nine types according to their use: roads with high volumes of traffic, it recommends, are granted higher speeds, and those where more people shop and traffic levels are lower have 20mph limits, more pavement space with "traffic-lite" development.
London Cycling Campaign's Charlie Lloyd says the document has some good ideas, gathered by a diverse group of experts over a year. What is not clear where the grid is concerned, he points out, is where the wider priorities will lie. After all, every road is connected to others.
Many streets serve multiple purposes, too. Whitechapel High Street, where CS2 starts, is a case in point. As Lloyd puts it: "Whitechapel is part of the cycle superhighway network, it is a London bus priority network, it is an inner ring road, it is a shopping street, it has a huge and increasing amount of office space, and there is a hotel 10 feet around the corner.
"What we would like to see is a coherent policy to show how we will decide what we do at a place like that and how we resolve those conflicting [needs]."
Meanwhile the Roads Task Force recommends enhancing capacity of the road network, something LCC says could be interpreted by some as a call to increase motor traffic capacity, which will thwart the Road Task Force's and TfL's own stated aspirations.
What the report throws up, and what this part of CS2 demonstrates, is what many have long known: that we cannot both increase motor traffic flow and improve conditions for pedestrians and cyclists. What we end up with is an unsatisfactory solution for both.
Designs by the City of London for removal of the Aldgate gyratory, funded by Transport for London, are currently under public consultation with proposed increased public green space and places dedicated to cycling and walking. It is a start, but as Lloyd sees it, the area will still be fed by high volumes of traffic from the A11, busy Whitechapel High Street.
Meanwhile, at CS2's extension in Stratford, planned "floating" bus stops and wide, segregated lanes are a bold step forward in London. It is as if the opposite ends of CS2 were designed in different eras.
Like all London cyclists, Andrew Gilligan, London's Cycling Commissioner, is "impatient for change" at places like Aldgate, though, he warns against a "botched instant solution".
The LCC argues cyclists should be separated from traffic wherever a cycle route uses a busy road, and clearly this won't happen overnight. What protestors will want to know, though, is how soon can we put this sort of dangerous cycle provision behind us and create a city that's safe for cyclists?
The ride meets Friday 12th July at 18.15 where Tower Hill meets Minories.
Thank you for reading 10 articles this month* Join now for unlimited access
Enjoy your first month for just £1 / $1 / €1
*Read 5 free articles per month without a subscription
Join now for unlimited access
Try first month for just £1 / $1 / €1