Wout Van Aert scents victory with new candle investment
Belgian star and his wife have invested in an artisan candle business, as you do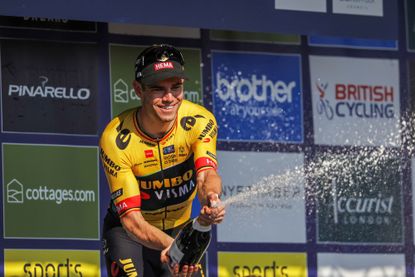 (Image credit: SWPix.com)
Every cyclist needs an off-season project – even Wout Van Aert. And while he could have opted for the more tried and tested routes of catching up on the DIY or getting stuck into some 'winter drinking', the Belgian star has opted for a more esoteric path – candles.
The Jumbo-Visma rider, along with his wife Sarah De Bie, has invested in the Belgian handmade candle company Mon Dada.
"We had been interested in the Mon Dada brand for some time and were secretly in love with the product," said Van Aert in a message on the company's website.
"This luxury product creates an authentic and cosy atmosphere in the home outdoors," he says like a seasoned sales pro, adding: "Our love for the product was actually the reason why we made this investment.
Van Aert has a track record as a bit of an entrepreneur, and last year invested in the Belgian real estate company Heylen Vastgoed, which has branches all over the country.
Van Aert's candles advertise themselves as 'handmade in Flanders' – a bit like the 29-year-old himself, perhaps. They come in a range of guises, with there being an indoor collection, an outdoor collection and a 'Terra' collection, among others. Now the cyclist is on board, might we perhaps see a 'WorldTour' collection hit the storefront?
The current scents include 'golden hour' and 'fire me up' – both appropriate enough for WVA, although we'd rather like to see the addition of something along the lines of 'Ventoux by night', or 'Koppenberg mist'.
Van Aert's entrepreneurial endeavours are all the more impressive given that he doubles as a world-class cyclo-cross rider during the winter months. Last year he won two World Cup races and bagged a silver medal in the World Championship behind Mathieu Van Der Poel. (Cue comments about 'burning the candle both ends').
On the road this year Van Aert has not managed to replicate the avalanche of victories he had in the two previous seasons, in which he won three Tour de France stages and numerous Classics. Nevertheless he managed to take silver at the World Championship road race in Glasgow – once again, behind Wout Van Aert, and win the Tour of Britain overall.
Thank you for reading 20 articles this month* Join now for unlimited access
Enjoy your first month for just £1 / $1 / €1
*Read 5 free articles per month without a subscription
Join now for unlimited access
Try first month for just £1 / $1 / €1