Yanto Barker remains on the job hunt after UK Youth demise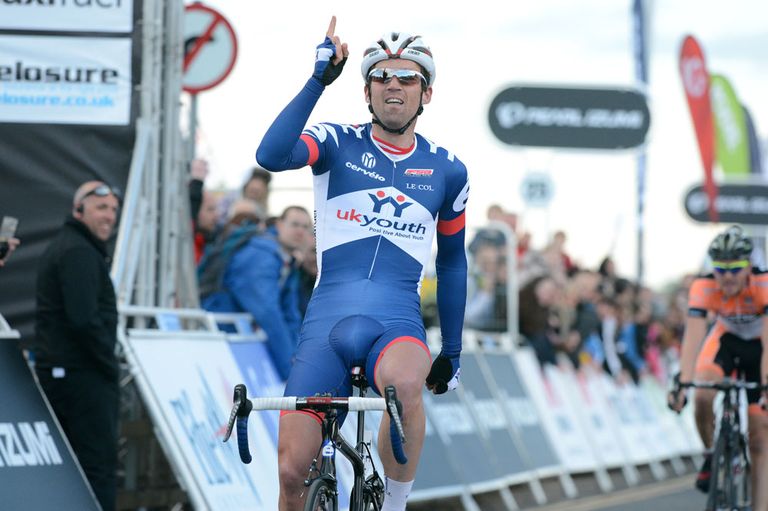 As team captain of UK Youth, Yanto Barker's sense of loyalty to the organisation gave him hope that a new sponsor would be found following Nigel Mansell's decision to withdraw his financial support.
As the months went by the surety of the team's future faded and Barker, who ended the season as the top ranked rider in Britain, found himself short of options for 2014.
But Barker, who won two individual rounds in the 2013 Pearl Izumi Tour Series, doesn't regret his decision to stay with his team to the end.
"When Nigel said that he needed us all to wait [for a new sponsor] if possible, more people waited longer than they maybe would have done had it been a different team," he said.
"It was never black and white and we were all made clear of the situation and there were no guarantees but the prospect of doing again what we did this year was a big one."
While several of his team-mates have found spots on other rosters in 2014, 33-year-old Barker remains unsigned, but says he is confident of riding in one form or another next year.
"I could ride on my own next year, which I did it 2009. It's not ideal because cycling is a team sport and the thing I've enjoyed most about this year is the team," he said
"If there are no other options I'm not going to devalue myself by doing it for free for somebody else, because I can promote my own business for free."
Mansell (l) and Barker celebrate another UK Youth victory at the 2013 Tour Series, this time at Aylsham
The fact that he runs his own sporting apparel business, Le Col, means that Barker is not as reliant on racing for his income as many of his UK Youth colleagues are, but his competitive spirit means that he relishes being part of a successful team again.
As an experienced member of the squad, Barker worked closely with DS Dave Povall and coach Steve Benton, turning Mansell's plans into performance on the road.
"When he drove a car, he had to translate what the car was doing to his mechanics so that they could change the settings and go faster. [In Team UK Youth] I was the driver in that analogy and he was the boss," he said.
"Nigel was one of the best people to have around on race weekends. He's been in racing a long time but cycling was new to him and he loved it. He enjoyed the team and the competition. He's past racing himself now but he's still a competitive athlete."
Read more about Barker's plight in the current issue of Cycling Weekly, which is out now.