Shimano crank inspection a 'very unusual approach to corrective action' - legal expert
Who takes the flack for the 2.8 million affected cranks produced?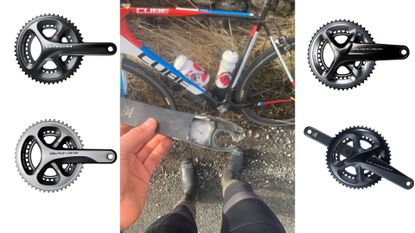 (Image credit: Tom Couzens, Shimano)
News broke last week that groupset giant Shimano had been forced to recall 760,000 cranks in the United States and Canada, and starting from October 1st, a European inspection program will also be launched due to "potential fall and injury hazards to consumers".
In total, it is understood that the safety notice impacts 2.8 million cranks globally - and the cranks in question were sold between June 2012, and June 2019.
With no official recall being put in place outside of North America, many questions are left unanswered for consumers and retailers. Should you stop riding your affected Shimano cranks in Europe? Will Shimano replace the cranks in Europe if they are deemed unfit?
Most importantly: why is Shimano issuing a recall (in the US) and an inspection program (in Europe) now, after a reported 4,519 incidents of cranksets separating, and six injuries, have already taken place?
We've dived a little deeper, in a bid to answer at least some of these questions.
Current consumer advice
2.8 million cranks is a vast number of affected units - there is no getting away from that, and as such it leaves a copious number of consumers wondering: what happens next?
Well first let's look to the USA, which at the time of writing, is the only territory where an official product recall has been filed. The Consumer Product Safety Commission's (CPSC)'s product recall was filed on September 21st 2023, and the remedies listed include inspection and replacement where necessary.
Crucially, the notice also states that "Consumers should immediately stop using the cranksets manufactured before July 1, 2019, and contact an authorized Shimano dealer to schedule a free crankset inspection".
However, Cycling Weekly understands that in Europe, there has been no 'stop-ride' warning issued to customers with affected cranksets. A full list of product codes for affected cranks can be found in our initial news story.
The next steps for European customers, outlined here, have customers take their cranks to a dealer for inspection, where they will be replaced if deemed necessary. If they 'pass' the inspection, and are not deemed to require replacement, customers are advised to "have your bike adjusted and checked regularly. Ask your dealer for recommendations based on your driving habits. Pay attention to changes in sound and feel while driving."
This lack of clarity between the recommendations across the globe of course leads to questions for owners of the affected cranks.
How do the cranks fail?
Crank failures have resulted from bonding separation and delamination of the crank arms - with both drive-side and non-drive-side cranks being affected. It goes without saying that not all incidents will be the same, but when we spoke to UK racer Tom Couzens about his experience with an affected crank, his account showed what can only be described as a catastrophic failure.
"There was no warning. There was no time to prepare myself." Tom told us when his non-drive-side crank failed on a fast group ride known locally as the 'Buckden Run' in the north of England.
Tom explained: "Just as the pace started to heat up and I got out of the saddle to put some power down it snapped, clean off," - with "no warning or signals something was wrong, no creaking or weird sounds I was made aware of."
This incident happened more than a year ago, before any formal action was taken by Shimano. As a result, upon taking his bike to the local bike shop, Tom was told that due to the Dura-Ace 9000 chainset being out of warranty, there was nothing that they could do.
Who is legally responsible?
To gain a better understanding of the legal implications for Shimano's product recall/inspection program, we spoke with respected legal firm Leigh Day Solicitors.
Thomas Jervis, a partner who specializes in product liability, outlined how complex the issue becomes due to Shimano's global hold on the cycling industry.
"There is no global regulator who deals with product safety recalls," he told us, "This means there is a hotchpotch of rules and regulations relating to product safety depending on where you live."
Different rules across the globe will undoubtedly slow the process down, but Jervis also told us: "Some multinational companies have been known to take advantage of this [above] in the past. There are examples where companies have been forced to take corrective action in particular countries for fear of expensive penalties but have not bothered in others where there is a more lax, or even, no approach to product safety. If a company chooses to roll out a global recall, it is therefore ultimately their choice. They can't be forced by some higher power. Some might say this leaves multinational companies with the upper hand."
Taking the United Kingdom as an example, we can see the complexity of the issue. In the UK the Local Trading Standards are in charge of regulating product safety - but with no Shimano offices in the UK, Trading Standards officials won't be able to go directly to Shimano.
This could leave retailers or distributors, who sell a finished article that uses the Shimano products liable under the Consumer Rights act 2015 - yet another headache for bike shops and bike brands in the UK.
Where does this leave consumers and retailers?
Although it is in Shimano's best interests to cooperate and make the process as smooth as possible from a reputation perspective, the plethora of potential bureaucratic hold ups could leave consumers and retailers alike in a tricky situation.
Jervis went on to explain: "It can be very confusing for both retailers and consumers. With the latest Shimano issue, we have seen that this multinational company has chosen to issue what they term an 'inspection and replacement campaign'."
Jervis described this as a "very unusual approach to corrective action", when considered alongside the nature of the potential failure - which the CPSC (in the US) says has led to six injuries "including bone fractures, joint displacement and lacerations".
"Either all affected products are defective because they share the same design characteristics which could lead to catastrophic failure, or they do not," Jervis told us, making Shimano's current plan to only replace articles showing signs of damage - in his words - "bizarre".
"This falls short of what most people understand a "recall" to mean," he says, with a 'stop-ride' notice only being officially applied to the United States. Jervis also mentioned that the system in place seemed to "ignore the inconvenience element to all of this in getting a fix".
Asked to comment on the situation, Shimano told us: "Shimano continuously monitors any warranty issues that arise with our products, because we want to ensure all our riders can use our products safely. When such issues arise, this feedback is reflected in the engineering and manufacturing changes we have made to these cranksets over the years, improving and enhancing the cranksets' strength and durability."
But this once again outlines corrective action for future products more than immediate action for the millions of affected customers globally now.
The other question is whether bike shops will get a fair deal. We spoke with Gabriel Blythe, from Summertown Cycles, who expressed his concern for the strain on the industry:
"I think as it's such a massive recall it could cause a lot of stress for bike shops, mainly from having to deal with disgruntled customers as we (bike shops) are the ones dealing with the complaints. The actual procedure is pretty straightforward, although I am yet to see a figure for reimbursement for our labour, I can't imagine it will be much."
"It is a massive cop out from Shimano, voiding themselves of any liability. The volume of cranksets that have been failing and the severity when they do it is quite astonishing that it's taken them this long to do anything about it. Shimano should really be replacing every chain set within the stated manufacturing period regardless."
Why has it taken Shimano so long to respond?
The other elephant in the room is that this issue is hardly new. In fact, over the last few years, the Instagram account 'Thanks Shimano' even became a popular place for affected customers to share their crank failure experiences.
We asked Shimano directly why the US recall has only now been formally addressed, and this was its response:
"Since 2012 and based on the warranty / return rate the US CPSC announced, Shimano has had a less than 1 per cent return rate (0.7%) for the affected cranksets. While the incidence rate is proportionately very low, we wanted to reassure customers through a free inspection program in Europe."
While it is true that a 0.7% return rate is very low, the fact is that there were still over 4,000 failure reports and six injuries.
Jervis' take was thus: "The risk assessment for a product's safety cannot be boiled down to simply focussing on a simple mathematical equation, i.e. the number of affected products supplied to the market versus the number of verified incidents where it has gone wrong equals the risk." In his opinion, he said, "that is the wrong analysis."
The further issue here is the possibility for a low reporting bias. In Tom Couzens' case for example, even though he went to a Shimano retailer, due to the crank being out of warranty the issue was not specifically logged with Shimano, and how often this might have happened is completely unknown.
My view
There are two things that really trouble me about the Shimano saga. The first is the sheer amount of time it has taken for Shimano to issue any sort of formal statement on the issue.
These cranks have been circulating for more than a decade, with incidences dating back years. Even if the number of reported incidents was low, you would think that Shimano would understand the potential severity of a snapping crank - which would usually happen when a rider is out of the saddle, and putting out a higher power.
The second issue is the inconcistency of the advice globally. Ethically, it would seem only fit for Shimano to provide the same advice in every country, putting all customers in the safest position.
Affected cranks and helplines
Crank codes
Owners should check whether their crank arms are stamped with the following codes: KF, KG, KH, KI, KJ, KK, KL, LA, LB, LC, LD, LE, LF, LG, LH, LI, LJ, LK, LL, MA, MB, MC, MD, ME, MF, MG, MH, MI, MJ, MK, ML, NA, NB, NC, ND, NE, NF, NG, NH, NI, NJ, NK, NL, OA, OB, OC, OD, OE, OF, OG, OH, OI, OJ, OK, OL, PA, PB, PC, PD, PE, PF, PG, PH, PI, PJ, PK, PL, QA, QB, QC, QD, QE, QF, QG, QH, QI, QJ, QK, QL, RA, RB, RC, RD, RE, and RF.
More information can be found at bike.shimano.com.
European helpline numbers
International: +31792077017
The Netherlands: +31792077018
United Kingdom: +441174094110
Germany: +4923129295084
Belgium: +3233187827
Spain: +34936096836
France: +33173071925
Thank you for reading 20 articles this month* Join now for unlimited access
Enjoy your first month for just £1 / $1 / €1
*Read 5 free articles per month without a subscription
Join now for unlimited access
Try first month for just £1 / $1 / €1