Chris Froome, rim brake evangelist, 'warms to' disc brakes
The Israel-Premier Tech rider, also an investor at Factor Bikes, says that he has "way less problems" with discs these days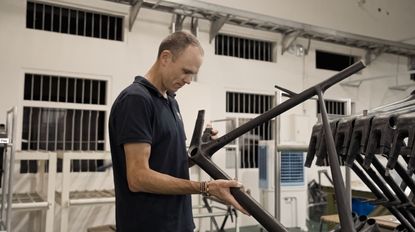 (Image credit: Factor)
Chris Froome, one of the highest-profile critics of disc brakes on road bikes in recent years, has revealed that he has "warmed to" the technology.
Speaking to the media during a visit to the Factor Bikes factory in Taiwan on Wednesday - of which he is an investor - the Israel-Premier Tech rider said that he has had a "much better experience" of disc brakes in the last year and a half.
Froome has made clear his dislike for disc brakes in the past. Reviewing his Israel Star-Up Nation team bike in 2021, when he first joined, he said he wasn't "100% sold" on disc brakes yet. The performance is great, he conceded, before adding: "The downsides to disc brakes [are] the constant rubbing, the potential for mechanicals, the overheating… personally I don't think the technology is quite where it needs to be yet."
At this year's Tour du Rwanda, Froome's long solo break on stage three was brought to an abrupt end by a laborious wheel change, one which led him to post on Instagram "Rim brakes > Disc brakes", followed by a trio of melting-face emojis.
In the present, however, the 38-year-old explained that he has grown to like the technology.
"When I first started riding with disc brakes, the industry was still quite new to disc brakes," he said. "No fault of Factor, but I think some of the components we were using on the bike weren't necessarily 100% compatible. We were running, for example, a Shimano braking system with different rotors, which weren't Shimano.
"That combination, chopping and changing pieces of equipment, when I joined the team, wasn't a great thing for the disc brake scenario. It did lead to problems in the first year with the team. My intial impression of disc brakes on the road was skewed by that experience.
"In the last year and a half of running disc brakes I've definitely had way less problems and it's been certainly a lot better, a much better experience for me. I have warmed to disc brakes. There's no two ways about it, it does take more maintenance, more work. But when it works, it is great."
Investing in Factor
Froome's trip to Taiwan to visit the Factor Bikes factory was the first time the four-time Tour de France winner had been to the HQ of the brand he invested in in 2021. The Kenyan-born rider had started riding Factors once he joined Israel Start-Up Nation that year, and the relationship blossomed from there.
"Even just a few months into the relationship I knew I wanted to get more involved with these guys, with the company," he explained. "I love the brand, but more than anything else, I love the product. I felt I was able to give feedback. It wasn't this massive corporate structure where if I said something it was going to get lost, it was going to translate into the bike. "
Calvin Chan, Factor's COO, said: "For Chris to say he was interested in this company and our product, and to invest in us, that's been amazing. The genesis of the partnership came after we had been working together for two months. He's not only a sponsored rider, he's one of our shareholders now.
"Chris was very quick to ask for more development work on our handlebars. He wanted something stiffer, something that could perform better in a race environment. If he didn't ask for it, we wouldn't have done it, and so this relationship is very authentic. This isn't just a marketing thing."
Froome explained that his two roles with Factor - as an investor, and as a professional cyclist riding the bikes - go "hand-in-hand".
"Being a competitive cyclist, you have an inherent interest in the equipment that you're riding," he said. "Having this channel, I feel I've got an amazing opportunity. Every bike rider wishes they could have a direct line to the factory to make changes happen.
"Within months of saying about the handlebars, I had a finished product in my hands, ready to test. I'm not having to give feedback to one person and then chase it up and see if they've followed it up to someone else. I'm passionate about my equipment, I always have been, so the two just go together."
During his trip to the Factor factory, Froome was presented with a specially painted Factor O2 Vam, with details that reference his upbringing in Africa, his love of wildlife, and a Union Jack among others.
Back pain and bike fit
2023 has been a tough year for Chris Froome the bike rider, with Britain's greatest ever Grand Tour rider left out of the Tour de France, and missing out on a top-ten finish.
Back in July, when asked if the 38-year-old has been value for money, Israel-Premier Tech's owner, Sylvan Adams, told Cycling Weekly: "Absolutely not. How could we say we had value for money? We signed Chris to be the leader of our Tour de France team and he's not even here so that cannot be considered value for money."
Speaking on Wednesday, Froome said: "I don't want to set a limit on what I'm able to achieve. I just want to get the best out of myself. I want to be able to look back once I've retired and say that I've given it everything, no regrets.
"Whether that means winning a bike race again and putting my arms in the air, or just helping my teammates, I'm good with that. I think a lot of people really don't understand - you've won all the biggest Grand Tours in cycling, how can you be happy just to be a team player? And I genuinely just love racing. I love racing, I love being in the team environment, and whether that's winning or not winning."
On Tour selection, he said: "I think I can only really control where I can get to as a bike rider and the preparation that I can do before the Tour de France to put myself in the best position to be chosen for the Tour next year."
Froome revealed that he had struggled with back pain this year, but that a recent bike fit made his issues go away, a simple fix.
"[I had an] an appointment with a bike set-up specialist, to go and really check and see all the angles. Basically to get closer to and try and copy the position that I was sitting at previously when I was winning races, and I found that there was actually a really big difference in those two set-ups.
"So we've made some big, big changes in terms of my position, but I am feeling much better now. And interestingly the back pain has just disappeared, so I think that was very much down to how I was sitting on the bike."
Even as simple a switch as that has given him confidence, Froome said.
"This has given me a bit of newfound motivation I guess, in terms of thinking about next season and how I approach next year," he said. "I've got no expectations on myself, but at the same time, I would really like to get back to the pointy end of racing again, so that's really given me that bit of hope now."
Thank you for reading 20 articles this month* Join now for unlimited access
Enjoy your first month for just £1 / $1 / €1
*Read 5 free articles per month without a subscription
Join now for unlimited access
Try first month for just £1 / $1 / €1