Chris Froome's boss rubbishes claims bike fit is behind lack of results
'He can talk about his bike position until the cows come home - that's still not going to earn him a position on a Grand Tour team' says Israel-Premier Tech team owner Sylvan Adams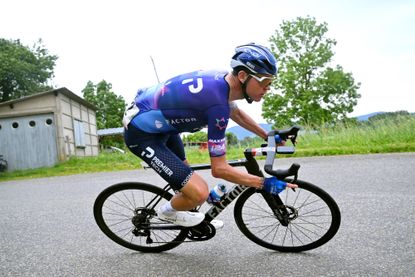 (Image credit: Getty Images)
Chris Froome's claims that his team bike and bike position have affected his form in 2023 have been rubbished by his team boss, Sylvan Adams.
As the 2023 road season drew to a close, Froome finished it without any results of note. Then last month he blamed his position on his team issue Factor bike for his continued poor form.
He said: "We've made some big, big changes in terms of my position, but I am feeling much better now. And interestingly the back pain has just disappeared."
Adams, the owner of the Israel-Premier Tech team, told the Radio Cycling podcast that Froome's claims simply defied logic.
"Does it sound logical that someone who won seven Grand Tours is claiming that his saddle position is off by a centimetre or whatever he's saying?" Adams said. "Does that sound credible for a guy who's getting dropped, not even on the last climbs of races but on the early climbs of races?"
Froome was left out of Israel-Premier Tech's Tour de France squad this summer, the first time he's not been selected (excluding injuries) since 2011.
Adams continued: "We've been very generous with Chris in terms of trying to help him, trying to give him the best possible equipment, the best possible conditions… He can talk about his bike position until the cows come home - that's still not going to earn him a position on a Grand Tour team."
Froome's suggestions were also ridiculed on X, formerly known as Twitter, by former pro Michael Rasmussen who suggested they were "a load of BS".
It is not the first time that Adams has criticised Froome publicly for his poor performances since joining his team.
During the Tour de France in July Adams told Cycling Weekly and Radio Cycling that Froome was "absolutely not" worth his multi-million euro salary.
Despite questioning Froome's claims about his bike setup, Adams insisted that Froome would once again be given every opportunity to force his way into contention for a spot on Israel-Premier Tech's Tour de France team next year.
He said: "If he's able to get into races and prove himself to be a relevant force in a race — we're not even talking about winning Grand Tours any more, we're not even talking about podiums in a Grand Tour — we're talking about being a useful member of a Grand Tour team.
"If he's able to demonstrate that he has that level then sure, he'll have every opportunity the same way as other riders on the team."
Adams went on to speak at length about the war between Israel and Hamas.
When asked if, due to the ongoing conflict, Adams had fears for his team or riders' security in 2024 he reacted angrily and insisted the team would continue to operate as normal.
"Are we to be intimidated by genocidal terrorists? When ISIS was threatening people around the world did the world come to a stop? This is the same thing," he said. "What are we supposed to do? Cower? We're just going to go about our daily business.
"What are you suggesting? That people are going to attack us because we are wearing the name Israel on our jersey? Are you suggesting we don't have the right to free speech and to present ourselves in public? Do you think that's okay?"
Adams explained that he believes cycling, as well as other sports, can continue to be a force for good and reconciliation in the world amidst conflict and war.
"I do think that sports bring people together," he added. "I feel this, I see it myself when we are on the road. It's a bridge to learning about different people around the world. Our own team has 17 different nationalities. I do see sports as a force for good."
What a load of BS from Froome. Any pro cyclist who has done 1000s of hours on a bike Will instantly feel a change in the set-up. Froome Could ride his Pinarello from 2015 and He still wouldn't crack top 20 in Tour du Rwanda with his current level. https://t.co/vvXj3ilh66November 7, 2023
See more
Thank you for reading 20 articles this month* Join now for unlimited access
Enjoy your first month for just £1 / $1 / €1
*Read 5 free articles per month without a subscription
Join now for unlimited access
Try first month for just £1 / $1 / €1