Demi Vollering: I really believe I can beat Annemiek van Vleuten
SD Worx rider talks improving, training earlier, and learning to be the team's leader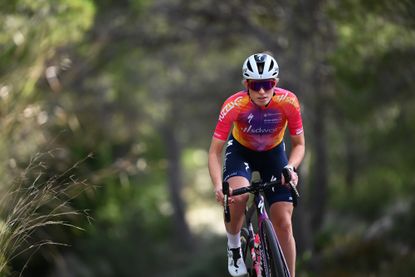 (Image credit: Getty Images)
The concept of a difficult second album might be a trope, but it is a useful one. When a band produces a much adored first record, following that up with a second incredibly hyped product is tricky, something that many artists have failed to do, from The Strokes to the Stone Roses. The pressure, the expectation is there to perform, to continue an inexorable rise. It seems almost human nature to expect more, continual improvement, that things can only get better.
In cycling, second season syndrome is an all too common event, with riders who have had breakout years struggling to back that; a series of blistering Classics races or a stand out Grand Tour one year does not necessarily guarantee future success, a career for the ages.
Demi Vollering beat the trope in 2022, successfully navigating her second season with SD Worx, the second where big things were expected of her. Wins at Itzulia Basque Country, Brabantse Pijl and a stage of the Vuelta a Burgos Feminas were paired with an impressive ride at the inaugural Tour de France Femmes, the nearest challenger to the seemingly unbeatable Annemiek van Vleuten, and the mountains' jersey to boot.
Having got through year two, the Dutchwoman is ready to keep improving, and 2023 could be the year that she goes from the next big thing to the biggest thing now. At 26, she has time on her side, and she clearly has the talent, but Vollering also stresses that she is ready.
Speaking ahead of the SD Worx team launch at the Royal Museum of Fine Arts in Antwerp on Tuesday, the woman from South Holland said she still has many things to work on, but that she is better than ever.
"I'm developing a lot, and I feel like I'm getting stronger and stronger every year," Vollering says. "I feel like I'm getting better tactically, and that I understand racing more every year. In this team I learn from the best, from Anna, from Chantal, from Danny and Lars, it's really helpful to be in such a great team with so much knowledge.
"What I need to work on is how to race. I need to be smart and think, not too much, but I have to race more on feeling, this is the right moment. It has to be something in you. I also want to work on my engine, and that's only something you get through training hours. That's also something I can still grow in. I can invest a lot in my sprint, in uphill, there are so many parts I can still grow in, to make me a complete rider."
There is an obstacle in Vollering's way that bears mentioning, however: Annemiek van Vleuten.
The 40-year-old won the Tour de France Femmes, the Ceratizit Challenge by La Vuelta and the Giro d'Italia Donne in 2022, and the World Championship road race too. She is not just Vollering's biggest rival, but the Leviathan that towers over all of women's road racing. She firmly beat Vollering, 14 years her junior, last year, and is still the woman to beat.
Van Vleuten is known for her intense training methods, bashing out lengthy rides across the season, never seeming to stop.
Asked if she finds this intimidating, Vollering says: "Sometimes it goes into my head, like do I need to train as much as she does."
"But I'm so much younger, and I'm quite new in cycling also," she continues. "If I start to train as much as her, I've skipped a few years. That's my strength, that I can be really good with less training hours, because my body needs less. She needs to train so much more, because she's older and she has so many years of racing already.
"Every year she [Van Vleuten] needs to give her body a little bit extra training. For me, if I do a little bit more every year, then it's good every year. I need to pay attention that I don't train too much, as I don't want to go over my limit. You always stretch for the edges, so you're trying to go and deep and hard as possible, but you've got to make sure not to go over the limit."
Despite not making sure she doesn't go over her limit, Vollering is convinced that she can challenge the world champion.
"If I look at my own training, I know I grow so much every year, and at the Tour de France I set new records, because I was my best self there," she explains. "I really believe that I am good, and also I'm getting better, and I'm getting better faster than she does at the moment.
"Of course she's older, so it's more difficult for her to gain more. I really believe it's possible to beat her, but I try more to focus on my own race, and get everything out of myself, and then I hope I'm strong enough to beat her."
To that end, Vollering ended her off-season earlier than ever this year, something she thinks might bear fruit later this year.
"This year I was very early on my bike, we went to a training camp in California in November, and after that, I stayed a bit on my road bike, training again," she says. "Normally, I only really start in December. So this year I was way earlier than normal, but I feel good with it, and I'm really motivated. It's not hard for me to sit on the bike for a lot of time."
The Royal Museum of Fine Arts in Ghent has lain dormant for 11 years, undergoing renovation so it is better fit for the future, showing off some of the finest works of art from the low countries.
It's a fitting place for the presentation of SD Worx, the best women's team in the WorldTour, one with probably the three best riders from the low countries (Vollering, Lotte Kopecky and Lorena Wiebes) that aren't called Annemiek van Vleuten.
After 2022 was her first year as the inarguable leader of the team, Vollering is prepared more than ever to lead the squad across races, with the help of Kopecky and Wiebes.
"Last year was different for me, because the year before I had Anna [van der Breggen] in the team," she says. "Everyone looked at Anna, and now it's already different, because they start to look at me now. I think I managed to deal with it pretty well, but for this coming season I know how to deal with it, it's not new anymore, so that's really nice to think about. Now I won't lose any energy through that."
She is still only 26, only in her third year at WorldTour level, and so thinks she still has a long way to go. SD Worx seems like the perfect place to grow.
"I don't feel new, but because it's only my third year here, I can still improve so many things," Vollering says. "I'm still learning, and that's good. I'm already at a really good level but there's still a really big gap, so many things to improve. If I see someone like Christine [Majerus], she's now in her 10th year at the team, and I can learn so much from her. It's really interesting for me to see this happening.
"Every year you get older and wiser, I hope at least, which makes a big difference. Last year I was doubting a bit maybe, and I already feel a lot more secure in the team."
Vollering aims to start her season at Omloop Het Nieuwsblad at the end of February, before riding the Ardennes Classics, a block in Spain, and then ultimately the Tour de France Femmes and then the World Championships.
Until then, she will be training away, strong with the belief that she is still getting better, edging closer to being the pre-eminent Dutch racer in a crowded field.
Thank you for reading 20 articles this month* Join now for unlimited access
Enjoy your first month for just £1 / $1 / €1
*Read 5 free articles per month without a subscription
Join now for unlimited access
Try first month for just £1 / $1 / €1