'During a time trial I am basically blind': Stefan Küng on his horror TT crash
Swiss rider suffered a concussion and a broken hand in European Championships crash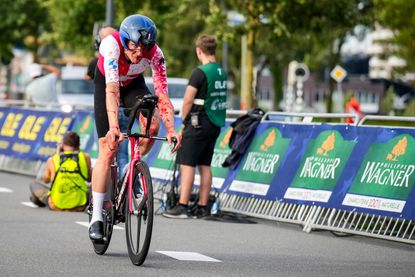 (Image credit: Getty Images)
Stefan Küng has revealed that he is "basically blind" while riding in his time trial position, which contributed to his horror crash at the European Championships in September.
The Swiss rider suffered a mild concussion, a fractured molar bone and a fractured hand in a dramatic crash in the men's elite time trial, and was allowed to remount and finish his effort, despite breaking his helmet in the heavy crash.
At the time, the incident provoked a discussion on social media, with the former UCI president Brian Cookson calling for a review of the "crazy trend" of head-down time trialling.
"I think it was a guiding problemm" Küng told Swiss media SRF this week. "During a time trial I am basically blind, I can only see a few metres ahead due to the position I have to hold and I have to trust the indications that come via radio from the team car."
"We've looked at it again, but it all happened very quickly," he continued. "During a time trial I cover 50/60 metres of road in a few seconds, so if I make a mistake in an instant I'm on the ground without realising it."
This shows just how difficult it is for Küng to race at the high speeds of an individual time trial; the incident led to some saying the current rules allow for too much danger.
In the crash, Küng was clearly affected by the wind. As he was time trialling with his head down, he clipped a section of metal barriers which were directing riders into the other side of the rode. He fell heavily, breaking his helmet, but remounted and finished the race, coming out of the finishing tunnel with a blood-spattered skinsuit.
He was then checked in accordance with the UCI's concussion protocol, which was enacted in 2021, before being taken to hospital.
With all the drama following the incident, which Küng does not remember, he lost his wedding ring.
"The wedding ring is gone," he said. "In the finish photos, I'm still wearing it on my finger. In St. Gallen, when the cast was removed, it was no longer there."
"I asked the various doctors who treated me, but to no avail. I certainly don't remember if they cut it in the first few hours in the hospital, maybe because my fingers were swelling.
"I myself lack memory during this phase."
The Swiss Cycling Federation conducted an investigation and later apologised, saying that Küng should never have been able to finish the race - in which he finished 11th - but the chaos meant the situation could not be dealt with properly.
"An athlete reflexively gets back on their bike after they crash," Patrick Muller, the organisation's competitive sport manager said.
"In addition, you can only see the athlete from behind in the support vehicle and you cannot estimate how serious the injuries are."
The crash ended Küng's 2023 season early, but the Groupama-FDJ rider is now back in regular training.
This year Black Friday is running from November 24th - 27th. We've rounded up all the best Black Friday bike deals we've found in our main hub page. With deals spanning components, tech and riding kit, you're guaranteed to find a bargain.
Thank you for reading 20 articles this month* Join now for unlimited access
Enjoy your first month for just £1 / $1 / €1
*Read 5 free articles per month without a subscription
Join now for unlimited access
Try first month for just £1 / $1 / €1