Stefan Küng suffers concussion and broken hand in dramatic European Championships TT crash
Groupama-FDJ's Swiss rider forced to end season as a result of injuries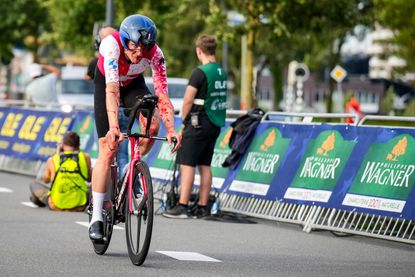 (Image credit: Getty Images)
Stefan Küng suffered a mild concussion, a fractured molar bone and a fractured hand in a dramatic crash in the men's elite time trial at the European Championships on Wednesday.
The Swiss rider crossed the finish line bloodied and with a broken helmet after crashing heavily in the closing kilometres of his attempt. He has been forced to end his season as a result of the injuries; somehow he still managed to finish 11th in the event, which was won by Great Britain's Josh Tarling.
On Wednesday afternoon, Küng was clearly affected by the wind ahead of the crash. As he was time trialling with his head down, he clipped a section of metal barriers which were directing riders into the other side of the rode. He fell heavily, breaking his helmet, but remounted and finished the race, coming out of the finishing tunnel with a blood-spattered skinsuit.
He was then checked in accordance with the UCI's concussion protocol, which was enacted in 2021, before being taken to hospital.
On Thursday morning, Küng's Groupama-FDJ team released an update, saying that he had been kept under observation in hospital overnight, but that he would be able to return home. No surgery was required
The statement read: "In view of the circumstances, Stefan would like to make it clear that his general condition is good."
The incident provoked a discussion on social media, with the former UCI president Brian Cookson calling for a review of the "crazy trend" of head-down time trialling.
Former professional cyclist Phil Gaimon took to X (formerly known as Twitter) to insist there was "nothing inspiring or bad ass" about Küng remounting and finishing the race.
"I'm seeing way too many people calling this brave or hardcore," he wrote. "I'm not blaming Kung [sic] at all for doing what he's trained for (and his head just took a hit), but there's nothing inspiring or bad ass about this photo.
"I remember crashing in a category 3 race, catching back on, winning covered in blood, and feeling proud and tough for it. I also remember introducing myself to a former teammate at the Tour of California team presentation (he of course knew me well and thought I was joking).
"I think it's a combination of getting older and how science has progressed on concussions but I'm really not afraid of broken bones or road rash at all anymore, however I am scared of a brain injury that comes back to haunt me when I'm 60.
"Respect your brain and spread the word on concussions. I'm not going to give medical advice but look into warning signs and recovery protocols."
Thank you for reading 20 articles this month* Join now for unlimited access
Enjoy your first month for just £1 / $1 / €1
*Read 5 free articles per month without a subscription
Join now for unlimited access
Try first month for just £1 / $1 / €1