American Matteo Jorgenson finally secures maiden win: 'I didn't even believe I deserved to be professional'
The American comes good on his potential with an emotional victory in the Middle East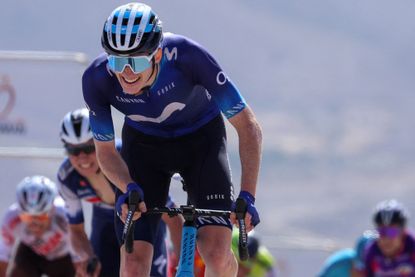 (Image credit: Getty)
There have been times in the past four seasons that American Matteo Jorgenson doubted if he was even good enough to be a WorldTour rider.
He had been afforded leadership opportunities by Movistar and had backed himself to win, but across 180 race days since joining the Spanish outfit aged 19 in 2020, the affable Californian was still without a professional victory to his name.
"To be honest, things happen in your head and you think you're not quite talented enough to do it," he revealed under the searing heat in the glorious, arid Hajar Mountains in Oman.
"Since the first year I joined, the team were trying to convince me that I could win races. When I first turned pro I didn't believe it all. I didn't even believe I deserved to be professional. It was a process of convincing myself and doing races and being up there enough to believe it.
"The team obviously want me to win, they want a return on their investment but for me I needed to do it myself to even justify all the work I've put in. I think like I've trained as a leader the past three, four years, trained as much as the other guys and as hard and as focused, and sacrificed all the same, so I wanted to win."
Jorgensen's woes have mostly been down to fluctuating condition and bouts of illness (including an undesirable bug picked up after the 2021 Paris-Roubaix after swallowing too much cow manure), but more than anything it's been a lack of conviction. He's came close - two fourth places at the 2022 Tour de France and a handful of top-three finishes elsewhere - but that triumph just kept eluding him.
"Last year in the Tour I was pretty close a few times and I was trying to learn how to manage the small group situations, but I don't think I managed it well at the Tour," he admitted.
Now, after 38 months as a pro, Jorgensen has finally accomplished his mission, securing victory on stage three of the Tour of Oman atop Jabal Hatt. And as he said to his teammates who crossed the line shortly after him: at last.
"I was starting to think it would never come," he said, before claiming euphorically: "But today I am just super glad I won and winning like that with a little bit of difference is super nice. It's amazing."
Victory for Jorgensen was quite convincing, he attacking inside the final 200m and crossing the line with a margin of more than ten bike lengths to Mauri Vansevenant Soudal Quick-Step)
Even just being in race-winning form is not something he had envisaged. "I didn't expect to do it here, " he said. "To be honest until the last few weeks where I was starting to come into good form in training, I didn't really believe that it was possible.
"I was at a training camp myself in Spain, I focused myself, and I started to see good numbers, I was doing everything perfect and the training had no set backs, nothing, so I started to believe i could do it here.
"This stage race really suits me well, I'm realising that now. I convinced myself in the last week or so."
Now the monkey's off his back, is this the start of a winning sequence? "The start?" he repeated. "I sure hope, man. I sure hope so."
Thank you for reading 20 articles this month* Join now for unlimited access
Enjoy your first month for just £1 / $1 / €1
*Read 5 free articles per month without a subscription
Join now for unlimited access
Try first month for just £1 / $1 / €1