Pfeiffer Georgi wins Brugge-De Panne solo after aggressive race splits in crosswinds
Brit claims her first WorldTour win by out-foxing some of the fastest riders in the world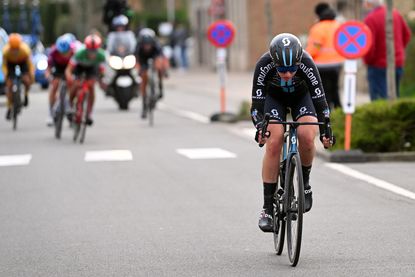 (Image credit: Luc Claessen / Getty)
A perfectly timed solo attack from Pfeiffer Georgi claimed the win at Brugge-Da Panne after the race split apart in the crosswinds of Belgium.
The Cycling Weekly columnist was one of two DSM riders in a front group of six when she launched her attack with just under seven kilometres to go.
Team-mate Megan Jastrab had softened up the group before Georgi flew off the front.
Georgi had been recovering from whiplash and suspected concussion in the weeks beforehand, but the only sickness on display on the Belgian road was a serious case of second group syndrome as the chasers, with top sprinters Lorena Wiebes (SD Worx) and Elisa Balsamo (Trek-Segafredo) among them, failed to cooperate almost as soon as Georgi attacked.
By the line her margin of victory for her first ever WorldTour win was over one minute.
Behind her Balsamo came around Wiebes to claim the second spot on the podium.
Speaking after the finish Georgi was her typically modest self, she said: "We came in with a plan to race aggressively and the whole team did that so Ii was finishing off a great team effort."
On her decisive attack she added: "We knew we couldn't come to the finish with any of the sprinters so we knew we'd attack. Megan [Jastrab] tried first and set me up and then she just blocked from behind. I just went as hard as I could.
"My legs were feeling pretty tired at that point and the DS really shouting in my ear really helped."
Georgi brushed off the suggestion she would now be one of the favourites for Gent-Wevelgem at the weekend saying the DSM squad would likely ride for Charlotte Kool.
How it happened
The windswept landscape was marginally kinder to the women's peloton than it had been for the men yesterday but still there was drama. With 119km of the163km total race distance still to go a group of ten riders crashed including veteran MArat Bastianelli (UAE ADQ) who was riding her last race before retirement.
The race had to be stopped for a few minutes as they were blocking the road.
Then just a few kilometres later eight riders crashed including Brit Lizzie holder (UAE ADQ) but this time the race ploughed on.
At 61km to go the pace was high and the race took a 90 degree turn and the crosswinds whipping across the Belgian fields began to splinter the bunch as Megan Jastrab (DMS) pushed hard.
It was in the same location that the men's race split apart too.
A front group comprising Elisa Balsamo (Trek-Segafredo), Lorena Wiebes (SD Worx), Alice Barnes (Human Powered Helath), Shari Bossuyt (Canyon-SRAM), Maike van der Duin (Canyon-SRAM), Jule De Wilde (Fenix-Deceuninick), Christina Schweinberger (Fenix-Deceuninick), Pfeiffer Georgi (DSM), Megan Jastrab (DSM), Amalie Dideriksen (Uno-X) formed. They held a fairly scant lead for some time but eventually it stretched out to 1.30 by the time there was 30km left to race and it was clear that the winner would come from this group.
But with 11.5km to go, as the pace went up and a split in the front group emerged both Barnes and De Wilde crashed after Barnes touched wheels with the rider in front of her and De Wilde was unable to avoid Barnes prone figure, ruling them out of the finale.
Meanwhile, Schweinberger and Van der Duin were distanced from the six leaders.
DSM tired to work a one-two attack with Jastrab trying to gap the group at 7km to go before being swiftly brought to heel.
Georgi immediately counter attacked and built a gap of around five seconds swiftly. The impetus of the group, which contained several of the best sprinters in the world dissolved almost as quickly.
She grimaced her way to the line alone.
Thank you for reading 20 articles this month* Join now for unlimited access
Enjoy your first month for just £1 / $1 / €1
*Read 5 free articles per month without a subscription
Join now for unlimited access
Try first month for just £1 / $1 / €1