Racing bikes over stroking 'doped up tigers' - EF Education-EasyPost's James Shaw on the ride that changed him
27-year-old tells Tom Thewlis about the turning point in the early days of his career that eventually led to the Tour de France this summer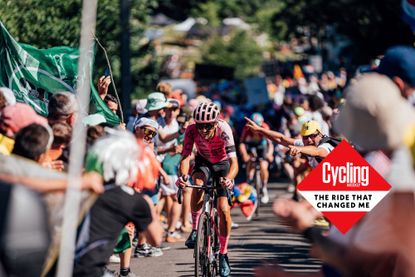 (Image credit: © Zac Williams SWpix.com)
This article is part of Cycling Weekly's new 'the ride that changed me' series. Our writers hear from a range of professional and ex-professional cyclists about that one day on the bike that changed the trajectory of their career for good.
James Shaw once stole a road sign from the Tour de France long before he ever actually rode it.
That same sign ended up on the wall in his parent's garage and served as a reminder of his biggest goal once he finally got a break in professional cycling.
However, that initial break was short-lived and a Tour debut could quite easily have become nothing more than a pipe dream.

Shaw's perseverance, resilience and dogged determination to keep his stop-start career going in the early days were what made it an eventual reality after facing multiple setbacks along the way which included being dropped by Lotto-Soudal.

Hailing from Derbyshire, Shaw tells Cycling Weekly that an early win in Belgium for the Haribo-Beacon team was a ride that changed him and led to doors into cycling initially beginning to open.

"For me, I think the one ride I look at and consider as a turning point and a point that other people noticed me was in 2014 when I won the junior Kuurne-Brussels-Kuurne," Shaw says. "At that point, I sort of went home and thought I could actually take this quite seriously."

Reflecting on that biting day in Belgium, Shaw recalls a last minute panic regarding his equipment choices before the race got underway.

"I remember it being absolutely freezing," he says. "For some reason I'd bought some big 28 millimetre tires or 25 mil tires for my bike in the old days of rim brakes and for some reason the tire didn't quite clear.

"All of a sudden it started doing that on the start line so I quickly swapped it for this shallow rim clincher 20 mil tire and I was thinking 'this is not good, this is a disaster', I still had my chunky tire in the rear."

Despite the issue on the start line, Shaw still managed to keep himself in contention and eventually launched his race winning move.

"I was in the lead group with about three or four km to go," he explains. "There was a cross headwind but I got away on my own, came around the last corner, crossed the line and got both hands in the air.

"At the time I didn't really realise quite what I was doing or what had happened… it wasn't expected at all really. We didn't really do much of a recce, I just remember it was bloody freezing when we got there but yeah, I went and won myself a Kuurne donkey."
"Off the back of that, the Lotto under 23 team manager got in touch," he adds. "It was John Barclay that set up a meeting and that was the turning point where I thought 'actually, you know what, a professional bike riding career might not be a daft thing to consider.'"

Shaw says that getting his hands in the air at the junior Kuurne-Brussels-Kuurne helped him start to believe that kids from northern England could chance their arm in cycling, it wasn't just open to his peers on the continent from France, Italy and Spain.

"At that point you've gone through your whole school career, and you're being told that you need your English exam and you need your maths exam, and you need to listen at school, because it will come in way more handy than ever riding a bike or kicking a football will," Shaw explains. "So you're sort of apprehensive to the concept of it [a career in cycling] because so many other people around you have been.

"It's all you know, 'if you make it you'll only ever make lower league football or lower league cycling' almost like if you go to a normal comprehensive school and grow up in the north of England, you're not allowed to be bike riders, you know, they come from the French Alps, or the Italian Dolomites, or the Sierra Nevada of Spain or whatever.

"I actually sort of got to a point then where I realised this could actually be a serious turning point, obviously with Lotto U23 getting involved too."
A potential gap year in Belgium
"At that point, I think things started to turn," he adds. "I think before that, a lot of my mates were having their gap year before university where they went to Thailand to do the whole stroke a doped up Tiger and it'd be a life changing experience.

"Instead I sort of considered the concept of maybe going and doing a year racing my bike before going to uni for my gap year as it was.

"I thought I'd go to Belgium and race and then in 10 years time, I could look at all the guys that are now professional, and be like I used to race with them. I only really considered the concept of being an amateur just to make stories for the grandkids really. But at that point going to a big development team like that, it was like well if you get the opportunity, you don't really want to waste it.

"So a lot of things started to turn then and started to look like a bit more of a clear pathway than before. I'd only really ever considered maybe riding for like the local bike shop or club team out there in Belgium or wherever I was going to go.

"That race really started to turn things around. It obviously changed my thinking around it [professional cycling] and bought a lot of opportunities and opened a few more doors."

"Then I spent however many years it was getting good results and things before going professional."
All roads lead to France
Unfortunately for Shaw, disaster then struck when, despite getting good results, he was let go by Lotto as a young pro and could have easily found himself slipping further away from cycling.

Pick any elite level sport and if you dig deep enough you'll find that it's filled with stories of what might have been. Goals that could have been scored, wickets that could have been taken or Grand Tour debuts that could have been made.

Shaw is someone who simply doesn't do what might have been and only deals in what did happen instead. Shaw was twice forced to Continental level and had his progress stalled by the pandemic before EF Education-EasyPost came calling.

He finally returned to cycling's highest tier last year.

Ever the optimist, Shaw took the positives from his experiences and cites two other races worthy in their own right of inclusion in 'the ride that changed me' when he was racing in the colours or Ribble Weldtite.

Obviously I then had my trips back down to continental level. But then I guess it wasn't really till sort of like Norway or Slovenia in 2020, where EF raised an eyebrow and we had a few conversations, were talking about things and that came together.
Moving forward several years, the likeable northerner tells Cycling Weekly that his 'big day out' in the breakaway on stage six of this year's Tour was another moment in which he started to believe anything was possible if you graft hard enough for it.

"I guess really that stage six of the Tour this year was probably the other big turning point," Shaw says. "I sort of said to myself afterwards 'Oh right! Let's see how far I can go with this!' and in cycling really.

"I just want to get to the end of my career and be able to say I did everything and achieved my potential."

Join us for the next instalment of 'the ride that changed me' in a fortnight's time.
Thank you for reading 20 articles this month* Join now for unlimited access
Enjoy your first month for just £1 / $1 / €1
*Read 5 free articles per month without a subscription
Join now for unlimited access
Try first month for just £1 / $1 / €1