Madison Isoler Merino long sleeve baselayer review
Does your torso feel cold, sweaty or uncomfortable on cold rides? The Madison Isoler Merino long sleeve baselayer could significantly improve your comfort.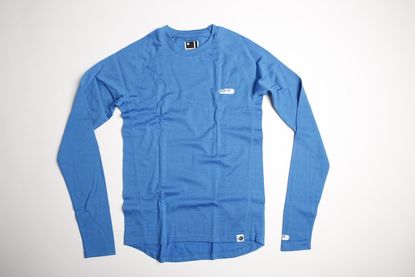 (Image credit: mike prior)
A quality base layer that is supremely comfortable and performs very well. The price is slightly expensive, but you do get a good warranty and the product should see lots of use.
Reasons to buy
+

Very comfortable

+

Lifetime warranty

+

Great fit

+

Keeps you warm

+

Wicks sweat

+

Stays odour free significantly longer than synthetic fibres
Reasons to avoid
-

Expensive (but it is built to last)
Why you can trust Cycling Weekly Our expert reviewers spend hours testing and comparing products and services so you can choose the best for you. Find out more about how we test.
For cold weather cycling a quality baselayer can significantly enhance your comfort and ride enjoyment. If you ride in cold weather and find your torso getting cold, sweaty and uncomfortable, a merino wool baselayer might be the solution. A sign of a good baselayer, is forgetting that it is on – whilst riding, you shouldn't notice it. The main choices you are presented with are either a synthetic baselayer, or one made from merino wool. Merino wool tends to be more expensive, so why would you choose it?
>>> For a guide to winter clothing, click here
From a cyclists perspective this winter has not been ideal. We have been out in ice, wind, rain, sleet and snow wearing a variety of baselayers. Our favourite? The Madison Isoler Merino long sleeve. The first thing to note is that feels supremely comfortable against our skin. Merino wool stretches as you move, and fits tightly without feeling constrictive – we don't notice it is on.
Moisture regulation is good too. Stopping at cafe in winter, and removing your jacket to reveal you are soaking with sweat is highly unpleasant. Perhaps even more unpleasant is then setting off from the cafe feeling freezing, because you are wet. We found that the baselayer did a great job of wicking sweat from our skin, and when paired with a good quality breathable winter jacket this worked especially well.
>>> For a guide to winter cycling gloves, click here
A big, but sometimes overlooked advantage of merino is that it doesn't tend to hold odours as well as synthetic fibres. This holds true with the Madison baselayer – we were able to get several commutes out of it before we started to smell like a shower dodger. Conversely, in an effort to not alienate friends and loved ones we find ourselves washing synthetic baselayers much more often.
Whilst on the subject of washing, it should be noted that despite being wool, this item is still machine washable, just don't tumble dry it! Having used it for a couple of months, we noted some initial slight shrinkage after the initial wash. Subsequent washes have not changed the garment and it fits very well.
>>> For the best cycling overshoes, click here
The only downside we can see is the price. At £44.99 it is certainly one of the more expensive baselayers on the market, but considering it has a limited lifetime warranty Madison clearly see this baselayer as an investment. A quality piece of kit that you will get years of use out of and its use is not limited to cycling either - we suspect it would perform equally well while worn skiing or hiking.
For more information, head over to Madison (opens in new tab).
Thank you for reading 10 articles this month* Join now for unlimited access
Enjoy your first month for just £1 / $1 / €1
*Read 5 free articles per month without a subscription
Join now for unlimited access
Try first month for just £1 / $1 / €1
Oliver Bridgewood - no, Doctor Oliver Bridgewood - is a PhD Chemist who discovered a love of cycling. He enjoys racing time trials, hill climbs, road races and criteriums. During his time at Cycling Weekly, he worked predominantly within the tech team, also utilising his science background to produce insightful fitness articles, before moving to an entirely video-focused role heading up the Cycling Weekly YouTube channel, where his feature-length documentary 'Project 49' was his crowning glory.