Blackburn Dayblazer 1100 review
The brightest light in Blackburn's new range has a sleek, chic look and functions for both day and night riding.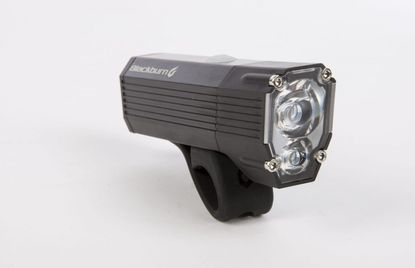 A good-looking, powerful light that's easy to use but lacking some of the functionality of other lights at this price, and we'd like to be able to use any USB cable to charge it, not just the one it comes with.
Reasons to buy
+

Very bright

+

User friendly

+

Nice design
Reasons to avoid
-

Lacks a shortcut to full beam

-

Doesn't accept all micro USB cables
The Blackburn Dayblazer 1100 is the most powerful of the new Dayblazer range, which has a strikingly angular modern design with the suggestion of cooling fins on its black aluminium case.
The Dayblazer 1100, which has a replaceable battery, stacks two LEDs on top of each other rather rather than side by side as some such as the Lezyne Lite Drive 800XL do, presumably with the intention of taking up less space on the handlebar.
It uses the now almost ubiquitous rubber strap mount that requires the light to be swiveled in order to get the strap over its hook, which can be a bit tricky. However, despite the strap being narrow, it holds the Dayblazer well enough in all planes and we didn't get any slippage forwards.
>>> Best front and rear lights
The Blackburn Dayblazer 1100 has five modes from Blitz (1100 lumens, one hour burn time) to Strobe (200 lumens, 12 hours). The Blitz mode is super bright, literally turning night into day, but obviously has to be used sparingly, and then on High (800 lumens) you get two hours, which is fairly standard.
The on/off switch, as with most lights, has the battery indicator inside it: green for 100-75 per cent of charge, orange for 75-25 per cent and red for under 25 per cent. However, there's no double click function for instant full beam or five-second hold for a 'race' mode, as other lights offer – you have to cycle through all the modes to get back to 'Blitz' if you want some extra illumination.
It's also worth mentioning that you can't use any old micro USB cable to charge the Blackburn. Since the space around the Blackburn's socket is oval, the type of cable that has a square plastic moulded section directly behind the connector (ie most of them) won't fit, so you've got to use the one it comes with or trim the universal square-type with a Stanley knife to fit – and that's not ideal.
Thank you for reading 5 articles this month* Join now for unlimited access
Enjoy your first month for just £1 / $1 / €1
*Read 5 free articles per month without a subscription
Join now for unlimited access
Try first month for just £1 / $1 / €1