Best road bike mirrors 2022: a guide to the handy accessory for your handlebars or helmet
Road bike mirrors will make pedalling along busy roads easier and safer. We round up the best road bike mirrors to suit the needs of commuters and serious cyclists alike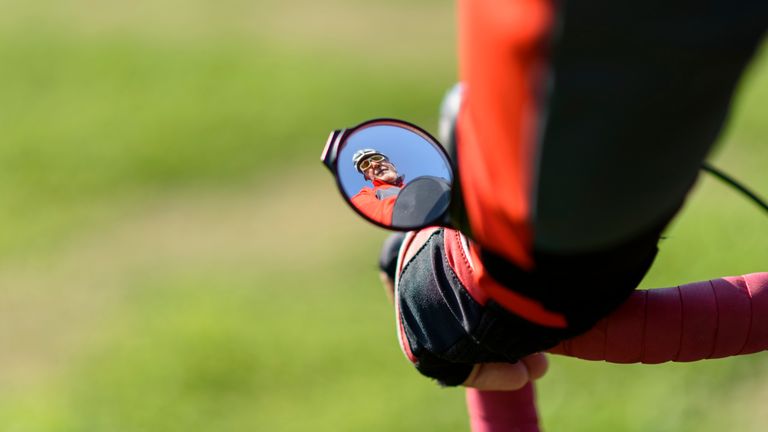 (Image credit: Getty)
Quality road bike mirrors on your handlebars or helmet can be a trusty companion, helping you to stay safe while navigating busy roads.
Removing the need to peer over your shoulder to see what's coming from behind, a mirror allows you instead to remain looking forward and might help you feel safer as you ride.
Although more common amongst commuters and tourers who are happier to load up their bikes in the name of practicality and safety, mirrors can also be a handy addition for riders going on training rides. It's even a top recommendation for time trialists, helping them to keep their position as they race.
A bike mirror allows you to keep track of approaching traffic and therefore it can make completing interval sets easier. You can focus on the road ahead and the data targets displayed on your cycling computer, while staying tucked in an optimal riding position.
What might come as a surprise to some is that road bike mirrors do not have to be bulky, unsightly devices. In fact, they can be pretty small and slick looking.
We have split up our pick of the best bike mirrors by their style of mounting mechanism. Picking between these will depend on the purpose of your riding (commute, leisure or training), the length of your rides and where you sit on the line between safety and aesthetics:
Bar end road bike mirrors
Bar end mounted | Helmet mounted | Handlebar mounted
Cateye BM45 Bar End Mirror
Lightweight and unobtrusive
Specifications
Mirror size:: 45mm
Weight:: 35g
RRP:: £12.99
Reasons to buy
+
Lightweight
+
Minimal projection from the bar
Being safe when riding does not have to be at the compromise of looking stylish and this sleek, ultralight bar end mirror from Cateye delivers just that. Your handlebars can remain clutter-free and the mirror is hardly noticeable to others but gives you critical rear-view sight.
It weighs just 35-grams and the lens has a diameter of 45mm which is enough to see what's behind without being too bulky. Made of aluminium and glass it's durable and Cateye says it provides nearly distortion-free viewing.
The Beam Corky Bar End 360 Degree Angle Control Mirror
Lightweight with protective lid
Specifications
Mirror size:: 32mm
Weight:: 16g
RRP:: £21.99
Reasons to buy
+
Super lightweight
+
360 degree rotation
+
100-metre range
+
Lid protects mirror when not in use
This bar end style of rearview mirror from The Beam is unique with its lid mechanism which provides protection when not in use. It's a neat and compact system that has 360-degree adjustability so you set it up for the optimal view and the wing of the body is designed to minimize the mirror's air resistance.
If you close the mirror/lid it will take a second before each ride to find the ideal position but this is worth it for preserving its life. It is available in red, blue, green, grey, white or black — and with so much choice this mirror will blend in effortlessly with the current aesthetics of your bike.
Hafny Bar End Cycling Mirror
High-grade mirror and a snug rattle-free fit
Specifications
Mirror size:: 62 and 68mm options
Weight:: N/A
RRP:: From £15.99
Reasons to buy
+
Durable stainless steel frame
+
Works with drops and flat bars
Boasting an HD Automotive Grade glass mirror, you will benefit from a crystal clear view of any traffic behind when riding along with this mirror from Hafny.
It can be slotted into the end of either drop or flat handlebars, with an inner diameter of 17-21mm, and this provides a solid, snug fit that has no movement or vibration — even with its 360-degree adjustability mechanism.
There's also a slightly more expensive option which has HD anti-glare glass fitted, and both glass options are available in two sizes, 62mm and 68mm.
IRBM Italian Road Bike Mirror
Aero styling with a high price tag
Specifications
Mirror size:: 53 x 33mm
Weight:: 58g
RRP:: $52.95
Reasons to buy
+
Hand-cut glass improves clarity
+
Elegant 'aero' design
Reasons to avoid
-
More expensive than rival mirrors
-
Not straightforward to fit
As its name suggests, the IRBM Italian Road Bike Mirror is made in Italy and features a slick and elegant design that's well suited to the aesthetics of many road bikes.
The mirror is made from instrument-grade glass rather than plastic and features a convex design that increases the field of vision. The housing is constructed from a durable and weatherproof rubber that also allows for the mirror to work seamlessly with the bar end, with little protrusion either side. The design also avoids using a 'ball-joint', helping it to stay in place and avoid vibrating.
Helmet mounted road bike mirrors
Bar end mounted | Helmet mounted | Handlebar mounted
Zefal Z-Eye helmet mirror
Easy to mount with good range of adjustability
Specifications
Mirror size:: 10cm2
Weight:: 20g
RRP:: £11.99
Reasons to buy
+
Compatible with any helmet
+
Lightweight
+
Easy to install
Zefal claims its Z-Eye mirror is compatible with any helmet thanks to its double-sided velcro mounting straps. Elsewhere it features a convex mirror to increase the range of vision, which Zefal says is made from "unbreakable" chrome. Finally, the lightweight design allows for plenty of longitudinal adjustment as well as lots of rotation too, which should allow you to find an optimal position for the mirror.
Bike Peddler Take A Look Cycling Eyeglass Mirror
Lightweight and adjustable
Specifications
Mirror size:: 28 x 36.5mm
Weight:: N/A
RRP:: N/A
Reasons to buy
+
Plenty of adjustability
+
Minimal head movement needed to see behind you
Designed to attach to your sunglasses or cycling helmet, Bike Peddler's mirror option is a versatile and unobtrusive method of clearly seeing behind you with minimal head movement or eye strain.
It features a frameless acrylic mirror that provides a wide, uninterrupted field of vision, while the stainless steel and brass frame is durable. With three pivot points there is no shortage of adjustability and it can be used on either the left or right side, depending on which side of the road you are riding on in different countries.
Blackburn Helmet Cycling Mirror
Great value but sensitive to vibrations
Specifications
Mirror size:: N/A
Weight:: 41g
RRP:: £12.99
Reasons to buy
+
Tool-free installation
+
Lightweight
Sticking to your helmet with an adhesive pad, Blackburn's helmet mirror is easy to install and is made out of high-quality materials that will last.
It's a cheap and lightweight option at just 41g but the mirror can be a bit sensitive to vibration and become misaligned if you are riding along poorly kept roads littered with potholes — although somewhat expected at this low price point.
Handlebar road bike mirrors
Bar end mounted | Helmet mounted | Handlebar mounted
Blackburn Road Mirror
Durable with reflective features
Specifications
Mirror size:: N/A
Weight:: 118g
RRP:: £17.99
Reasons to buy
+
Tool-free installation
+
Front reflector
+
Fits on all standard hoods
Blackburn's Road Mirror fits onto the hood of your road bike levers by way of an adjustable velcro strap. Thanks to this tool-free method of installation the mirror is also easy to remove should you need to leave your bike locked up.
It's made from a durable plastic with straightforward adjustability achieved through a rotating mirror and lock ring combination. Handily it also features a front reflector to help improve your visibility.
Zefal Spy Mirror
Low cost and easy to fit
Specifications
Mirror size:: 15cm2
Weight:: 25g
RRP:: £9.99
Reasons to buy
+
Can be mounted to different areas
+
Easy to fit and adjust
+
Low cost option
Zefal's Spy Mirror is a straightforward bike mirror that can be mounted to the handlebars, stem or frame using a simple rubber strap system. This no-tools approach means the Spy Mirror can be mounted and adjusted quickly, although you'll need to remove it if you leave your bike unattended.
Despite its low cost, it's lightweight (just 25 grams) and durable, with the convex mirror made from an unbreakable ABS chrome.
West Biking LuTuo Cycling Handlebar Mirror
Shockproof and stable design
Specifications
Mirror size:: 70mm
Weight:: 115g
RRP:: £14.99
Reasons to buy
+
Offers 360 degree rotation
+
Long, flexible arm is easy to position
+
Easy installation
For full adjustability on flat and drop handlebars the LuTuo can be set to any angle with its 360-degree rotation capability and the long flexible arm can be bent into position with ease.
It's made from a blend of polymer and aluminium for increased durability, with the lens made from a shockproof and anti-break acrylic. Finally it incorporates an easy-to-install rubber gasket to help improve its stability.
It fits handlebars between 22mm and 32mm in diameter and can be used for either left or right handlebar mounting, so it's a good option if you're planning on taking your bike on vacation abroad.
Types of bike mirrors
Bar end mirrors: These are sleek looking and the least obtrusive option as they are mounted to the end of drop handlebars. But often the mirrors are smaller which means you don't have the widest field of vision, but still enough to get a basic indication of the traffic behind you. Best for riders on training rides who want a mirror that doesn't interfere with their efforts.
Helmet and sunglasses mirrors: As these are mounted directly to your helmet or sunglasses, wherever you look the mirror, and therefore what's behind you, will stay in your field of vision at all times. However when you take your helmet/sunglasses off at the cafe stop or when you arrive at your destination, the mirror extension is easy to knock and will have to be readjusted when you next set off. Not ideal for commuters who have to cram their cycling gear into a small locker or office drawer at work; best for short distance leisure riders.
Handlebar mirrors: Wrapped around your handlebars, with options for flat or drop bars, this style of mirror tends to be the largest and the sturdiest. But they could further clutter up your cockpit which may already be filled with front lights, a bell and cycling computer or smartphone holder for following directions. Best for riders who are touring or commuters who want a sturdy, reliable option.
What to look for in a road bike mirror
There are many design aspects to look out for when buying a road bike mirror to suit your individual needs. We run through a few of the most important.
Mirror size
A larger mirror is not always preferable as the increased size could result in glare and take up a lot of space at the front end of your bike, which is often cluttered with other useful bolt-ons. To see clearly what's behind, the size of the mirror is not the only factor; in the optimal position, a mirror with a smaller diameter can be sufficient and ideal for staying safe while riding.
Although this doesn't mean the smallest mirrors are the best either: too small and you really won't have a large enough field of vision. Vehicles could easily sneak up just outside the range of the mirror and therefore relying on a small mirror could be riskier than double-checking over your shoulder.
Adjustability
A mirror that can be easily adjusted is useful for making quick changes as you ride along and also when setting up the mirror in an optimal position. However, with greater adjustability, the mirror is also more prone to vibrating out of position; to what extent depends on the surface quality of the roads you are riding.
Compatibility
Bike mirrors are available for all styles of rides including road, hybrid, gravel, fixed and singlespeed bikes. Most bar end and handlebar options tend to have a range of diameters they can fit, but it is worth measuring the inside diameter at your bar ends and the external diameter around the top of your handlebars, because sizes can vary.
Left and right-sided mirrors
Although partially down to preference which side of your handlebars or helmet is best to mount your mirror, in countries like the UK and Australia that drive on the left, a mirror mounted on the right will be the most useful, while in countries that drive on the right, like the US and Canada, a mirror on the left will provide the best view of the road behind.
Alternatives and additions
There are other options to up your view to the rear.
One is to fit a rearview radar like the Garmin Varia RTL515. This picks up approaching vehicles up to 140 metres behind and transmits a warning to a compatible cycling computer (many brands now have rearview compatibility built in so you don't need to have a Garmin Edge unit), a smartwatch, a smartphone or Garmin's dedicated Varia bar mounted head unit. It's an expensive option but might help you feel safer as you ride.
Likewise, we've tested the Hindsight sunglasses, which have a mirrored outer segment to give you some rearward vision.
Thank you for reading 5 articles this month* Join now for unlimited access
Enjoy your first month for just £1 / $1 / €1
*Read 5 free articles per month without a subscription
Join now for unlimited access
Try first month for just £1 / $1 / €1