Best road bike mirrors 2023: a guide to the handy accessory for your handlebars or helmet
Road bike mirrors will make pedalling along busy roads easier and safer. We round up the best road bike mirrors to suit the needs of commuters and serious cyclists alike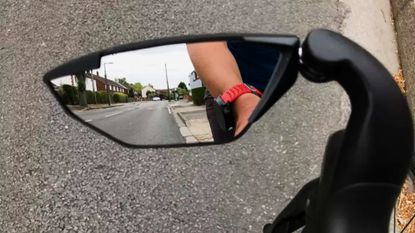 (Image credit: Rachel Sokal)
This year Black Friday is running from November 24th - 27th. We've rounded up all the best Black Friday bike deals - spanning fully built bikes, components and tech - in our main hub page. You're guaranteed to find a bargain.
Quality road bike mirrors on your handlebars or helmet can be a trusty companion, helping you to stay safe while navigating busy roads.
Removing the need to peer over your shoulder to see what's coming from behind, a mirror allows you instead to remain looking forward and might help you feel safer as you ride.
Although more common amongst those riding the best commuter bikes or touring bikes – who are typically happier to load up in the name of safety and practicality – mirrors can also be a handy addition for riders going on training rides. It's even a top recommendation for time trialists, helping them to keep their position as they race.
A bike mirror allows you to keep track of approaching traffic and therefore it can make completing interval sets easier. You can focus on the road ahead and the data targets displayed on your cycling computer, while staying tucked in an optimal riding position.
What might come as a surprise to some is that road bike mirrors do not have to be bulky, unsightly devices. In fact, they can be pretty small and slick looking, while adding minimal weight to your bike.
We have split up our pick of the best bike mirrors by their style of mounting mechanism. Picking between these will depend on what view you prefer, the purpose of your riding (commute, leisure or training), the length of your rides and where you sit on the line between size of view and size of accessory.
Bar end road bike mirrors
Bar end mounted | Handlebar mounted| Helmet mounted
Cateye BM45 Bar End Mirror
Best balance of big view vs little interference
Specifications
Mirror size: 44mm diameter as tested
Weight: 35g as tested
RRP: £12.99 / $17.49
Reasons to buy
+
Glass curvature optimises view
+
Easy fitting and adjustment
Reasons to avoid
-
Ball and socket joint can separate if knocked
This neat, round, highly adjustable mirror fits into your bar end on either flat or drop bar bike keeping it nicely out the way of everything else.
Whilst it's quite small compared to some of the other mirrors we tested, the curved glassed surface gives an excellent view behind – much better than some of the other larger mirrors that we tried. We particularly liked it on drop bars where it gave a really useful long view behind.
Fitting is easy with a supplied 3mm hex key to operate the expanding bolt system.
Adjustment is via a ball-and-socket type joint and is easy to do even when riding. Although easy to adjust, the joint is nice and tight and we didn't have any issues on testing with the mirror moving out of position.
On one occasion we did manage to give the mirror a good thump whilst parking the bike and the ball and socket joint popped apart. But it was easy to reattach and has been fine since.
---
Zefal Spin 15
Best small mirror for viewing the whole road
Specifications
Mirror size: 60mm (w) x 28mm (h) as tested
Weight: 49g (as tested)
RRP: £11.99 / $18.00
Reasons to buy
+
Fold away design for storage and protection
+
Horizontal shape and curvature maximises road view
Compared with many other mirrors of a similar size, the Zefal Spin 15 is rectangular shaped rather than round. This has a key advantage of maximising the view you get of the width of the road and so you are able to see more lanes of traffic behind which is improved further with the curvature of the mirror.
The Spin fits into the end of your bars with an expanding plug and flat screw driver fitting which has held well. There are two rotating joints and a 180° elbow for orientating the mirror and we've had no trouble getting a good view on different drop bar bikes. This design also allows the mirror to be folded up out the way when you're not riding, which is useful as otherwise it's easy to catch on a wall or gateway.
For a small bar end mirror, the only real downside of the Zefal is that it weighs more than its peers. But in the grand scheme of things, 49g grams isn't a lot that you're adding to your bike.
---
Blackburn Multi Mirror
Best for a large wing mirror view at the end of your bars
Specifications
Mirror size: 95mm (w) max x 55mm (h) max
Weight: 82g (as tested)
RRP: £16.99 / $19.95
Reasons to buy
+
Added reflector
+
Large wing mirror style view without fouling brake hoods
Reasons to avoid
-
Bar-end plug difficult to sufficiently tighten
-
Vulnerable to being knocked
The Blackburn Mutli-Mirror is the same size and design as a couple of the handlebar mirrors we tested, which means you get a much bigger view without fouling you brake hoods and affecting your grip.
The plug end fitting has a knob to tighten so you don't need tools and there are rotating and folding joints so you can adjust and fold out the way which you'll want to do when you're not riding.
Whilst the mirror gives a big view of what's behind the downside is the bar-end plug doesn't expand much. As a result the mirror worked loose and fell out our tester's bars on a couple of occasions and met its demise as a car's wheels reached it before they did (and before we got a riding photo too).
---
Handlebar road bike mirrors
Bar end mounted | Handlebar mounted | Helmet mounted
Sella Italia Eyelink
Best for high quality view
Specifications
Mirror size: 100mm (w) max x 48mm (h) max
Weight: 84g (as tested)
RRP: £40 / $80
Reasons to buy
+
Comfortable hood fitting
+
High quality mirror
+
Stable
Reasons to avoid
-
Left hand hood only so not suitable for UK / countries that drive on left
-
Price
Without doubt the Sella Italia Eyelink is the highest quality mirror on test and gave crispest and clearest view. As a large hood-mounted mirror it also gives the biggest and least obstructed view of what's behind.
It fits over your brake hood with a soft rubber cover and Velcro strap underneath. This means that you have your hand on the fitting rather than the brake hood itself. This hasn't caused our testers any issues on rides (even those over an hour) although if you ride on the hoods a lot or without gloves it may not be as comfortable.
The quality of the Eyelink is reflected in its price, it's over twice the cost of the second most expensive mirror in this guide (£40; $80 RRP). Its other drawback is that you can only run on the left of your bars so isn't useful for riders in the UK or other countries which drive on the left.
---
Blackburn Road Mirror
Best value for money large mirror for your commuter
Specifications
Mirror size: 95mm (w) max x 55mm (h) max
Weight: 64g (as tested)
RRP: £16.99 / $19.95
Reasons to buy
+
Excellent view of what's behind
+
Inexpensive
Reasons to avoid
-
Fitting not that comfortable on top of brake hoods
The Blackburn Road Mirror is a large, rectangular(-ish) mirror which attaches to your drop-bar brake hoods. Essentially it's a cheaper (less than half the price) and more basic version of the Sella Italia Eyelink (and a drop bar version of Blackburn's Multi-Mirror). This makes it a really good option for those who do a lot of busy commuting who opt for a lower price over higher quality.
The plastic shell of the Blackburn Road clips over the brake hood and is held in position with a wide Velcro strap. This fitting isn't hugely ergonomic or that comfortable though so you probably want to avoid if you ride on your hoods a lot.
There's a slight curvature on the mirror which gives a good view of what's behind albeit the quality of the mirror isn't as high as the Eyelink. There's mirror adjusts via a ball and socket joint which has given good adjustability (and allows the mirror to be run on the right or left) and held secure in testing.
---
Zefal Spy Mirror
Best for fitting ease and versatility
Specifications
Mirror size: 50mm (w) max x 40mm (h) max
Weight: 29g
RRP: £11.99 / $20.99
Reasons to buy
+
Easy to swap remove and swap between bikes
+
Tool free fitting
Reasons to avoid
-
Requires space on bars to fit
-
Less secure on the end of bars
Unlike all the other mirrors we tested the Zefal Spy fits via a rubber strap around your bars. This makes it easy to attach wherever you have a space or to angle to your preferred view. It also means it's really easy to swap between bikes or remove when you park up.
Size and view-wise it's similar to the bar-end mirrors we tested and we found that looping it round the end of the drops was a good position for it. You could also run it more centrally on your bars though our testers found it harder to get a view past their bodies and that this space was already rather cramped with lights, GPS mounts and other bits.
If you run it at the end of the bars there's a risk that you could knock it off the end, but we never had this issue on testing with the grippy and stretchy rubber fitting providing plenty of stability.
Helmet mounted road bike mirrors
Bar end mounted | Handlebar mounted | Helmet mounted
Zefal Z-Eye helmet mirror
Best helmet mirror for a big view
Specifications
Mirror size: 41mm (w) max x 32 (h) max
Weight: 22g as tested
RRP: £10.99 / $16.99
Reasons to buy
+
High quality mirror with good curvature for big view
+
Easy to adjust
Reasons to avoid
-
Variable stability on helmet fitting
For a small helmet-mounted mirror the Zefal Z-Eye gives a really big view thanks to the length of arm and large curvature of the mirror. It's easy to adjust too via a series of rotating and hinged bolts as well as a screw adjustable pivot by the helmet attachment. All together you can get a pretty good look at the road behind.
There are a few downsides to this design though. Firstly, as the mirror is so curved it can be a bit strange to change your focus from the view ahead to the mirror itself. Some of our testers got used to this, others didn't.
---
Blackburn Helmet Cycling Mirror
Best minimalist mirror
Specifications
Mirror size: 18mm diameter
Weight: 6 g (as tested)
RRP: £12.99 / $12.95
Reasons to buy
+
Easy and solid fitting
+
Extremely light weight
Reasons to avoid
-
Difficult to adjust
-
Limited view
The most striking thing about the Blackburn helmet mirror is how tiny and lightweight it is, weighing in at just 6g on our scales. As it's so small and doesn't have a curved mirror it only really allows you to see that something is behind you, not exactly what and where it is. As with all helmet mirrors it's also quite hard to minimise the amount of your shoulder further limiting what else you can see.
The mirror attaches to the outside of your helmet using a two part 'socket' on an adhesive pad which means it's easy to remove. For its size the fitting is surprisingly strong and hasn't loosened in the slightest during testing.
The mirror is adjusted on a ball and socket joint at the end of a thin plastic rod. The rod is flexible so won't cause any problems in a crash but it does mean that there's a certain amount of waggle as you ride. Conversely the ball and socket joint are really tight which means it holds its position well but is difficult to adjust as you ride.
---
Types of bike mirrors
You can trust Cycling Weekly. Our team of experts put in hard miles testing cycling tech and will always share honest, unbiased advice to help you choose. Find out more about how we test.
What is a bar end mirror?
These mirrors fit into the end of your bars and can be fitted to both drop handlebars and flat bars. There are a few different designs but generally they are on the smaller side and so more discrete than those which mount on lever hoods. They're best for riders who want to see a bit more behind but are willing to sacrifice a big view for a less obtrusive mirror.
The smaller mirrors mean that you don't always have a big view but those with a good curvature will still give you a good field of vision which is unobstructed by your arm / shoulder. Our drop bar testers tended to prefer the long and low down view that they could get with these mirrors. On the downside you do need to move your focus more to see what's in the mirror compared with those that are higher up on your bars.
Road bike bars will have a small plug that can easily be removed and replaced with the mirror. If you want to run on a flat bar bike you'll need a grip that has a removable end or do a little DIY trimming so you can slot the mirror into the bar.
What is a handlebar mirror?
These mirrors mount somewhere on your bars with options for flat or drop bars. This style of mirror tends to be the largest and the sturdiest and the best for riders who want a large uninterrupted view.
If you're riding with drop bars then there are brake mounted hoods which give the best un-obscured view, and the easiest to view with a quick glance – very much like a car wing mirror. However, these larger mirrors are vulnerable to being knocked when you're parking up and also may be uncomfortable for your hands if you ride on the hoods a lot.
Other versions can fix anywhere on your bars using a strap or clamp. This fitting gives a lot of flexibility but you might find it difficult to get a clear view past your body and that there's little room for them amongst the front lights, a bell and cycling computer or smartphone holder.
What are helmet and sunglasses mirrors?
As these are mounted directly to your helmet or sunglasses they can be much smaller and neater than bar-mounted versions. These mirrors are best for those who just want a quick glance behind.
As they're not on your bike they also get around the problem of catching your mirror as you lean your bike up against something or go through a gate or door (although you'll need to be careful when taking off your helmet not to do the same), and can be with you whatever bike you ride.
On the downside they can be awkward to adjust and get a view that isn't blocked by your shoulder. Also some riders find the mirror distracting as it's always in view.
What to look for in a road bike mirror?
There are many design aspects to look out for when buying a road bike mirror to suit your individual needs. These include the mirror size, the adjustability, the compatibility, side specificity and the alternatives and additions in our guide to the best bike mirrors. Read on for all the details!
Mirror size
A larger mirror is not always preferable as the increased size could result in glare and take up a lot of space at the front end of your bike, which is often cluttered with other useful bolt-ons. To see clearly what's behind, the size of the mirror is not the only factor; in the optimal position, a mirror with a smaller diameter can be sufficient and ideal for staying safe while riding.
Although this doesn't mean the smallest mirrors are the best either: too small and you really won't have a large enough field of vision. Vehicles could easily sneak up just outside the range of the mirror and therefore relying on a small mirror could be riskier than double-checking over your shoulder.
Adjustability
A mirror that can be easily adjusted is useful for making quick changes as you ride along and also when setting up the mirror in an optimal position. However, with greater adjustability, the mirror is also more prone to vibrating out of position; to what extent depends on the surface quality of the roads you are riding.
Compatibility
Bike mirrors are available for all styles of rides including road, hybrid, gravel, fixed and singlespeed bikes. Most bar end and handlebar options tend to have a range of diameters they can fit, but it is worth measuring the inside diameter at your bar ends and the external diameter around the top of your handlebars, because sizes can vary.
Left and right-sided mirrors
Although partially down to preference which side of your handlebars or helmet is best to mount your mirror, in countries like the UK and Australia that drive on the left, a mirror mounted on the right will be the most useful, while in countries that drive on the right, like the US and Canada, a mirror on the left will provide the best view of the road behind.
Alternatives and additions