Specialized Turbo Vado 4.0 e-bike review - integration-packed option that puts you into a comfy upright position
A powerful and fun bike, even if it is a little heavy...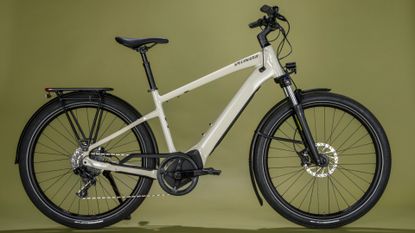 (Image credit: Future)
The riding experience of the Turbo Vado 4.0 is excellent with a commanding seated position allied to good handling and powerful braking. The power delivery is seamless and range is also great. However it is somewhat heavy, and whilst this doesn't affect the riding experience it does make manoeuvring the bike somewhat awkward, particularly if you need to lift up more than one step.
Reasons to buy
+

Seamless power delivery

+

Commanding riding position

+

Integration

+

Built in lights
Specialized has designed the Vado range to suit commuters, riders out on relaxed all-day rides as well as daily utility riders. It has a geometry that enables the rider to feel confident with its handling as well as being able to see well from its upright position. The electric motor provides seamless power to help you on your ride, and integrated lights and tech keep things straight forward too. We take a look at how it compares to the best electric bikes, and who it suits best.
Specialized Turbo Vado 4.0: construction
The Turbo Vado 4.0 has an aluminium frame with a battery situated in the downtube. The Specialized 2.0 custom tuned motor has 70Nm torque and is mounted low down in the bottom bracket area. The battery is removable with a key, and the bike is able to be disabled using the Mission Control app for greater security.
The Vado comes with a rear rack, which can carry up to 27kg and a front rack may be added for extra capacity should you need.
The front fork has 80mm of travel, and between it, the suspension seat post and the large volume tires, you should be well cushioned over rougher road surfaces.
The SRAM NX 11-speed gears use a single gear lever to keep things simple for riders. The simplicity of 'one by', or '1x', means no more wondering about which front chainring to choose, and when.
The SRAM Level brakes use a 2-piston hydraulic caliper with 180mm 6-bolt discs for powerful and consistent braking.
Specialized Turbo Vado 4.0: the ride
The first impression of the Vado is its size. It looks very solidly built with a large downtube, which houses the removable battery, and wide 2.3" tires. Super chunky!
Then, the next impression is of its weight as you manoeuvre it ready to switch on. It weighs c. 27kg/60lbs, which is double the weight of my regular e-bike! The built-in kickstand worked well and held the bike up nicely. Next you power the bike up with a single press on the control panel (on the bars) and you're good to go. The bike defaults to Sport mode and 50% Power (The Micro Tune mode allows you to simultaneously change the support and peak power in 10 per cent increments whilst riding). Both these settings can be adjusted as you ride using the remote switch on the left of the bars.
As soon as you press down on the pedals you get assistance, and the push from the power is really impressive. You can be in a big gear, with a hill start and the Vado just goes. There is no lag from the motor. Equally whenever you stop pedalling the power stops instantly and you can coast or brake without fighting the power.
It also cornered with confidence, holding the line that I chose so that I didn't need to correct or adjust mid corner. The 2-piston disc brakes stop the Vado nicely, even when just using one finger on the brake lever.
The riding position is quite upright which gives good confidence for riders to see forwards and be able to look behind them easily, particularly in traffic. A wider saddle (155mm) helps comfort with this upright position too, and I found the saddle good.
There is a suspension seat post too, which can take the sting away when hitting a pothole. I had to slacken the tension off as it wasn't moving much for me, and this helped a little. I found a similar thing with the front suspension fork. It mostly moved when I was braking, and even then I only used a third of its travel. Again, some further fine-tuning would be beneficial.
The bike felt comfortable cruising along at 25kmh with the assistance on (Sport mode) and with me turning the pedals over between 70 and 80 RPM. I found the cadence reading on the display really helpful with this. If you let the cadence drop to around 60 RPM then you had to push down more on the pedals. By keeping the cadence in that sweet spot of 70 to 80 the pedalling was really smooth and light. The gears, being 1x11, are very straightforward to use, and having just the one shifter is much easier for a novice rider to know where they are gear-wise. There is no gear indicator on the shifter however, which I know that some riders like. It wasn't a problem for me though.
I really liked the integrated lights. They were visible from a good distance in daylight, particularly the front light. At night the front light performed well too. In absolute terms it didn't light up the mid-ground as much as a Lumicycle or Exposure Light, but it was plenty enough to ride dark lanes comfortably as well as being clearly seen by cars. The fact that they don't need to be removed each time you lock up is very useful too.
You can lock the bike using the Specialized Mission Control App on your phone. This will disable the bike's motor and activate the motion sensor alarm. Once locked, the motor cannot be enabled again except by the owner. You'll need to register your details on the App before this function can be used though. The battery can be removed from the bike for additional security as well. It uses a key to stop unwanted removal.
As the bike is somewhat heavy there is a 'walking mode' to help with manoeuvring. This was useful when walking with a loaded bike! You press and hold the '+' button and the bike will move at 4kmh to help you along. A nice touch.
Finally onto range. It is possible to run through a battery's energy very quickly or slowly over the same route depending how you ride or use the settings. Temperature can also affect a battery's properties too. Caveat over!
In my time using the bike around town for grocery shopping or on longer rides in the country (it is fairly undulating terrain with some steep hills chucked in for good measure), I have found that I can cover 35km / 22miles and use 25 per cent of the battery. This gives a really good range of between 95-130km / 60-80 miles with this scenario. I generally rode in Sport with 50 per cent, but would put the Turbo setting for hills, just because it is fun! I also tended to keep it in the sweet spot of 70-80 RPM cadence while pedalling too.
Obviously if you put it into Turbo mode with 100 per cent then the battery will not last as long, and equally dialling back the settings to Eco and 30 per cent will increase your range further.
Specialized Turbo Vado 4.0: value and conclusion
I find myself somewhat torn between two views. On the one hand the Specialized Turbo Vado 4.0 is well made, has good integration, rides well. And on the other I find that its weight, cost ($4,000 / £4,300) and, to a lesser degree, function, bother me. At 27kg/60lbs the Specialized Turbo Vado 4.0 is pretty heavy to lift up a single step let alone several.
If you want this to be a utility bike then the Benno Bikes - Boost E CX can carry twice the weight at 60kg or two child seats and is potentially more useful as a load lugger. Both bikes can fit a useful front rack too. Specialized's offering can tow a thru-axle trailer, which is good. They are also similarly priced.
Looking at the commuter sphere then the Van Moof S3 has integration at its core, with built-in lights and a sophisticated anti-tamper/theft system, weighs 21kg and comes in at $2.548 / £2,248, which is quite a difference.
Another option would be the Specialized Vado SL 4.0 at $3,750 / £3,500. The SL denotes that it is lighter. It lacks the sheer grunt of the Turbo Vado's 70Nm of torque but with 35Nm it can still push you along very nicely.
This Specialized Turbo Vado 4.0 feels massively overbuilt to me and when you have more weight, then more power (from leg or battery) is required to move it. For the UK market which has a max assisted speed of 25km/15.5mph the weight makes less sense. However, in other regions where a 28mph max speed is allowed, the extra power and battery capacity begin to make more sense. Above 20mph wind resistance plays an increasingly larger part in the physics of forward motion, as air resistance increases at the square of the object's speed. In simpler terms up to 20 mph wind resistance is a relatively minor factor in the physics of moving a bike. However doubling your speed from 20mph to 40mph the wind resistance quadruples and becomes the major factor to overcome.
Overall a fun riding experience, but for me the weight was a bit too much - it's a struggle lifting onto a rear bike carrier/rack.
Specialized Turbo Vado 4.0: specs
Sizes: S, M, L, XL
Colors: Black, Cream or Red
Weight: c. 27kg/60lbs
Frame: E5 Aluminium, bottom bracket motor mount, fully integrated &lockable downtube battery, internal cable routing, lock and front rack mount
Fork: SR Suntour MobieA32, 80mm travel, lockout, fender-mounts, integrated light mount
Seat Binder: Alloy, bolt-type, 34.9mm
Stem: Specialized Flowset, 3D-forged alloy, 20-degree rise, 31.8mm clamp
Handlebars: Specialized, alloy, 15-degree backsweep, 46mm rise, 31.8mm
Saddle: Rivo Sport, steel rails, 155mm
SeatPost: Spring suspension, alloy, 40mm travel, 30.9mm, 2-bolt clamp, 34.9mm sleeve
Grips: Specialized Body Geometry Contour, lock-on
Front & Rear Brake: SRAM Level, 2-piston caliper, hydraulic disc, 180mm 6-bolt rotors
Rear Derailleur: SRAM NX, 11-speed
Shift Levers: SRAM NX, 11-speed
Cassette: SRAM PG-1130, 11-speed, 11-42t
Chain: KMC e11S, 11-speed w/ Missing Link™
Crankset: Custom alloy forged crankarms
Chainrings: Praxis, 48T, 104BCD
Pedals: Specialized Commuter w/ grip tape & reflectors
Headlight: Lezyne Ebike Hecto E65, 210 Lumen, 12V
Taillight: Spanninga Commuter Glow XE, 12V
Kickstand: Specialized, 40mm mount
Rack: Specialized, MIK HD interface, built-in pannier mounts, 27kg max load
Fenders: Specialized DRYTECH, 65mm width, aluminum fenderstay
Rims: 650b disc, double-wall alloy, pinned, 32h
Front Hub: Specialized alloy front hub disc, sealed cartridge bearings, 6-bolt, 15x100mm thru-axle, 32h
Rear Hub: Specialized alloy front hub disc, sealed cartridge bearings, 6-bolt, 12x148mm thru-axle, 32h
Spokes: DT Swiss Industry
Tires: Pathfinder Sport Reflect, 650Bx2.3
Inner Tubes: Schrader, 40mm valve
Motor: Specialized 2.0, 70Nm torque, custom tuned motor, 250W nominal
UI/Remote: MasterMind TCD, w/handlebar remote, built-in anti-theft feature, Bluetooth® connectivity, customisable display pages
Battery: Specialized U2-710, alloy casing, state of charge display, 710Wh
Charger: Custom, 42V4A w/ Rosenberger plug, 100-240V
Other features: Bell
Thank you for reading 10 articles this month* Join now for unlimited access
Enjoy your first month for just £1 / $1 / €1
*Read 5 free articles per month without a subscription
Join now for unlimited access
Try first month for just £1 / $1 / €1
Over 40 years cycling in a variety of disciplines including road riding, commuting, a self-supported Land's End to John o' Groats trip, XC mountain biking and several Polaris Challenge two-day events. Adventure, escape and fun are the motivations for my riding. I also love bike and kit design and have fillet brazed a couple of framesets using Reynolds 853 steel tubing for myself. A very satisfying experience to ride your own bespoke bike!
Height: 180cm
Weight: 66kg