EDC - Every Day Carry kit review
Chris Catchpole tests the Every Day Carry kit or EDC from Kaufmann Mercantile over in America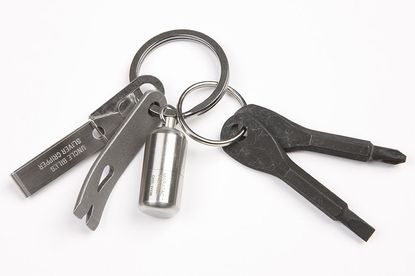 There's something about the American store's products that get us all excited about the possibilities they afford when venturing further afield. Excellently made and very unique, an ideal gift that's slightly unique.
Why you can trust Cycling Weekly Our expert reviewers spend hours testing and comparing products and services so you can choose the best for you. Find out more about how we test.
They call it the EDC kit. The acronym extrapolated to Every Day Carry. It's an essential selection of tools for the average mans everyday needs.
Okay, you might not need a lighter or a pair of tweezers for your city commute, but start to think on a grander scale, epic touring perhaps, and you'll be closer to the philosophy of Kaufmann Mercantile, the creators.
Their New York store sells everything from bags to grooming products. All products designed, they say, with durability, functionality and aesthetics all in mind. This EDC kit certainly fits that brief.
Included on our little keyring are the aforementioned lighter and tweezers, as well as a phillips and flat head screwdriver, and a 'pry', slightly resembling a tyre lever, designed for generally jigging or fixing any number of problems on the road.
At a price, for this set, of £37.33 (at the current exchange rate) you'll own a very unique set of tools. Although there's also the possibility to attach any number of random items to create your own keyring combination. Anything from pocket knives, to things more useful for cyclists, such as hex keys or a compass.
Thank you for reading 10 articles this month* Join now for unlimited access
Enjoy your first month for just £1 / $1 / €1
*Read 5 free articles per month without a subscription
Join now for unlimited access
Try first month for just £1 / $1 / €1