Pegatin custom stickers review
If you want to give your bike the pro touch, then these Pegatin frame stickers are one of the easiest (and least expensive) ways that you can go about it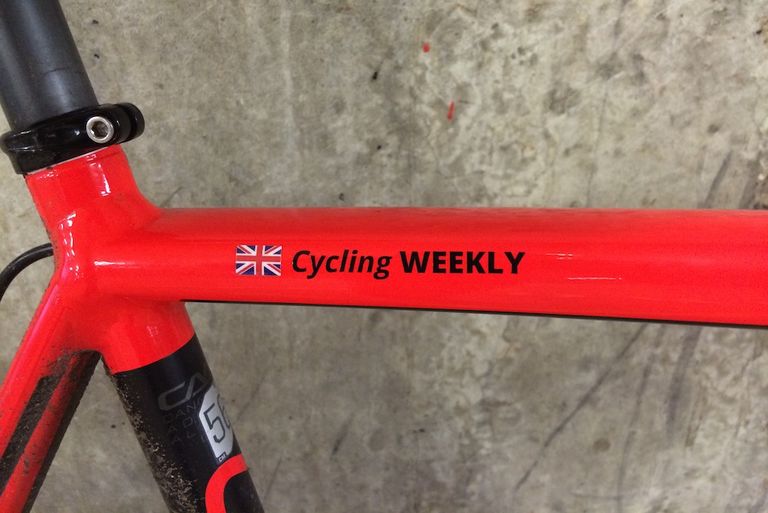 High quality stickers, that are durable, look great and make a great, inexpensive personal gift for any cyclists you know
For
+

Attractive type face

+

Huge number of options

+

Great quality
We love customisation and name stickers are a great, but subtle way to make your pride and joy unique. For just £9.99 you can get a set of ten Pegatin stickers with your name and choice of flag to make sure you can always tell what bike is yours.
>>> Eight simple ways to make your bike faster for free
For a little bit more money, you can have your name written in both white and black (meaning you can use it on light colour surfaces), and for £29.99 they will be vinyl transfers with individually cut letters. Thats what we have here, the vinyl transfers.
The stickers come in sheets, such as those pictured above. The vinyl transfers look great, but are also ideally suited to matte frames. The standard acetate stickers can reflect light slightly, looking out of place on a matte bike frame.
>>> 11 of the best custom pro bikes
To apply the transfers you cut an individual one out, remove the backing paper and press the transfer against your clean dry bike surface. Press down and rub the individual letters, to ensure they stick and then carefully peel back the cover paper.
>>> Click here for a selection of the best bike upgrades
This process takes a little care and can result in odd letters not sticking properly. However, having done it many times on lots of different bikes, we have found them to work consistently very well. Just make sure your frame is clean and there is no finishing spray on the surface as this can interfere with the glue.
Video - Buyer's guide to turbo trainers
Having ridden with these stickers on bikes for the last 10 months, I can report that they certainly stand up very well to bike washing and bad weather. Durability is great, but I would suggest taking care in situations such as putting your bike in a car as they are not bullet proof.
For more information, head over to Pegatin