11 of the best custom pro bikes
Professional riders love custom bikes and so do we. Here is our run down of the 11 coolest and most beautiful designs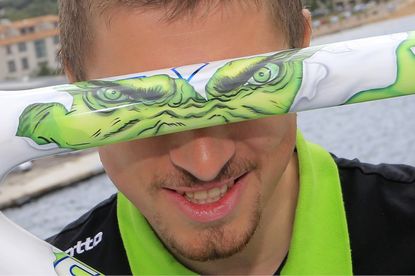 (Image credit: Watson)
Get The Leadout Newsletter
The latest race content, interviews, features, reviews and expert buying guides, direct to your inbox!
Thank you for signing up to The Pick. You will receive a verification email shortly.
There was a problem. Please refresh the page and try again.
Custom paint jobs can add personality, be used to stand out from the crowd, or just simply look cool. While some feature very loud, complicated designs, others are much more subtle and understated, often being a reflection of the rider.
>>> First ride on the Cannondale SuperSix HiMod 2016
Cannondale recently produced a stunning custom SuperSix Evo HiMod for Ted King as a retirement present from professional racing. We thought this was a great excuse to run through our favourite custom paint jobs.
11. Ted King's Cannondale SuperSix Evo HiMod
Retirement presents don't get much cooler than this. The bike features a stunning blue metallic flake paint job inspired by the original Cannondale R500 that Ted rode at the start of his racing career.
Ok, so it is unlikely to see action in any races, unlike the other bikes in this list, but we simply couldn't ignore the resplendent paint job on this machine.
"I Am Not Ted King" and "11/15" written on the seat tube as a nod to Ted's social persona and the years he raced for Cannondale (2011-2015) in the WorldTour, whilst the front of the bike is adorned with 'retirement' gold.
10. Mario Cipollini's Cannondale CAAD
No list of custom bikes would be complete without an entry from Cippo, with the charismatic Italian being an early pioneer in custom paint jobs before they became the common place.
Mario Cipollini had lots of custom bikes throughout his career, but we are particularly fond of his Stars and Stripes Team Saeco Cannondale CAAD. The bike was ridden on the 4th of July during the 1997 Tour de France, something the UCI fined him for.
>>> The top 10 game-chaning bikes
Partly through Cipolini's flagrant disregard for the UCI's rules, custom paint jobs are now allowed and embraced by other riders wishing to stand out. Note the four-spoke Spinergy wheels which were eventually banned by the UCI, after the spokes were deemed too dangerous.
9. Tom Boonen S-Works Venge
The custom paint job on Boonen's custom edition S-Works Venge is inspired by his nickname 'Tornado Tom' with tornado like swirls cutting through the blue on the forks and seat tube.
The resplendent blue paint actually changes colour depending on how the light hits the bike. We love colour so much that it actually pipped another famous S-Works Venge from making this list...
8. Vincenzo Nibali S-Works Tarmac
Nibali's Tarmac has become rather iconic and we like how he has stuck to same shark theme for several years. The shark is a reference to the Italian's nickname 'the Shark of Messina'.
"More blue, more shark," was what Nibali requested following his 2013 special edition Tarmac. So that's just what Specialized set out to create with the bike pictured.
We love the Trident on the rear stays, and if you're wondering about the pink, that's a subtle nod to Nibali's Giro win in 2013.
7. Sylvain Chavanel's Scott Addict
Chavanel is a rider who must have the words 'custom paintjob' written into his contract, because this isn't the first time we've been mesmerised by one of his colourful machines.
'Chava' is emblazoned on the top tube in fine lyric script. The hot red/orange colour is offset by IAM's royal blue, so as not to totally disassociate him from his IAM Cycling team-mates.
Anyone who has seen this bike in the flesh will attest that the paint really sparkles in the sun.
6. Tony Martin's Specialized Shiv
The frame of Tony Martin's Specialized Shiv TT bike is adorned with a raging bull livery, with searing crimson eyes staring from the elongated tail of the head tube and nostrils snorting at the fork crown.
It is a mean machine and fitting of the German powerhouse, who rides a 58t gear.
5. Peter Kennaugh's National Champion Pinarello Dogma
The most simple paint job in this list is no less deserving of its place. It is not always about extravagantly intricate glittering designs, with Kennaugh's seriously cool Pinarello, subtly alluding to his status as the British National Champion.
The only rider in Team Sky with a white Pinarello, the Manxman's bike is very classy.
The paintjob splits the bike down the middle, with the left hand side featuring red lettering on a white background, while the right hand side has blue lettering on the white blackground.
This is continued to the custom Fizik Antares saddle.
4. Wiggins's Pinarello Bolide TT Bike
Known as a man of style, this list would not be complete without one of Wiggins's custom steeds. The black and gold Pinarello Bolide is a bike of absolute beauty.
The gold accents, details and lettering are a nod to Wiggins being the reigning Olympic time trial champion.
The toptube featured graphics depicting Wiggins's achievements on both the track and road. The simple gloss black and gold is certainly cooler than having a picture of your own face on your bike...
3. Yukiya Arashiro's Colnago M10 Team Edition
Another example of a beautifully simple, but very classy design, is Yukiya Arashiro's Colnago M10.
The custom paint job was to celebrate his status as the Japanese national champion and for those of you whose Japanese is a little rusty, the lettering is reportedly the rider's name.
It may look a little Blue Peter, but we love the inserts on the pedals too!
2. Peter Sagan's Cannondale SuperSix Evo HiMod 'Hulk'
Peter Sagan is known for riding many custom painted bikes, but the 'Hulk' bike he rode for the 2013 Tour de France remains our favourite.
>> Peter Sagan narrowly avoids crash with incredible skills (video)
The green monster was in response to Sagan's love of the Marvel Comics character, but also his own aspirations to win another green jersey in the Tour. Something he went on to do.
The other thing we love about this iconic bike, is that the flamboyant Slovak seemed genuinely excited to show it off and ride it.
1. Fabian Cancellara's Trek Domane
One of the classiest riders in the pro-peloton also rides one of the classiest bikes. Fabian Cancellara's unique design features a beautifully painted Greek Hoplite helmet on the head tube.
Although intricate in places, the beautiful art work is understated. The Hoplite helmet is a direct reference to the Swiss riders iconic nickname 'Spartacus.'
The use of red contrasts beautifully against the white and silver, while there are also smaller red details depicting the Swiss national flag.
What do you think? Are there any custom bikes that you would like to see in this list? Let us know in the comments below.
Thank you for reading 20 articles this month* Join now for unlimited access
Enjoy your first month for just £1 / $1 / €1
*Read 5 free articles per month without a subscription
Join now for unlimited access
Try first month for just £1 / $1 / €1
Get The Leadout Newsletter
The latest race content, interviews, features, reviews and expert buying guides, direct to your inbox!
Oliver Bridgewood - no, Doctor Oliver Bridgewood - is a PhD Chemist who discovered a love of cycling. He enjoys racing time trials, hill climbs, road races and criteriums. During his time at Cycling Weekly, he worked predominantly within the tech team, also utilising his science background to produce insightful fitness articles, before moving to an entirely video-focused role heading up the Cycling Weekly YouTube channel, where his feature-length documentary 'Project 49' was his crowning glory.