Turbine nasal dilator review
The Turbine is a nasal dilator that is claimed to increase the airflow through your nose by an average of 38%. Used by Chris Froome at the Tour de France and Jack Bobridge in his Hour Record attempt, I decided to find out what all the fuss is about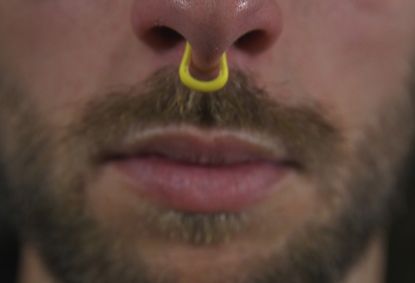 When riding at a steady tempo for a fair length of time, the Turbine may benefit you. However, when riding at a high intensity I found the Turbine to be of little assistance.
Reasons to buy
+

Each unit can be reused up to 10 times

+
+

Three different size options

+
+

Light

+
+

Increases opening of nostrils
Reasons to avoid
-

Initially slightly uncomfortable

-
-

Questionable impact
Why you can trust Cycling Weekly Our expert reviewers spend hours testing and comparing products and services so you can choose the best for you. Find out more about how we test.
You may remember when wearing nasal strips was all the craze, in the pro peloton and even football. The theory was that by increasing the opening of your nostrils you could inhale more oxygen, and therefore go faster. The Turbine as worn by Chris Froome appears to do the same thing, but without the discomfort of having to pull the strip off your nose after use.
What it does
Rhinomed claims the Turbine increases the airflow through your nose by an average of 38%, which in turn reduces the feeling of breathlessness. Allegedly, by increasing the opening of your nostrils (even if only by a little) you can inhale more air, but more importantly exhale a greater amount of carbon dioxide. I do not profess to be a biological or physiological expert, but I understand that if you can inhale more oxygen, this could mean your body can supply more oxygen to your muscles, which in turn may mean you can go faster for longer. In the world of marginal gains, if this is true, this is definitely worth considering.
Fit
The Turbine starter pack includes three different sizes (small, medium and large), and a standard pack comes with three units of the same size. I tried the different sizes and established that the medium seemed to give me the best fit. The Turbine is claimed to be made of an ultra soft medical grade polymer, I can confirm that it is very light (only 1g).
Putting the Turbine into your nose is relatively straight-forward but a little fiddly. Once in your nose you can alter the width of each nostril using an adjustable ratchet system.
Despite being designed to slide comfortably into the internal anatomical structure of your nose, it took a little while for me to get to the stage that I was not fully aware I was wearing the Turbine. However, once there I wore the Turbine for a few hours without any real discomfort.
The ride
To test the Turbine I rode at several different intensities. When riding at a slow easy pace my nostrils felt noticeably wider. I took a few deep breaths but did not notice a quantifiable difference to when doing so without the Turbine.
I then rode at a steady tempo for close to thirty minutes. When doing this I consciously tried to keep breathing in and out through my nose. I cannot confirm the claim of a 38% increase in air flow, but it did feel like I was at least taking in a bit more air than usual. From my experience, this is the type of riding that the Turbine is most suited to.
After my tempo ride I took part in a local 10 mile time trial. I got some interesting looks, more out of curiosity than anything else. I rode the race as I would normally, pushing close to my limit the whole way through, I was slow but that is no slight on the Turbine, I am just not very fast. In spite of consciously trying to breathe through my nose, I found that when riding close to my threshold (and probably at times over it) I instinctively breathe through my mouth. When I did breathe through my nose, it did feel like I was taking a deep breath, but as said above I found breathing through my mouth more effective.
>>> Top seven time trial specific helmets used in the Tour de France
In summary, if the Turbine is good enough for the pros in the world of marginal gains, then there must be some quantifiable benefit. Although I did not personally find a measurable difference, I can appreciate that if you are riding at tempo, for example up a large steady hill or a longer time trial, then the Turbine may improve your breathing.
Thank you for reading 10 articles this month* Join now for unlimited access
Enjoy your first month for just £1 / $1 / €1
*Read 5 free articles per month without a subscription
Join now for unlimited access
Try first month for just £1 / $1 / €1