Richard Bideau shatters British 100-mile time trial record
Ideal conditions help Richard Bideau beat Kevin Dawson's previous 100-mile time trial record at the Stockton Wheelers CC 100 in North Yorkshire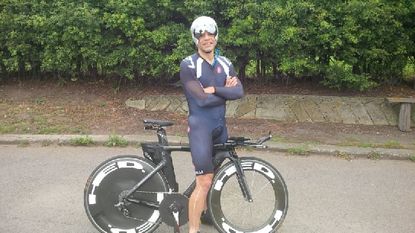 Racing over the distance for the first time, Richard Bideau (Pendle Forest CC) shattered the 12-year-old competition record for 100 miles on a 'float' morning for Stockton Wheelers CC's time trial on the two-lap Crathorne-Dishforth course which will be used for next year's national championship.
Going into uncharted territory after reaching 50 miles in 1:39.48, the Burnley 44-year-old was even quicker over the second half to finish in 3:18.54 – taking 3.51 from Kevin Dawson's 2003 record.
>>> Alex Dowsett claims record-equalling fourth National time trial title
"It was totally unexpected – I am quite amazed," said Bideau who, second in the Belper BC 25 the previous afternoon in 47.57, confessed that he only entered to get a qualifying time for the upcoming Burton DCA event. "The 25 was the more important event of the week to me.
"About 50 miles in I started to realise that I wasn't far off competition record pace, it was all a bit insane, and I kept thinking 'am I going to pay for this?' But it didn't happen and I even managed to raise my power a little bit towards the end.
"I kept saying to myself 'don't blow it now, you might not get the chance again.'
"I felt fine until I crossed the line and then I was in bits. I struggled to turn the cranks to get back to HQ."
Although he has been cycling for over 35 years, Bideau is in only his second season of time trials after switching from mountain bikes. The man who convinced him to change, Steve Irwin (North Lancs RC) finished second in 3:25.19.
Result
Stockton Wheelers CC 100 (Kirklevington, North Yorkshire)
1. Richard Bideau (Pendle Forest CC) 3:18.54 (comp record)
2. S. Irwin (North Lancs RC) 3:25.19
3. I. Cox (North Lancs RC) 3:34.39
4. E. Addis (Peebles CC) 3:37.44
5. J. Warrington (Tyneside Vagabonds CC) 3:40.32
6. D. Sleigh (Clifton CC) 3:40.46
Woman: Eleanor Haresign (Harrogate Nova CC) 3:59.16
Team: North Lancs RC (Steve Irwin, Ian Cox, Brian Fogarty) 10:42.02
Video: Tony Martin's Specialized Shiv
Thank you for reading 20 articles this month* Join now for unlimited access
Enjoy your first month for just £1 / $1 / €1
*Read 5 free articles per month without a subscription
Join now for unlimited access
Try first month for just £1 / $1 / €1